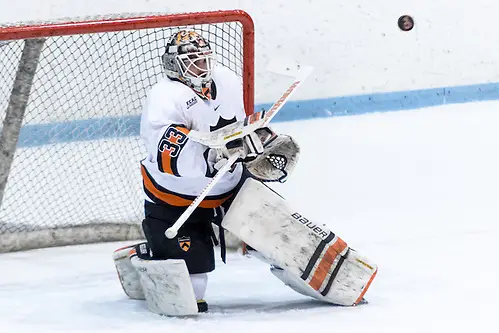 It's already determined that Princeton will be on the road for the ECAC Hockey playoffs. But last weekend showed that the Tigers are getting a better grasp of what first-year coach Ron Fogarty is looking for out of his team.
The Tigers beat Clarkson 2-1 on Friday and then tied second-place St. Lawrence 1-1 on Saturday. Princeton's three points against the Golden Knights and Saints matched its ECAC total entering the weekend. Friday's win snapped a 15-game winless streak in league play that dated to November.
"We've seen three phases: the implementation of our system, then the learning of it, and now the execution," Fogarty said. "We're starting to execute and getting to the point where we know we can move the puck better."
Fogarty said the Tigers are improving defensively, moving back quickly and getting ready to attack the other team, instead of doing more chasing, which was often the case earlier in the season.
"We want to make sure that we are skating fluid with five guys," Fogarty said. "We want to keep everything tight and compact."
As a result, that's made things easier for goalie Colton Phinney, who Fogarty called Princeton's most valuable player. The sophomore has a .918 save percentage and averages 31 saves a game.
"He hasn't had to work as hard, which has allowed him to make a big save later in the game," Fogarty said of Phinney.
The defense and goaltending has had little margin for error for Princeton, as the Tigers average 1.36 goals per game and have scored more than three goals only three times all season.
Fogarty said one of the biggest challenges in his first year has been finding what works with the group of players that he has. There are still two weekends left in the regular season, but the Tigers look to be adapting to what Fogarty has been trying to implement.
"Getting three points out of four in any weekend in the ECAC bodes well for their attitude and their confidence," Fogarty said. "Seeing those tangible results … we wanted to peak toward the playoffs. That was our only goal and it just shows that we are."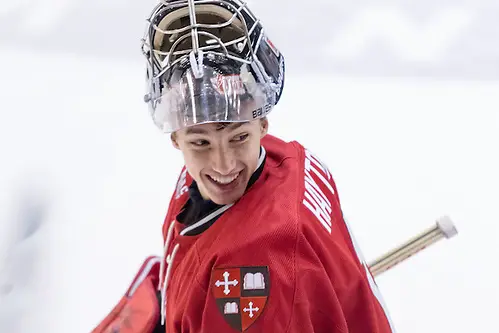 Quinnipiac, St. Lawrence get physical
Quinnipiac and St. Lawrence might not be thought of as two of the more physical teams in the league. But there was plenty of hitting Friday night in Hamden, Conn., as the Bobcats beat the Saints 2-1 in a matchup of the league's top two teams.
"That's as good as a physical battle as we've had in a while," Saints coach Greg Carvel said.
Some of that might have been due to the magnitude of the game, as St. Lawrence entered the night three points behind first-place Quinnipiac.
"That was one of the more physical games that we've played all year," Bobcats coach Rand Pecknold said. "I think St. Lawrence brings that to an extent. … Maybe because of what was at stake, they were a little more amped up and we were a little more amped up."
The Bobcats survived what Pecknold called some early panic, scoring twice over a 2:30 span in the second period to turn a 1-0 deficit into a 2-1 lead.
"Everyone loves those kinds of games," Quinnipiac senior captain Matthew Peca said of the physical matchup. "It's fun to be in those kind of battles; you take a lot of pride in winning those."
Quinnipiac followed up the win against St. Lawrence with a 4-1 win over Clarkson on Saturday, clinching a first-round bye in the ECAC tournament and extending its unbeaten streak in league play to 10 games (9-0-1).
The Bobcats have a six-point lead over second-place St. Lawrence and look likely to clinch the regular season title for the second time in three seasons this weekend. That comes after Pecknold said earlier this year he thought his team was overachieving at times.
"At some point, maybe that doesn't, if we keep [winning]," he said when asked if that assessment still held. "I'm getting to the point where I'm not thinking that as much. I think earlier in the year I was, with how young we were. But we're maturing out of that. We've got a lot of kids that have really stepped up."
Bears picking it up
Like Princeton, Brown will be heading on the road for the playoffs. But the Bears have been solid lately, sweeping Rensselaer and Union to push their winning streak to three games. Brown is 3-1-1 following a five-game losing streak last month.
Tim Ernst made 36 saves against the Dutchmen for his second shutout of the season, and has allowed three goals or fewer in three of his last four starts.
"I think we're playing with much more intelligence in terms of putting pucks in and taking of the puck," Brown coach Brendan Whittet said following Saturday's game. "We've gotten really good goaltending from Timmy, which has allowed us to be successful and be confident."
Around the league
• The injuries continued to mount for Colgate, as the Raiders were without starting goalie Charlie Finn last weekend. The sophomore missed his team's games against Harvard and Dartmouth with an upper-body injury, according to the school. Freshman Zac Hamilton started both nights, making 22 saves for his first collegiate shutout Saturday against the Big Green.
• Defending national champion Union has struggled this season, mostly due to its struggles on defense. But the Dutchmen were shut out for the first time in 98 games Friday against Yale and then were blanked the next night by Brown. It's the first time Union has been shut out in consecutive games since 2007.
• Rensselaer goalie Jason Kasdorf had his rights traded last week from Winnipeg to Buffalo as part of a seven-player deal. Kasdorf was a sixth-round pick by the Jets in the 2011 draft. Also included in the trade was Jets defenseman Zach Bogosian, who goes to the Sabres. He is the brother of Union volunteer assistant coach Aaron Bogosian.
• Colgate defenseman Spiro Goulakos was among the 10 finalists announced last week for the Lowe's Senior CLASS Award. The award recognizes students who use their athletic platforms to make a positive impact as leaders in their communities. Goulakos has been out since the middle of last month with a lower-body injury.
• Former Harvard defenseman Alex Biega made his NHL debut Monday for Vancouver, scoring the game-winning goal in the Canucks' 3-2 win over Minnesota.
• Harvard forward Jimmy Vesey (player), Quinnipiac forward Landon Smith (rookie) and Princeton's Phinney (goalie) were honored as the league's award winners for last week. Vesey had a goal and three assists, while Smith had two goals and an assist. Phinney stopped 62 of 64 shots he saw during the weekend.