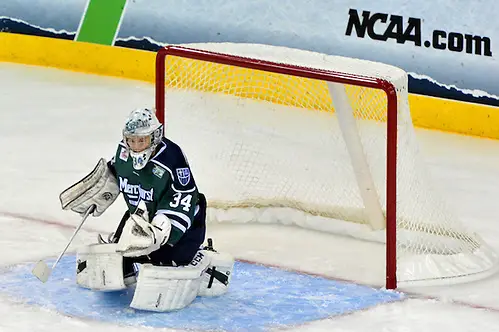 Arlan: Over the weekend, Mercyhurst and Minnesota joined Boston College as teams that have clinched conference titles. That leaves only the ECAC crown to be determined, and Harvard took a big step forward by gaining a game on its closest pursuers and now leads by three points with only a couple of games left. Beyond the Crimson still needing to make their first-place finish official, the remaining drama appears lower in the standings of each league.
In the CHA, Penn State saw its title hopes slip away, but the Nittany Lions are tied with Syracuse for second place; the team that comes out ahead secures a first-round bye. Robert Morris could join them in a three-way deadlock, but the Colonials would need to sweep PSU while RIT sweeps Syracuse for that to occur.
The four host teams for the inaugural best-of-three quarterfinals in Hockey East are set: Boston College, Boston University, Northeastern, and Maine. Northeastern moved ahead of the Black Bears by a point for third, so that order could still flip. New Hampshire earned three points and now sits fifth, ensuring that the Wildcats will avoid a last-place finish and a first-round date with the Eagles. Vermont is currently in that precarious position, a game behind Providence and Connecticut.
The battle in the WCHA is over fourth place and the final home-ice berth in the playoffs. While it hasn't yet clinched third, North Dakota just needs a point to do so and hosts basement-dwelling Minnesota State. That leaves Minnesota-Duluth, Bemidji State, and Ohio State in a pack with two points spanning the lot.
All sorts of uncertainty remains in the ECAC. With the five teams that follow Harvard either splitting or being swept over the weekend, little was decided. Clarkson and Quinnipiac are tied for second, but the Bobcats have gained the first tiebreaker and have the easier remaining games. St. Lawrence is a point ahead of Cornell for fourth and home ice, but the schedule favors the Big Red. Princeton is still alive to host, but it would need help on a couple of different fronts. At the bottom of the playoff picture, Yale is tied with Dartmouth, but the Bulldogs hold the tiebreaker.
While there aren't any playoff implications, Princeton trails Harvard by three points but controls its own destiny for the Ivy League crown. Harvard has finished its games in that circuit, but the Tigers travel to Brown and Yale knowing that a sweep could secure that honor.
Where would you like to start in an attempt to break all of that down?
Candace: I think with Quinnipiac and Princeton. That travel pair has seen some interesting results. For the third week in a row, Quinnipiac lost on Friday, and then the team that beat them lost to Princeton the next night. As you said last week, Princeton is a dangerous floater right now.
Kimberly Newell has come on strong in net for the Tigers. She made 39 saves Saturday to help defeat St Lawrence. The Tigers also played well Friday against Clarkson.
Given how inconsistent St.Lawrence and Cornell have been, it wouldn't surprise me to see Princeton claim home ice for the first round.
Meanwhile, Quinnipiac continues to show vulnerability. After getting shut out by St Lawrence Friday, the Bobcats struggled against a depleted Clarkson team that was running about two lines and was minus its best defensive player, Erin Ambrose. I don't think it bodes well for Quinnipiac's chances. The Bobcats even went with backup Sydney Rossman Saturday after Chelsea Laden gave up three to St. Lawrence.
Cornell also fell back, losing to Dartmouth on Saturday at home after losing to Harvard Friday. Every time I think the Big Red are stepping up, things go south.
What are your thoughts on the state of the ECAC? It looks like your preseason pick of Harvard to win the division is spot on.
Arlan: The coaches voted Harvard on top as well, so I do think it is a case of the Crimson having the most talent, although it took longer to gel than expected. The coaches and I missed on a few others, as we overvalued Cornell, Yale, and Colgate as compared to their actual finishes.
As for Princeton, while I agree that the Tigers are coming on strong and are a dangerous team, I don't like their chances to get home ice. They cannot catch Harvard, Clarkson, or Quinnipiac, and Cornell finishes at Rensselaer and Union, teams it defeated by six goals last month.
Based on the propensity of the playoff teams in the ECAC to both win and lose on any given weekend of late, I'm not sure how much home ice is going to matter. Harvard will be favored over either Yale or Dartmouth on home ice, but beyond that, any of the home teams could find themselves in trouble in the first round.
Last week we talked about possible injury problems for Quinnipiac, a team that has lost five of its last eight games. The Bobcats got Taylar Cianfarano back, but not Nicole Kosta, and managed to score a whopping one goal on the weekend. With Laden getting the hook against SLU after giving up a goal eight seconds into the third period, it's a little late in the game to go with Plan B. If there is a team that can get by with less experience in the crease, it is likely the Bobcats, because they don't require their goaltenders to even touch the puck that often.
We've seen similar slumps in the second half of the season before from Quinnipiac. Last year it endured a 2-2-4 stretch that cost it a shot at the national tournament. Two years ago it ended with a 3-3-1 finish. Neither was terrible, just mediocre enough to prove costly. Three years ago, the entire second half was the problem, going 4-7-1 to close the regular season — but then rebounding to win an ECAC quarterfinal.
All that makes me believe that no matter how we view the ECAC picture before or after the final weekend of the regular season, it will likely change again with the quarterfinals. The top of the ECAC isn't the only place where parity is running amuck. Harvard has the longest winning or unbeaten streak in the country right now at six games; nobody else has strung together more than four in a row. While BC was winning 25 in a row to run its unbeaten stretch to 28 games, there was usually some other team like Minnesota, Wisconsin, or Quinnipiac that had a double-digit unbeaten streak going, too. Other than the Eagles, I think there is a decent chance that any one of the other 15 teams that reaches its conference semifinals loses. I'd guess that none of the other teams will be better than around a 75-percent favorite. When you consider how seldom teams like Mercyhurst (never) or Minnesota (twice) have lost a semifinal, that would be more wide open than usual.
The reason why it is so chaotic is that few teams score consistently. Only seven teams average as many as three goals per game offensively. Three of the teams that do, BU, Cornell, and Yale, combine that firepower with middling defenses. It isn't a big surprise that the three teams that rank in the top five in both scoring and scoring defense — BC, Minnesota, and Wisconsin — have consistently ranked among the top four teams and figure to be seeded or home-ice teams in the NCAA tournament.
Before we move beyond the ECAC, three of the league's teams are currently in the top seven in the PairWise Rankings that is a minimum this year to reach the NCAAs. Do you expect to either see Clarkson hold on, or some other team qualify as the ECAC's third team?
Candace: To be honest, I think Clarkson falls out of contention and the ECAC only sends two teams to the NCAA, Harvard and Quinnipiac. I think that the WCHA sends three teams, the ECAC sends two, Hockey East sends two, and the CHA sends one. I fully expect North Dakota to be playing in the final eight. As you mentioned, North Dakota closes its regular season against Minnesota State, and should win both games. Clarkson closes with Dartmouth and Harvard; optimistically, the Golden Knights split and finish as the third seed in the ECAC, then face Princeton in the first round, a series the Golden Knights could well lose.
North Dakota meanwhile, is 8-3-3 against the three teams that it might face in the first round of the WCHA tournament. Assuming seeds hold, UND would then face Wisconsin in the WCHA semis. While UND went 0-3-1 against the Badgers this season, the four games were all in the first half, when UND was struggling. North Dakota has been much stronger in the second half, going 9-2-1, including sweeping Bemidji State and Ohio State, either of which UND could face in the first round. I think it's very possible that Minnesota could play North Dakota in the final of the WCHA tournament, and UND would have a good chance to win that. Even were they to lose, succeeding at that level should propel them into seventh in the PairWise, and assuming that either Harvard or Quinnipiac wins the ECAC tournament, and Boston College or Boston University wins Hockey East, that should be enough to make North Dakota an NCAA tournament team.
Last week, I touched on Minnesota-Duluth's struggles. Minnesota swept the Bulldogs this weekend to clinch the WCHA crown. That second win also marked Gophers coach Brad Frost's 251st win, and the 139th win for the current Gophers senior class, a program record. Minnesota certainly seems to be gearing up for another strong postseason run. What do you make of the mark of excellence displayed by Minnesota's seniors?
Arlan: The 139 wins isn't just a program record, it's the most for any class at any D-I women's hockey program. They are on pace for a fourth-straight season of at least 30 wins, and that would be another first. It certainly isn't the most heralded class, but the key is that it has continued to grow over its four years. Rachael Bona and Meghan Lorence spent most of their rookie season on third or fourth lines and combined for 25 points, so the fact that they've combined for 240 points as their careers wind down shows how far they've come. Rachel Ramsey likely had a bigger role as a freshman, but she still started as the sixth member of a blue line that had three members playing in the last Olympics, so it wasn't the equal of the role she held last year as WCHA Defensive Player of the Year and a first-team All-American. That's been a key under the current Minnesota staff — players have improved. Maybe a better symbol for the senior class is backup goaltender Shyler Sletta, who has appeared in 11 games, played 270 minutes, faced 73 shots, and stopped all of them. Seemingly everything this group has touched has turned to gold. As I add it up, I think the 139 was last year's class. This senior class is 140-9-7. Not the perfection of their sophomore season, but still more than any college athlete dares to dream.
As for UMD's struggles, I didn't foresee that. I fully expected the Bulldogs to put together the second half that North Dakota has had. It's interesting that those teams have remained in contention as well as they have, because neither has gotten a lot of impact from its freshmen. The six skaters in UMD's freshman class have combined for 17 points. The players who transferred away from Duluth after last season have done better. For example, junior Shara Jasper has 27 points at Lindenwood, and Jordan Krause at Northeastern and Hannah Bramm at Penn State hit double figures. A couple of players transferred in, but they've had a lesser impact, so most of the gain has come from the return after redshirt seasons of Brigette Lacquette and Brienna Gillanders, and having Katerina Mrázová for a full season instead of just one semester. However, the Bulldogs have had a hard time scoring in games versus top teams, and the defense faltered as well on Friday night. Now UMD is in what looks like must-win territory, so it'll be interesting to see if it can find another gear.
Meantime, North Dakota has survived a lot of off-ice adversity this season and caught fire just in time. It doesn't really have any freshmen in the lineup, so the only addition is Northeastern transfer Jordan Hampton on the blue line. They've improved by getting bigger contributions from some of the juniors and sophomores and going to a steady diet of Shelby Amsley-Benzie in net. She may have had the best overall season of any goaltender in the country. The next challenge will be carrying that same success into the postseason.
Another WCHA team that has warmed up is Ohio State, currently on an 8-4-1 stretch after knocking off Wisconsin on Saturday. Do you think the Buckeyes have more surprises to spring, or was that a final Senior Day hurrah?
Candace: Well, I don't know if it'd be a surprise if Ohio State moved into fifth or even fourth in the WCHA standings. The Buckeyes trail Bemidji State by one point and Duluth by two points. Ohio State faces Minnesota-Duluth this weekend, while Bemidji faces Minnesota. Given the surprise the Beavers gave Minnesota in November, I don't think the Gophers are going to take Bemidji lightly. Even though Bemidji is hosting, I fully expect Minnesota to come out like gangbusters and also be determined to get a little revenge for the loss and tie back in the first half.
If the Gophers sweep, Ohio State could very well finish fifth, or even sweep the Bulldogs and move up into fourth and get the home ice spot. Of course, given how competitive the WCHA has been, I don't know that home ice will matter much for the three to six playoff spots. Ohio State has an issue though in that the Buckeyes haven't recorded a win yet against Minnesota-Duluth or North Dakota, going 0-5-1 in the games played against the two squads. Perhaps the Buckeyes will change that this weekend against the Bulldogs.
Ohio State did sweep Bemidji State, but it doesn't look likely that the Beavers and Buckeyes will play each other. If I had to hazard a guess, Minnesota-Duluth will host Ohio State in the first round. Ohio State's issue is scoring; not a single player on the Buckeyes is even above .700 points per game in scoring. As you pointed out, the teams that are the most consistent are those that blend good defense, which the Buckeyes have, with good scoring, which Ohio State lacks. I could see Ohio State throwing a surprise or two and advancing to the WCHA tournament semifinals in Grand Forks, but I don't see the surprises going any further than that.
You asked earlier about the CHA; who do you think might claim the other first-round bye, Syracuse or Penn State? I admit that the entire CHA has me pretty much baffled.
Arlan: It does seem like the conference tournament is going to offer up some overtime no matter what teams are involved. From that standpoint, Syracuse, Penn State, and Robert Morris finishing tied for second would be almost fitting. I doubt we'll see that, because it requires Robert Morris to get a road sweep at Penn State while Syracuse drops both halves of a home-and-home series with RIT. Ironically, that scenario doesn't do the Colonials any good, because they'd lose the tiebreakers and would wind up fourth, whereas if they sweep PSU while Syracuse gains at least a point and finishes alone in second, then the Colonials gain third. If Penn State and Syracuse finish in a tie that doesn't involve RMU, then the Nittany Lions own that tiebreaker.
These teams tend to perform better at home. Penn State is 6-1-1 in CHA play on home ice, but only 3-6-1 in league road games. The Orange are 6-1-2 in conference games played in Syracuse and 1-4-4 on the road.
Beyond that, the Orange can be so streaky. They scored the first four goals versus Lindenwood last weekend in the first period, and then their offense went on hiatus for three and a half periods plus an overtime, while the Lions scored the next five goals. Syracuse finished on the offensive, scoring the final three goals of the series. Those games were both on home ice, and now we mix in the further uncertainty of having to play one of the games versus the Tigers in Rochester; I doubt that we see a sweep by the Orange. We certainly could, because RIT has little to play for from a strategic standpoint because it is locked into being a road team in the quarters, but I imagine there will be some incentive for a Tigers' senior class playing its final game at home.
Perhaps we'll see splits all around. If so, then Penn State gets the second seed and the bye, while Syracuse and Robert Morris host the first round. I almost wonder if on some level the Nittany Lions wouldn't prefer to host a quarterfinal series, something they've never done. Obviously the bye is a greater advantage, but playing at home has been kind to them.
Mercyhurst looks to have separated a bit from the rest of the league. Its top scorers are producing with regularity, and the defense has come together, allowing only one goal over the last four games. What do you make of the goaltending situation? Is Julia DiTondo now the starter, or with Amanda Makela posting a shutout in her last game, does Michael Sisti now have two correct answers?
Candace: I think Makela is still the starter, and Sisti knows that he has a very capable backup. Makela has played in 29 games this season, DiTondo five. Makela's goals-against is 1.38, and her save percentage is .934, hardly numbers to sneeze at. DiTondo is marginally better, with a 1.05 GAA and .945 save percentage. DiTondo posted nearly identical numbers last year as a sophomore, including starting five games.
In the only game DiTondo played against a ranked opponent, she gave up three goals against St. Lawrence on Jan. 23 in half a game, the same number Makela did that night. Yes, she's done well in her last few outings, but it's been against RIT, hardly an offensive powerhouse, and Penn State, against whom she only faced 11 shots all night. Plus, Makela is a senior and has been through the playoff crucible before, and understands the pressure. I'd imagine that Sisti is thinking long-term; when Makela graduates, he knows he has DiTondo ready to step in, but for now, you go with your senior, your leader, especially if Mercyhurst wins the CHA tournament and captures the auto-bid to the NCAA tournament.
Regardless, the Lakers have shown improvement of late, winning their last four and five of their last six, ever since being swept by St. Lawrence pretty convincingly in January. Perhaps that was the wakeup call the Lakers needed to get them focused on winning the CHA. Mercyhurst is on the road at Lindenwood this weekend, and while the Lions have played well of late and can throw a scare into the Lakers, I expect Mercyhurst to sweep and be ready for the CHA tournament.
This final weekend has some interesting games on tap, none more so perhaps than the home-and-home between Boston University and Boston College. The Eagles got back to their winning ways last weekend, and the Terriers also seemed to have shaken off the Beanpot rust. BU is currently sixth in the PairWise. I still think of the Terriers as the dangerous floater in the NCAA tournament. How do you see BU right now?
Arlan: Only over the Internet. Attempts at humor aside, the Terriers are somewhat similar to Cornell. Both teams have a top line anchored by an Olympic gold medalist that includes a Kazmaier finalist from last year, and a senior who is also in the 100-point club. Either of those lines can absolutely explode in any game and put on a show. Offensively, BU may have a little better depth after the top line, with freshmen Victoria Bach and Rebecca Leslie in particular. I do wonder why the Terriers haven't approached BC's offensive production in their Hockey East games; BC has scored 107 goals to 78 for BU in league play. With comparable talent up front, I'd expect that to be closer, even if the Terriers can't keep pace defensively.
That defensive end is where BU's fate will ultimately be determined. Whether they get back to the Frozen Four, as they've seemed to do in odd years, fall in the quarters, or miss out on the NCAA tournament altogether, swings on how well Brian Durocher can shore up the play in the defensive end. The Harvard game in the Beanpot demonstrated that there is still work to do, and the January loss at Cornell wasn't particularly encouraging either. Another red flag is that the team hasn't posted a shutout since October. If they can't shut down some of the Hockey East offenses, I don't know how they will suddenly be able to put the clamps on the type of teams that they'll see in March.
Durocher usually manages to figure it out and have his team playing its best for the postseason. They've only allowed a total of five goals in the four games following the meltdown in Bright-Landry Hockey Center, so maybe that was the wakeup call that some people needed. It's hard to make too long a run in the tourney needing to score four goals or more to win, and BU has allowed four or more goals a half dozen times this year.
I suppose BU will make the NCAAs by winning its other three games in the Hockey East tournament, even if it loses three more games to Boston College. However, that likely gets them a first-round game with a good offensive team like Harvard, Minnesota, or the Eagles yet again, so the defense will need to be ready.
What else have we been able to glean out of Hockey East down the stretch? I think we kept expecting Vermont to find another gear, but unless the Catamounts can get more than two points out of their series at Providence, then they are looking at a trip to Chestnut Hill for the quarters. After hinting at improvement early in 2015, the Friars have dropped six straight and allowed at least four goals in five of those games. As shaky as both teams look, somebody has to win, and if nobody does and we get a couple of ties, that favors Providence and dooms the Catamounts. Do you think UVM can come up with a series win when it needs it most?
Candace: That schizo team? Well, anything is possible, but consistency hasn't been Vermont's strength, and they've got a long-ish road trip to play Providence on the road. You would have thought having New Hampshire at home would have been the perfect time for Vermont to come up with a statement win, but no, the Catamounts only got one point on the weekend. The defense disappeared, giving up seven goals.
Vermont owns wins over North Dakota and Boston University, and gave Boston College fits, but has gotten blown out by Connecticut and lost two of three games to New Hampshire, then tied in the third game between the two. It's almost like Vermont needs a strong opponent to bring focus to the players.
Then again, Vermont played Providence three weeks ago and crushed the Friars, 7-1. It's entirely possible that Vermont could finish sixth by sweeping Providence and getting a little help from Maine against Connecticut. As you pointed out, Providence has fizzled when the Friars needed to make a push, losing six in a row.
I guess all that is my convoluted way of saying I have no idea what happens with the bottom three in Hockey East on the final weekend of play, just as the bottom five playoff teams in the ECAC have me baffled. It certainly makes for a fine final weekend of regular season action!