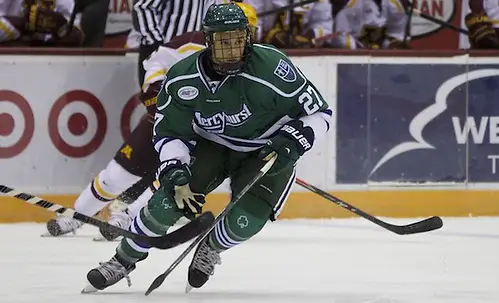 With two weekends to go in the regular season, the Mercyhurst Lakers are where coach Rick Gotkin hoped they'd be: contending for a first-round bye and home ice in the Atlantic Hockey quarterfinals.
But it hasn't necessarily happened the way Gotkin and his senior-laden team expected. The Lakers have had to contend with some key injuries, including losing the reigning Atlantic Hockey player of the year, goaltender Jimmy Sarjeant, for the rest of the season.
"It's been a pretty good season so far," said Gotkin, whose team sits in a tie with Bentley for second place. "You go through some stretches where you weren't playing bad but you don't win. That's hockey."
The Lakers have gone more than two games without a win just twice, with their longest dry spell (0-3-1) coming in late January. "We had a tie and a loss at Sacred Heart and then came home for two close games with Bentley," said Gotkin. "We lost both games by a goal but I thought we played pretty well.
"We've been consistent for the most part, even with the injuries. And they've been big injuries."
Sarjeant has been bothered by a hernia all season, and last week elected to have surgery, putting a premature end to his college career.
"It's been a problem for him all year," said Gotkin. "It started in August. I give Jimmy a ton of credit for trying to play through it and having some great games despite being hurt. We had hoped that with the right amount of rest he could get better, especially over Christmas, but it came back in his first game with Ohio State (on Jan. 2).
"When you lose the goalie of the year and player of the year, it's a challenge. But the silver lining is that both [freshman] Brandon Wildung and [sophomore] Spencer Bacon have gotten a chance to play and have done well."
Wildung has seen the majority of time in net, posting a 2.26 GAA and a .924 save percentage. He's allowed just four goals in his last four games, all Mercyhurst wins.
Gotkin also points to his seniors as a big factor in his team's success. The Lakers' top three scorers are all seniors: Daniel Bahntge (31 points), Kyle Just (30 points) and Matt Zay (29 points).
"We've never had a group this size with 11 seniors," said Gotkin. "They came in together at a time we were looking to change the culture and get going in the right direction and they've been very good [every year] for four years."
Senior Ryan Misiak's move from forward to defense has bolstered the Mercyhurst blue line. Nineteen of his 20 points this season have come from games in which he's played defense.
"We moved him for the Colgate game [on Oct. 31]," said Gotkin. "We had lost Nick Jones [to graduation] and he was such a big part of our game in the way he moved the puck.
"Last year we started talking a bit about using Ryan as a defenseman because he has those same skills, the way he sees the ice and handled the puck."
The move was initially a shock to Misiak, but he quickly adjusted, according to Gotkin.
"You should have seen the look on his face when I told him he was playing defense," he said. "He looked at me like I had three eyes. He thought I was crazy. But then he said, 'You know, I'm actually getting pretty psyched about this.' He's been great and now he has no interest in going back to forward. Ryan wants to pursue a pro career and it will be as a defenseman."
Mercyhurst has a home-and-home series with Canisius this weekend and can end up anywhere from first (a very outside chance) to sixth.
"This sounds like coachspeak but we know it's going to be a battle every night," said Gotkin. "We're going to try to win every game, but we'll take wherever we end up and work from there. The next two weeks are like playoffs with so many implications."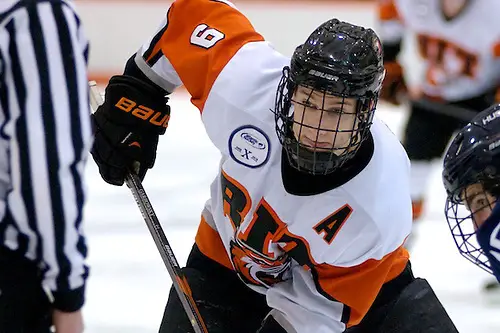 Members only
Mercyhurst's Kyle Just is looking to become the newest member of the century club, which has an active membership of 12 players in Atlantic Hockey.
Three other Lakers players reached the 100-career-point mark this season: Bahntge (now with 122 points), Zay (125) and Misiak (115).
Rochester Institute of Technology's Matt Garbowsky joined the club on Saturday with his 40th point of the season and 100th of his career.
Robert Morris' Cody Wydo leads the way with 146 points. He reached the 100-point milestone last season, as did Air Force senior Cole Gunner (134 points) and Bentley's Alex Grieve (126).
Other members include seniors Scott Jackin (Robert Morris, 101 points), Brett Switzer (Bentley, 107), Steve Weinstein (Bentley, 102) and Chad Demers (Air Force, 117).
Bentley's Andrew Gladiuk is the only junior to reach the mark this season. He's at 101.
At least two more players are looking to join this season: Robert Morris forward Zac Lynch has 96 career points and RIT's Brad McGowan got his 92nd on Saturday.
Crunch (the numbers) time
With two weekends left in the regular season, here's where each AHC team stands in terms of best- and worst-case scenarios:
• Robert Morris (in first with four games left) — The Colonials can finish anywhere from first to third. RMU can clinch the regular season title with two points or Bentley and Mercyhurst failing to get two points in each of their final games. One point will give the Colonials a tie for first but it would lose the top seed in a tiebreaker of conference wins should Bentley or Mercyhurst win out. In any case, Robert Morris has clinched a first-round bye, the only team to do so at this point.
• Bentley (tied for second but ahead on tiebreakers with four games left) — The Falcons can finish anywhere from first to seventh. They have clinched at least home ice if they finish low enough to have to play a first-round series.
• Mercyhurst (tied for second but loses on tiebreakers to Bentley with four games left) — Like Bentley, the Lakers can finish anywhere from first to seventh. They have clinched at least home ice for the first round.
• Canisius (fourth with four games left) — The Golden Griffins can finish anywhere from second to seventh. They've also clinched home ice for a possible first-round series.
• RIT (fifth with four games left) — The Tigers are looking at anywhere from second to eighth. They would also be home in the event of a first-round series.
• Air Force (sixth with four games left) — See RIT.
• Holy Cross (seventh with three games left) — See Air Force.
• Sacred Heart (eighth with three games left) — The pattern finally changes as the Pioneers are looking at somewhere between fifth and ninth.
• Army (ninth with four games left) — The Black Knights are looking at the smallest range of possibilities. They will finish either eighth or ninth.
• American International (10th with two games left) — The Yellow Jackets can finish anywhere from ninth to 11th. They will be on the road in the first round.
• Niagara (11th with four games left) — Ditto AIC.
The crystal ball will become a lot less cloudy come Sunday morning.
CLASSy
The 10 finalists for the Senior CLASS award have been announced, and the list includes two players from Atlantic Hockey: Air Force's Chad Demers and Robert Morris' Wydo.
The winner of the award, which recognizes athletic, academic and community excellence, will be announced at the Frozen Four in Boston.
Two previous winners have come from the AHC: Air Force's Jacques Lamoureux in 2011 and Army's Cheyne Rocha in 2013.
Weekly awards
I'm going with league's choices, which include three freshmen:
Player of the week — Matt Zay, Mercyhurst:The senior had five points (two goals and three assists) in a sweep of Niagara.
Goalie of the week — Brandon Wildung, Mercyhurst: The rookie stopped 46 of 49 shots in that same sweep of Niagara.
Rookie of the week — Erik Baskin, Air Force: Baskin scored three times and chipped in a pair of assists in a sweep of American International. He's riding a seven-game scoring streak.
Defensive player of the week — Jonathan Kopacka, Air Force: Another Falcons freshman, Kopacka was plus-6 last weekend.