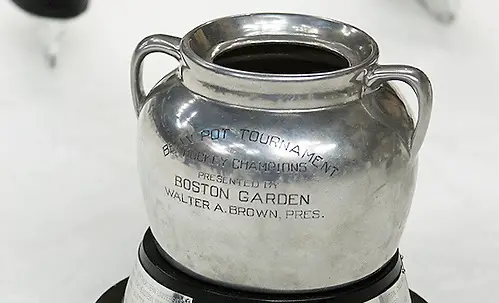 What a difference two weeks makes.
As snow barreled down on Boston on Feb. 9, a major part of the city's college hockey tradition was thrown off track. A week after the semifinals were delayed from Beanpot Monday to Beanpot Tuesday, the championship and consolation games, always scheduled for the second Monday of February, had to be moved two weeks.
Beanpot 2015
Semifinals: Feb. 3
• No. 3 Boston University 4, No. 6 Harvard 3 (2OT) | Beanpot semifinal win a long time coming for Boston University
• Northeastern 3, No. 11 Boston College 2 | Northeastern shakes off the nagging problems, carries resurgence into the Beanpot final
Feb. 23
• Third place: Boston College 3, Harvard 2 (OT)
• Championship: Boston University 4, Northeastern 3 (OT) | Terriers are no wicked stepsisters
Frustrating to all involved, it not only changed the date of the game, it changed the momentum each team is carrying into the tournament's final day Monday. Boston University and Northeastern play for the championship after Boston College meets Harvard in the consolation game.
The delay also shifted how the Beanpot final fits into each team's schedule.
For three of the four teams (Boston University, Northeastern and Boston College), the weekend previous to the original championship Monday was scheduled as a single-game weekend, eliminating the three-game-in-four-day scenario that a Monday game presents. But because of the delay, three of the four Beanpot teams faced two-game weekends, with Northeastern and Harvard facing long road trips.
The Huskies played in Maine, while Harvard played in college hockey's North Country against St. Lawrence and Clarkson. Boston College played a single game on Friday night and Boston University played a two-game home series against Notre Dame.
To put all four teams on a leave playing field, sources reported that the TD Garden and each of the four schools pooled funds to allow both Northeastern and Harvard to charter back to Boston after Saturday's game. For each team, the extra rest and a night's sleep in each player's own bed as opposed to on a bus could be helpful.
Interestingly, the switch of dates also led to perceived switches in strategy for the tournament's two finalists, Northeastern and Boston University. Faced with a three-game-in-four-nights scenario, both teams rested their No. 1 goaltender on Saturday night despite each being embroiled in a league race, possibly paying homage to how much a Beanpot title means. Each team, however, lost on Saturday.
Monday's championship game will be for a trophy, but the night's first game, a consolation game between Boston College and Harvard, might have more on the line than the late game's Pot o' Beans.
Each team is dancing around the PairWise Rankings bubble, BC more secure at ninth. Harvard is tied for 16th with UMass-Lowell and needs wins in the final days of the season if it is to make the NCAA tournament. A loss could drop the Crimson to as low as 21st in the PairWise. A win could move Harvard back above the bubble line to 15th.
While Northeastern also could benefit in the PairWise, with the potential to reach a season-high 16th in the all-important rankings, winning the Beanpot might mean so much more. The ugly stepsister of this tournament — having won just four times in 62 attempts and not since 1988 — the Huskies could see a good second half turn unmatched in terms of recent greatness with a win.
But Northeastern's opponent might want a title equally as much. Boston University once was the king of the midseason tournament but over the last five Beanpots, the Terriers are 0-fer. The BU senior class had just one win before the semifinal double-overtime victory over Harvard, last season's Terriers team was the first to finish last in consecutive Beanpots.
After Saturday night's 3-2 loss to Notre Dame, BU coach David Quinn immediately moved toward the Beanpot finale.
"The good news is we don't have to live with this too long," Quinn said. "We get to play another hockey game on Monday night with a chance to win a championship."