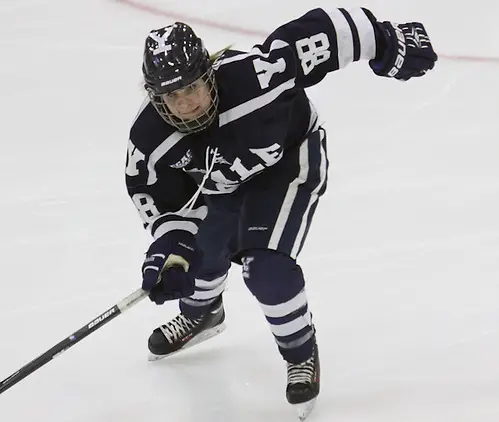 It's conference tournament time.
Two weeks, three rounds, and four conference champions will be determined. More so than any previous year, a wide variety of narratives could unfold in most of the leagues. Let's scratch the surface of what a few of those might be.
No. 1 Clarkson versus Dartmouth
Postseason history: Clarkson swept the Big Green in a 2014 quarterfinal, claiming a pair of 2-0 verdicts.
Clarkson Golden Knights
Record: 22-9-3
Impact players: Clarkson is the top seed thanks to new arrivals like goalie Shea Tiley and defenseman Savannah Harmon, and the growth of returnees such as forwards Cayley Mercer and Shannon MacAulay.
Hurdles to overcome: The Golden Knights aren't especially deep, and only had 15 skaters dressed when they shut out Harvard to secure first.
Why they will advance: Clarkson swept the Big Green during the season, including a dramatic OT win on the final weekend.
Why the Golden Knights will win the ECAC tournament: After a breakthrough past two years, it's the one prize missing from the trophy case.
Dartmouth Big Green
Record: 13-13-2
Impact players: Dartmouth is led by the triple threat of forwards Lindsey Allen, Kennedy Ottenbreit, and Laura Stacey.
Hurdles to overcome: The Big Green have the league's best power play, but their penalty kill ranked 10th, so they'll need to either improve or stay out of the box.
Why they will advance: Dartmouth has been down this road before, losing a hard-fought series in Potsdam to a much deeper Clarkson.
Why the Big Green will win the ECAC tournament: The gap between them and the rest of the field isn't as big as it usually is for a bottom seed.
No. 2 Harvard versus Yale
Postseason history: Harvard advanced out of a quarterfinal series in 2014 by taking the third game, 4-0, after splitting a pair of double-overtime contests.
Harvard Crimson
Record: 21-5-3
Impact players: Harvard is deep at forward, deep at defense, but seems to go as junior goaltender Emerance Maschmeyer goes.
Hurdles to overcome: The whole has been mystifyingly less than the sum of the parts at times.
Why they will advance: In the wake of a somewhat flat weekend at home to close the season, I wouldn't expect another one.
Why the Crimson will win the ECAC tournament: After taking four championships in five years, they haven't won since their perfect ECAC performance in 2008, so the Crimson are due.
Yale Bulldogs
Record: 15-13-1
Impact players: Jamie Haddad and Phoebe Staenz share the scoring lead with 24 points, but the balance is improved.
Hurdles to overcome: Yale will have to tighten up a defense that ranks seventh.
Why they will advance: Ivy League teams always get up to play Harvard.
Why the Bulldogs will win the ECAC tournament: The Bulldogs are riding a season-best five-game winning streak.
No. 3 Quinnipiac versus Princeton
Postseason history: The Bobcats swept the Tigers in a quarterfinal series in 2011.
Quinnipiac Bobcats
Record: 24-7-3
Impact players: Taylar Cianfarano leads the country with eight game-winning goals, and Chelsea Laden sits atop the shutout list with 14.
Hurdles to overcome: A lot of air has leaked out of the balloon in recent weeks; Quinnipiac has scored multiple goals only three times in its last 10 games.
Why they will advance: The Bobcats didn't give Princeton much reason for optimism in sweeping the season series.
Why the Bobcats will win the ECAC tournament: For Quinnipiac to make its first championship a reality, it will need to get back to being near impossible to score against.
Princeton Tigers
Record: 15-12-2
Impact players: Kelsey Koelzer leads ECAC defensemen in points with 26, while Molly Contini is tops on the team with 28.
Hurdles to overcome: Goalie Kimberly Newell will have to be on her best form, because any goals allowed will be very challenging to answer.
Why they will advance: The Tigers haven't reached the semifinals since their NCAA tournament year in 2006, so they're due.
Why the Tigers will win the ECAC tournament: Princeton is also looking for its first crown, but this year, there doesn't appear to be a dominant team to overcome, so the time is ripe for a surprise winner.
No. 4 Cornell versus St. Lawrence
Postseason history: SLU fell to the Big Red in a semifinal in 2013 after defeating them in the final in 2012.
Cornell Big Red
Record: 16-10-3
Impact players: Cornell has the league's biggest offensive threats in seniors Brianne Jenner, Emily Fulton, and Jillian Saulnier.
Hurdles to overcome: The Big Red rank fifth in scoring defense and penalty kill in the league.
Why they will advance: Cornell has won its last five quarterfinal series.
Why the Big Red will win the ECAC tournament: With the players they are graduating, it could be a while before they have a realistic chance to win the tourney again, like they did the last two years.
St. Lawrence Saints
Record: 19-10-5
Impact players: Defenseman Amanda Boulier, goaltender Carmen MacDonald, and a solid stable of forwards.
Hurdles to overcome: There was a wide variance between the Saints on their best day and their worst.
Why they will advance: SLU will need to start faster, as they've fallen into 4-0 and 3-0 holes in losing twice to Cornell this year.
Why the Saints will win the ECAC tournament: They've come from off the radar to do it before, but only the seniors and Boulier were around to see it.