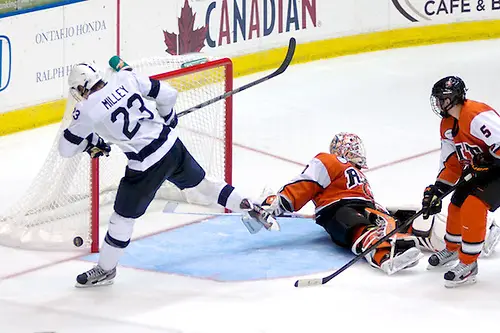 Penn State junior forward Jonathan Milley will not continue his playing career in Hockey Valley due to recurring injuries.
"Jonathan has spent more time and worked harder in the training room than any other athlete I have ever seen," said PSU coach Guy Gadowsky in a statement. "I know he gave his absolute best effort to play, but his body just didn't comply. He is a great student and will continue to help our program off the ice. I am very impressed with the support of Penn State University in regards to Jonathan's health and commitment to get his degree."
"I am very honored to have gotten this far in hockey," added Milley. "Injuries have prevented me from continuing to play, but at this point and time, my health and degree are what is most important. I am so grateful to be considered part of an awesome team and to be able to get an education beyond my expectations."
Milley, who played in four games this season, last played at Madison Square Garden on Nov. 29 in a 3-1 loss to Cornell. Milley had a goal and an assist in the second game of the season against Connecticut.
For his career with the Nittany Lions, Milley played 33 games and registered six goals and seven assists for 13 points.