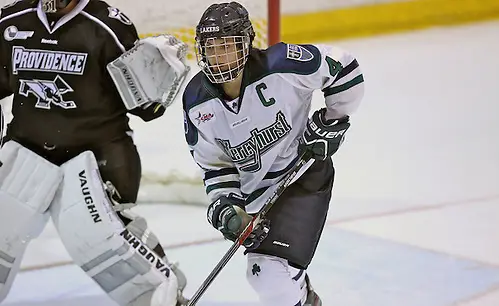 Three Mercyhurst players took home individual honors at the annual College Hockey America awards banquet on Thursday.
Emily Janiga was named Player of the Year and CHA scoring champion after collecting 20 goals among 31 points for the Lakers.
Molly Byrne earned Best Defenseman honors and Amanda Makela took home the CHA Goaltending Trophy.
RIT's Lindsay Grigg was tabbed Best Defensive Forward, Syracuse's Stephanie Grossi won Rookie of the Year laurels and Paul Flanagan from Syracuse was named Coach of the Year.
In addition, RIT's Taylor Thurston picked up the Individual Sportsmanship Award and Penn State earned the Team Sportsmanship Award.
The CHA also announced its two All-Conference Teams and All-Rookie Team.
2014-15 CHA All-Conference First Team
| Player's Name | Position | School |
| --- | --- | --- |
| Shara Jasper | F | Lindenwood |
| Emily Janiga | F | Mercyhurst |
| Melissa Piacentini | F | Syracuse |
| Molly Byrne | D | Mercyhurst |
| Nicole Renault | D | Syracuse |
| Nicole Hensley | G | Lindenwood |
2014-15 CHA All-Conference Second Team
| Player's Name | Position | School |
| --- | --- | --- |
| Rebecca Vint | F | Robert Morris |
| Laura Bowman | F | Penn State |
| Jenna Dingeldein | F | Mercyhurst |
| Mikaela Lowater | D | Robert Morris |
| Akane Hosoyamada | D | Syracuse |
| Jennifer Gilligan | G | Syracuse |
2014-15 CHA All-Rookie Team
| Player's Name | Position | School |
| --- | --- | --- |
| Sarah Robello | F | Mercyhurst |
| Stephanie Grossi | F | Syracuse |
| Alysha Burris | F | Syracuse |
| Christa Vuglar | D | RIT |
| Bella Sutton | D | Penn State |
| Hannah Ehresmann | G | Penn State |