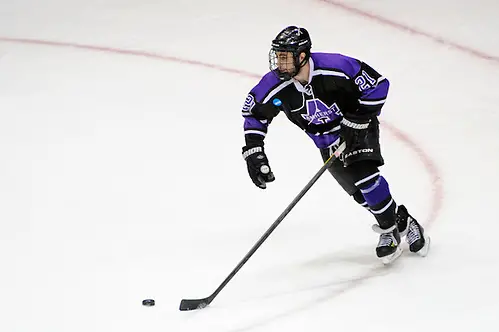 The NESCAC handed out its year-end awards and named its two All-Conference Teams recently.
Trinity's Ryan Cole was named Player of the Year after leading the league with 35 points in 14 goals and 21 assists.
David White, a first-year forward from Amherst, was named Rookie of the Year after leading the NESCAC with 18 goals, including five game-winners.
Amherst's Jack Arena, in his 32nd year with the Lord Jeffs, took home Coach of the Year honors after guiding the squad to a 19-4-2 mark this season.
2014-15 All-NESCAC First Team
| Player's Name | Position | Class | School |
| --- | --- | --- | --- |
| Ryan Cole | F | So. | Trinity |
| Michael Hawkrigg | F | Jr. | Trinity |
| David White | F | Fy. | Amherst |
| Michael Flynn | D | Jr. | Trinity |
| Jake Turrin | D | Sr. | Amherst |
| Nathaniel Heilbron | G | Jr. | Trinity |
2014-15 All-NESCAC Second Team
| Player's Name | Position | Class | School |
| --- | --- | --- | --- |
| John McGinnis | F | Sr. | Bowdoin |
| Robbie Murden | F | So. | Hamilton |
| Mike Rowbotham | F | Sr. | Amherst |
| Aaron Deutsch | D | Sr. | Amherst |
| Blake Edwards | D | Sr. | Tufts |
| Tom Conlin | G | Jr. | Connecticut College |