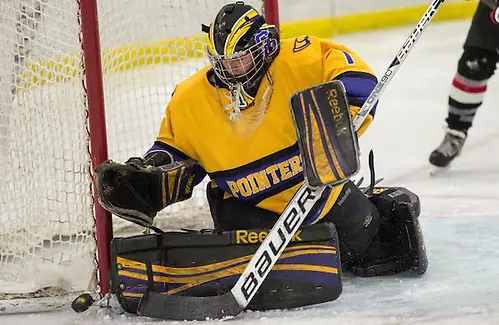 Wisconsin-Stevens Point goaltender Janna Beilke-Skoug was selected WIAC women's Player of the Year for the 2014-15 season.
In addition, Wisconsin-Superior's Dan Laughlin was tabbed Coach of the Year.
Beilke-Skoug posted 16 wins, four shutouts and a 1.90 GAA this season.
Laughlin secured the coaching honor after directing the Yellowjackets to a 15-12 overall record.
An All-WIAC Team was also chosen, along with a team of Honorable Mentions and an All-Sportsmanship Team.
2014-15 All-WIAC Team
| Player's Name | Position | Class | School |
| --- | --- | --- | --- |
| Betsy Anderson | D | Jr. | Wisconsin-Stevens Point |
| Janna Beilke-Skoug | G | Sr. | Wisconsin-Stevens Point |
| Alice Cranston | F | Sr. | Wisconsin-River Falls |
| Kendal Evenson | D | Sr. | Wisconsin-River Falls |
| Sam Greeley | D | Sr. | Wisconsin-River Falls |
| Andi Husted | D | Sr. | Wisconsin-Eau Claire |
| Paige Johnson | D | So. | Wisconsin-River Falls |
| Chloe Kinsel | F | Jr. | Wisconsin-River Falls |
| Emily Lester | F | Jr. | Wisconsin-Stevens Point |
| Megan Menotti | D | Sr. | Wisconsin-Stevens Point |
| Kat Nejedlo | F | Jr. | Wisconsin-Stevens Point |
| Haley Olmstead | F | Sr. | Wisconsin-Superior |
| Nicole Schaub | D | Sr. | Wisconsin-Stevens Point |
| Dani Schultz | F | Sr. | Wisconsin-Superior |
| Dani Sibley | F | So. | Wisconsin-River Falls |
| Paige Turner | G | Jr. | Wisconsin-Eau Claire |
2014-15 WIAC Honorable Mentions
| Player's Name | Position | Class | School |
| --- | --- | --- | --- |
| Ali Biagini | F | Fr. | Wisconsin-Stevens Point |
| Paige Dale | F | So. | Wisconsin-Eau Claire |
| Kiara De Kezel | F | Sr. | Wisconsin-Superior |
| Carly Moran | F | Fr. | Wisconsin-River Falls |
2014-15 WIAC All-Sportsmanship Team
| Player's Name | Position | Class | School |
| --- | --- | --- | --- |
| Andi Husted | D | Sr. | Wisconsin-Eau Claire |
| Lynne Larson | F | Jr. | Wisconsin-Superior |
| Allie Olson | F/D | Sr. | Wisconsin-River Falls |
| Rachel Reynard | F | Jr. | Wisconsin-Stevens Point |