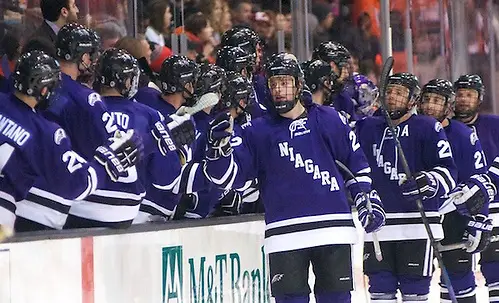 Each week during the season we look at the big events and big games around Division I men's college hockey in Tuesday Morning Quarterback.
Matthew: Five of the six Division I college hockey conferences will be into the postseason come this weekend, but the Eastern leagues got their playoffs started last weekend.
A lot of first-round series went how we thought they would, but there were a few upsets. Union beating Cornell, Merrimack beating Northeastern and Niagara beating Holy Cross are what stick out the most to me, but which of those three upsets surprised you the most?
Jim: Without a doubt, Niagara winning that series was the biggest shocker and for a number of reasons. The Purple Eagles, though they finished strong, had an awful season on paper. Going into last weekend, Niagara was dead last in the PairWise Rankings (it has since passed American International). But losing Game 2 in triple overtime seemed to be a reason that Holy Cross would win the series, holding the momentum.
Success in long overtimes didn't translate last weekend. Yes, Merrimack finished off Northeastern in a double-OT game, but Holy Cross lost Game 3 after winning in triple OT and Massachusetts couldn't find a win in Games 2 or 3 at Notre Dame after winning the longest game in college hockey history, a five-OT thriller in Game 1 on Friday night that captivated the college hockey, and, for that matter, sports world.
Matthew: Multiple-overtime hockey games have a way of doing that, be they in the college game or the NHL. They're a bit tricky to cover if you're there doing a gamer on it but the game is bound to stick with you. I live in North Dakota now, but when I was covering Omaha for USCHO earlier in my time with our site, I remember covering one triple-overtime CCHA playoff game between UNO and Alaska that never seemed to end. Have you ever had experiences with those sorts of marathon games?
Jim: I have covered a few, the most memorable being the four-OT game between St. Lawrence and Boston University in the 2000 NCAA regional final. But for me, being on the bench as an equipment manager in 1994 when Minnesota beat UMass-Lowell in double OT stands out the most. I always thought that game was endless but now is a lot more common in terms of length. Looking at the list of longest games, so many of them have come in the last 10 years.
Matthew: And we might not be done with them in first-round playoff games this season, either. We could see some in the Western leagues, two of which get the playoffs underway. The NCHC and WCHA just wrapped up their regular season slates last weekend, and congratulations are in order for North Dakota and Minnesota State, respectively, on their titles.
I have to say, however, that I look at the Big Ten and am a little surprised to see Michigan State at the top of the league with one week left to go. The Spartans won nine of their last 12 games to rocket up the conference standings, but what do you put this late-season success down to?
Jim: I got to see Michigan State play earlier in the season and the one thing that stood out was its strong defense. We know you need to score to win a hockey game but if you can find a way to manufacture a few goals and then have solid defense and goaltending, that is a winning formula.
There really isn't a Big Ten team as solid on the back end as the Spartans. Do you agree?
Matthew: Yeah, I think that's very fair to say. Michigan State is one of the more defensively stout teams in the country most seasons, and this group of Spartans isn't one of the anomalies.
They're giving up only two goals per game in Big Ten play and 2.19 in all games this season, and they have one of the best goaltenders in the country in Jake Hildebrand. He'd be on my first-team ballot for the all-Big Ten list this year if I was voting on it, and I think he could carry the Spartans to a deep postseason run if things continue to go right for them.
Jim: I really look forward to watching the final weekend of the Big Ten play out. Michigan State is obviously in the driver's seat but has to face a Michigan team that has already beaten Sparty twice this season in three tries. Playing a team five times leaves little in the way of secrets, and that will happen for Michigan and Michigan State.
And I think the team to watch out for is Minnesota, which will host Penn State. If the Gophers prove they are the team we saw in the first half of the season, I believe they could sweep and take the title if Michigan State falters.
Thumbs up
To Notre Dame's Cal Petersen. This one is pretty obvious: Petersen crushed the NCAA mark for saves on Friday night in the five-OT marathon with UMass, a 4-3 loss for Notre Dame, and then rebounded to win the final two games of the weekend and the series. Petersen posted a 23-save shutout in the clinching game on Sunday.
Thumbs down
To Cornell. After running down Yale, Brown, Penn State and Denver in November, the Big Red were in the conversation for the NCAA tournament. Now the season has come to an abrupt end at the hands of Union. The seventh-seeded Big Red was outscored 11-2 in the two-game sweep and finished the season with just two wins in its final 11 games. Cornell ended the year with an 11-14-6 mark, the fewest wins since Mike Schafer took over the program in 1995.
Coming up
Two more leagues join the postseason this weekend, while the Big Ten is the last to crown a champion. Michigan State has a one-point lead with a home-and-home series against Michigan, which is tied with Minnesota for second. Penn State, meanwhile, is three points behind the Spartans in a league where wins are worth three points. The top two teams get to avoid Thursday at the Big Ten tournament, so there's a premium on getting one of those two spots.
The WCHA and NCHC start the playoffs, and in the latter, No. 6 Minnesota-Duluth has to go on the road to No. 7 Denver for a best-of-three series.
No. 12 Yale hosts No. 18 Harvard in ECAC Hockey, while No. 9 Boston College hosts No. 17 Vermont in Hockey East.