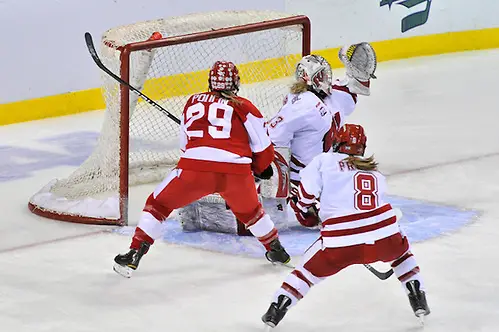 Arlan: People talk about sports teams going from, "Worst to first," but that's usually from one season to the next. It's fairly rare that we see teams do what RIT just accomplished, finishing last during the season but earning the playoff title. Even though the Tigers won the CHA tournament last year, I confess that I didn't have them emerging from the bracket. It is a fitting end to a CHA season where one always had to expect the unexpected.
However one may feel about RIT and what they bring to the NCAA tournament, I strongly believe that having the Tigers join the list of teams that have played in the tourney is great for the sport in the long term. Exposing more programs and fan bases to the event can only grow its popularity. While in the past other CHA teams could take pride in what Mercyhurst was able to accomplish on the national stage, it should make it more achievable for all when they can see that Robert Morris has won a CHA title, and RIT has now won two. The remaining teams can say, "If they can do it, why can't we?"
The careers of the RIT seniors are really a quite incredible story. They start out being the dominant team at D-III, put the exclamation point on that experience with the NCAA title, move up to D-I and certainly do nothing to discredit their program in year one, and then are league champs as juniors. I'm sure they had a dream to play in the other NCAA tournament before their four years were up and knew it was possible after last year, but it certainly had to look like a dream only at certain rough points in this season. Good for them for sticking with it and making it reality.
There were some ugly goals that figured heavily in deciding outcomes, and that's common this time of year. I liked that RIT's winning goal was a befitting highlight for such a memorable moment for the program. A very nice team goal with four people touching the puck coming up the ice and finished off with a beautiful shot by Carly Payerl — it was just how one would draw it up.
At the same time, one has to feel for Syracuse. They shared the same dream, and it was so, so close. Hockey can bring crushing defeats, and the seasons can end so suddenly that there really is no way to process it in the moment. The Orange were playing the type of tournament that they wanted up to that point, at least for the most part. When I talked to Paul Flanagan a few weeks ago, he said that one thing that had caused problems for his team was that it had failed to put teams away when it had the chance, and that led to losses and ties it shouldn't have suffered. That came back to bite Syracuse once more at the worst possible moment. I'm sure Ali Binnington's play in goal for RIT factored heavily into that.
What are your thoughts on how the CHA tourney played out, including RIT stopping Mercyhurst and ending the Lakers' run of 10 straight NCAA appearances?
Candace: I was surprised a little that RIT took out the Lakers. Considering that the exact same scenario played out last year in the CHA tournament, when an auto-bid wasn't on the line, I thought the Lakers would come out flying. Mercyhurst though, just doesn't have the dominant offense that it used to. I had thought Mercyhurst might be vulnerable in the CHA tournament, and even home ice couldn't boost the Lakers.
Let's take a moment to honor that pretty amazing stat: 10 consecutive NCAA tournaments. Consider that some of the traditional powers, including Minnesota, Wisconsin, Boston College, Boston University, Harvard, and Cornell, haven't attained 10 in a row. Mike Sisti does a tremendous job with that team every year, and the Lakers will be back.
While Mercyhurst outshot RIT in the game, it wasn't as though Binnington had to make Nicole Hensley-like saves. She finished with 26 saves, a respectable number, but it shows that the team played good defense in front of Binnington. There is a lot of leadership in the RIT locker room. That senior class won a D-III national title as freshmen, transitioned very successfully to D-I, won the CHA tournament in just the program's second year, and now is in the NCAA tournament.
I do think it is very good for the game to see RIT making it, and will hopefully lead clubs like Syracuse, Penn State, and Lindenwood in the CHA, and perhaps perennial also-rans in other conferences, such as Rensselaer and Union in the ECAC, Minnesota State in the WCHA, and most of the teams in Hockey East, to realize that success isn't really that far away.
Speaking of Hockey East, as well as coaches who always seem to get their program where it needs to be, Brian Durocher again has Boston University on a roll. The Terriers had looked vulnerable at times this season, but were pretty dominant in capturing a fourth-consecutive Hockey East tournament. The Terriers' offense just rolled over opponents, putting up six goals on Northeastern in the semis after scoring eight and seven against Vermont in the quarters. They capped that by beating arch-rival Boston College 4-1 on Sunday. It was the most goals BC had given up all season long, although one was an empty-netter. Three of those goals came in the third, just when it seemed BC might be ready to take it.
What is your opinion on Hockey East and how it played out, and what do the results mean for BU and BC, respectively?
Arlan: I wish I knew. There are a lot of different ways to read this result while looking at one team or both collectively. BC was playing for a Hockey East title, positioning in the seeds, and the normal BC/BU rivalry bragging rights. BU entered the weekend with scenarios existing where the Terriers could have been left home for the NCAAs, so they obviously had a little extra incentive to cement their position. Or we could say that it was the fourth meeting and BU was due to win one sooner or later. We could say that BU just had a good day, but it had a more impressive semifinal win as well. Then there is the event. BU has now won four straight Hockey East championships and five overall to BC's one. Certain teams just seem to struggle in certain events. For example, Dartmouth has won only one NCAA tournament game in seven trips.
So what does this mean for the Eagles? This has already been an incredible year, their winningest ever by six wins. When they got done drilling Northeastern in back-to-back games in January to move to 20-0-1 on the season, they'd at least put themselves into the conversation as one of the best teams ever. Since then, while the wins have continued at nearly the same rate, the dominance displayed in the wins took a dip. Did teams start to adjust and come up with better games plans? Did the intimidation or shock-and-awe factor decrease?
It was bad timing for the Eagles that the highest goal total allowed and their lowest offensive output of the season both came on the same day in a title game. Given that they at least generated 33 shots in defeat, I'd think that the goals allowed would be a greater concern. As in the team's first defeat, there were some glaring defensive breakdowns, as the coverage lost track of Marie-Philip Poulin twice. The pucks will likely go in offensively for the Eagles, although perhaps not at the dizzying rate displayed early in the year, but this isn't a good time for the defense to falter.
As for the Terriers, their reward for the championship run is a trip to Madison to play Wisconsin on the same half of the bracket as top-ranked Minnesota, so BU could conceivably have to get through the two WCHA powers just to earn another date with Boston College. Not that it is out of the question for it to run that gauntlet and earn a title, not if Poulin continues to play like the Olympian version of herself and Victoria Hanson maintains her solid work between the pipes. For the most part, the Terriers can go as far as Poulin can carry them, provided everyone else does their jobs. BU has other good players, but the teams it will run into from this point are stocked with good players as well. If she continues to do what she did this weekend, then it is possible that Poulin can rise to a level no one else can equal.
What do you see as the greatest concern for BC moving forward. Offense? Defense? Something else entirely? Or now that all the preliminaries are out of the way, will the Eagles regain their focus and once again look like a team without a care in the world?
Candace: I'd like to think that BC can just regain its focus and start ripping goals left and right, but in my experience, it's harder to just turn things on and off than to have them on all the time. The good news for BC is that it is loaded with talent. Alex Carpenter, Haley Skarupa, Emily Pfalzer, Kate Leary, Andie Anastos, Emily Field, Kenzie Kent, Katie Burt, the list goes on. On paper, the Eagles have the talent to decimate teams.
However, and I alluded to this in my picks column, in which I actually almost picked BU, BC is a great front-runner. If the Eagles get a couple of goals early, they seem to elevate their game and their confidence and just come in waves, and it's very difficult to contain them. If a team can stay close with them though, the Eagles seem to get just a little tight, and the flow that is so important to their game doesn't come to them. In both of BC's losses and ties, that has been the recipe for success: Keep BC from running away with things, and the Eagles seem to lose sight of what makes them great.
Given the talent level that the possibly three teams BC will face from now on possess, that doesn't bode well for a national championship run. First, BC gets Clarkson, which has proven to be a tight defensive team, in the mode of both St. Lawrence and Harvard, teams that tied and beat BC, respectively. Pass that test, and BC gets either Harvard, which pasted BC with its first loss of the year, or Quinnipiac, a team BC scraped past in a 2-1 decision in January. Of course, if they win those two, BC could find itself facing BU again, or Wisconsin, Minnesota, or RIT, all teams that can play sound defensive hockey.
Six weeks ago, I'd have picked BC to win the NCAA tournament. Now, I hedge my bets. BC can still win, but a lot of things need to go right.
Speaking of Minnesota, the other front-runner also showed some vulnerability, losing in the semis to Bemidji State. It was the second victory for the Beavers over the Gophers this season. The last team to defeat Minnesota more than once in a season was North Dakota back in 2011-2012. Have the Beavers shown a path to victory for teams facing the Gophers in the NCAA tournament?
Arlan: To a certain extent, teams can emulate strategies others used to defeat a certain opponent. BU demonstrated the most effective game plan all season to use against BC; nobody else had posted a multi-goal win over the Eagles. But trying to borrow exactly what to do and how to do it is a slippery slope. For example, copying what BU did in terms of attacking may not work as well for a roster that doesn't possess a Poulin.
A team likes to stick with the basic style that has gotten it this far, rather than attempting to morph into Bemidji State on short notice. If it does try to become a clone of the Beavers, the odds are that it won't become as effective in a week as they were over the course of five months at playing that style. Teams have different DNA in how they want to play the game and different personnel suited to playing a certain style. What Jim Scanlan's Bemidji State team wanted to do wasn't radically different from what Mike Sertich's BSU teams had been doing for years. A few tweaks, and a new 20-win team was born.
I'll get my first chance to watch RIT play on Saturday, so I won't pretend to know all of its strengths and weaknesses. Even if it doesn't have Bemidji State's size and speed at key positions, I'm sure it has its own strategies for shortening a game when it is the underdog in the hopes of getting the best of a couple of key plays to decide the contest.
Where would a possible RIT upset of Minnesota rank among those that stand out to you in college hockey?
Candace: Not quite at the level of Holy Cross beating Minnesota in 2006 or RIT beating Denver and New Hampshire to make the Frozen Four in 2010, but certainly up there. On paper, it's a mismatch, because Minnesota has two of the top four scorers in the country and four of the top 20, including the nation's second-leading goal scorer and second-leading assist disher. The Gophers also have the fourth-best goaltender in the country.
RIT meanwhile, has Binnington, who is a great goalie but is down at 11 arguably playing a lower level of competition than the Gophers. The RIT offense is ranked 28 and the defense ranks 13. Minnesota's offense ranks second and its defense ranks third. RIT's power play is last among all 36 women's D-I teams, and its penalty kill is only ranked 17. Minnesota leads the country with the top-ranked power play, and its penalty kill is ranked eighth.
Going further, RIT doesn't have a single skater among the top 80 players in scoring in the country. They probably don't even have a single skater in the top 120 in scoring. Lindsay Grigg leads the Tigers in scoring, and she averages .473 points a game, while Celeste Brown is second, averaging .421 points per game. Minneosta's Hannah Brandt averages more points per game than the top four Tigers put together, and so does Minnesota's Dani Cameranesi.
However, there's an old saw about that's why they play the games. The Tigers can play solid defense, and if they can keep in it and prevent Minnesota from jumping out to a huge lead early, anything is possible.
Let's move to the ECAC. Harvard looked awfully impressive in winning over Cornell in the final. Now the Crimson get Quinnipiac, again. The teams have faced each other three times, and all three games have been 2-1 Harvard wins, with the last two coming in overtime. You have to think the Crimson are a little annoyed to have to face the Bobcats yet again, this time in the NCAA tournament. Might the fourth time be the charm?
Arlan: Might. Might not. I doubt that the matchup is giving Harvard any warm, fuzzy feelings, but then neither a Clarkson team that has new life nor a BU squad that has found a higher gear and would have a healthy dose of motivation would have been ideal either. This time of year, you're going to play a tough opponent capable of beating you.
My question about Quinnipiac is, Do the Bobcats know how to finish off games in the postseason? Or against Harvard at any time? Quinnipiac has scored first in all three games, but hasn't been able to hold the lead in any of them. It's a young program, and it has never won a game beyond the conference quarterfinal. Now it gets its first shot at the NCAA tournament, but winning in March is a different animal, and the Bobcats are still feeling their way in that regard. Come tournament time, everybody is doing the same things that have allowed the Bobcats to be successful all season — work hard, play tough D all over the ice, limit mistakes. The first goal for Harvard was a bit of a brain cramp by Quinnipiac. A player can't take her stick and attempt to knock a shot attempt by the opponent out of the air such that it is redirected on goal. Nothing good is likely to result from that. Goodbye lead. And once the Bobcats lose the lead, they have a heck of a time trying to get another one. Over their last 13 games, they've scored one goal or fewer in eight of them.
Then there's Harvard, a team that is as slow-starting an elite team as you're likely to find. The Crimson have fallen behind in seven of their last nine games. That's a recipe for disaster in the postseason, because there are teams that are great at playing with the lead. Harvard still seems to be less than the sum of its parts; at least it finally has a couple players averaging a point a game. Maybe the big third period against Cornell will inspire the Crimson to more productive days.
With as tight as the season has been, it just figures that there will be at least one upset in the first round. With BU improved, it could come in Madison, although Wisconsin looked awfully good this weekend as well. Quinnipiac at Harvard is the kind of game where an upset might occur. With Quinnipiac having hosted the Frozen Four last year, it's the way these things go that the Bobcats would reach the semifinals a year too late. After the Beanpot, everyone is anticipating a rubber match between Harvard and BC, so perhaps the hockey gods will deprive us of that.
You said you thought Harvard was impressive on Sunday, but there it was, trailing in the third period. Does it look to you that the Crimson play with fire too often?
Candace: Sometimes yes, but more often than not they come through. Where Harvard's danger lies is offense, which sometimes seems to go on walkabout. I've said it before and will say it again: Harvard seems to me to be a slightly better version of Quinnipiac, but built on the same mold. Harvard does have two scorers in the top 30 in Mary Parker and Miye D'Oench, while Quinnipiac's highest scorer is freshman Taylar Cianfarano at 43.
Harvard ranks sixth nationally in defense, giving up on average only 1.58 goals per game; Quinnipiac is first, giving up on average only 1.08 goals per game. However, offensively, Harvard is fourth, scoring on average 3.73 goals per game, while Quinnipiac is at 15, scoring on average 2.62 goals per game, the lowest number of any team in the NCAA tournament except for RIT. In fact, the top five teams offensively are all in the NCAA tournament, and then Clarkson is at ninth. Looking at those numbers, Harvard is scoring more than a goal per game better than Quinnipiac, while the Bobcats are only stopping half a goal per game more than the Crimson.
Yet I said that Harvard is vulnerable on offense earlier, so it helps to look at some of their results. Harvard has been very successful in racking up points against defensively challenged teams such as Brown, Union, Connecticut, Colgate, and sometimes Yale. They also had the one incredible win against BU in the Beanpot, a 9-2 shellacking. However, Harvard has also been shutout twice, dropping 1-0 decisions to Clarkson and Princeton, and been held to one goal twice and two goals in seven of its games.
The playing with fire revealed itself in the losses to Princeton and Clarkson for sure, as well as the 1-1 tie with St. Lawrence down the stretch. I'm not sure what the result will be against Quinnipiac, but multiple overtimes wouldn't surprise me at all.
It's interesting the way the draw happened for the tournament, isn't it? It certainly seems that one bracket is the bracket of death (Minnesota, Wisconsin, BU, and RIT), while the other has teams that have seemingly struggled in the second half (BC, Harvard, Quinnipiac, and Clarkson). We haven't talked about the Golden Knights yet; do you see any scenario where they get hot and defend their title, or are they out to the Eagles in the first round, which would be revenge for BC, which lost to Clarkson in the same round last year?
Arlan: Is it accurate to say that teams on the one side of the bracket struggled in the second half? I can cherry pick the stats and say that BC is 1-2-1 against Teams Under Consideration since the start of February, but the Eagles are still 16-2-1 in the second half; that's not really struggling. Clarkson has been 3-2 against TUC over that same timeframe. Harvard has actually been 8-1-1 using that same statistic, so I think it would qualify as hot rather than struggling. The Crimson have been guilty of dancing on the ledge, but not of falling off. I'd give you that Quinnipiac has struggled, going 3-4 against TUC since February and ending January on a three-game losing streak against such teams. Overall, I think you'd find similar struggles on the other side of the bracket as well.
Clarkson at BC looks to be a matchup that is not advantageous for the Golden Knights. They can't afford to let the Eagles get out and run, but that's mixing metaphors. My guess is Clarkson would prefer a game along the rail, where its size could wear on BC. The Eagles are quick enough and sure enough with the puck that I'd expect that they will be able to play most of the contest in space. That would require Clarkson to take away the middle of the ice, force shots to the outside, and deny the pretty goals that BC features. Clarkson has a slight special teams edge, but because neither team commits many penalties, I'm not sure how big of a role special teams will play. That makes me wonder how Clarkson is going to find offense in this game. Both teams start a freshman goaltender, so the NCAA tournament inexperience factor in net cancels out.
Here is the statistic that stands out to me. Clarkson is a very good road team, posting a 13-3-2 road record, which betters its home mark of 11-6-1. BC is 18-0-0 at home. Having not lost at home all season, I don't see it happening in its final home game. Other than the month of January, most of those games weren't even close. The Eagles have outscored opponents 114-21 at Conte Forum, and I could see this game slipping away from the Golden Knights at some point. They've accomplished more than anyone expected from such a young team defending its title, but I think the run ends here. Clarkson is set up well for the future, but this is BC's year.
So who haven't we discussed — Wisconsin? The Badgers looked very good in Grand Forks this weekend in ending a tournament drought. Wisconsin's last previous tournament win was in the NCAAs in 2011, over, ironically enough, BU. Sarah Nurse was a one-woman wrecking crew, with four goals and six points this weekend. She skates on what is supposedly the third line for the Badgers. Will Wisconsin's depth and defense win out over Poulin's greatness?
Candace: That game might be even harder to pick than Harvard against Quinnipiac. Wisconsin's only really puzzling losses this season were to Ohio State and St. Cloud in mid-February. The loss to Bemidji, well, almost everyone in the WCHA lost to Bemidji. The Badgers however, have struggled against Minnesota, going 0-3-1, and I see some similarities between the Gophers and Terriers as teams that can score and impose themselves on their opponents.
Still, the Badgers look a little deeper than the Terriers, who rely very heavily on Poulin and Sarah Lefort. Wisconsin doesn't have anybody with quite their numbers, but the Badgers do have four players with over 30 points and perhaps have a little more balance. Annie Pankowski is one of my top nods for rookie of the year, along with Minnesota's Kelly Pannek and BC's Kenzie Kent. BU's rookie standout is Victoria Bach, and she's certainly come on of late.
It will likely come down to goaltending, as these things often do. Offensively, the teams are a wash, with BU averaging 3.89 goals per game and Wisconsin averaging 3.47. Defensively, Wisconsin is tied with Quinnipiac for the best goals-against in the country, allowing 1.08 goals per game. Boston University is the worst team defensively of any team in the NCAA tournament draw, giving up on average 2.47 goals per game. Wisconsin starts Ann-Renée Desbiens, who is second in the country with a 1.10 goals-against and a 9.43 save percentage, also second. BU starts Victoria Hanson, who has a 2.11 goals-against and a .911 save percentage.
Then again, Hanson just pretty much shut down BC, one of the best offenses in the country. I wonder however, if the long trip to Madison might tire out the Terriers just enough for Wisconsin to take advantage.
What do you think of that matchup?
Arlan: I'd discount any fatigue factor. Yes, BU will have to play three games in eight days with a flight mixed in, but Wisconsin has the same game schedule with the only difference being that its flight came a few days earlier. Players have made the point to me over the years that this is why they play hockey, so even though everybody is tired when the postseason arrives, they'll find the energy somewhere and worry about being tired once it is over.
BU reminds me more of Cornell than Minnesota in terms of personnel: a star-studded top line, an all-league caliber defenseman with the rest of the unit being a bit more patchwork, and a goaltender in her first season as the starter. The Terriers have more depth up front than Cornell, and perhaps, more forward depth than Minnesota as well. The Gophers' combination of size and skill on the blue line is really what sets them apart from other teams, and that has factored heavily into the outcomes versus Wisconsin, where the Badgers have had trouble scoring.
Where I can see a similarity between Boston University and Minnesota when it comes to playing the Badgers is that they have had trouble shutting down Brandt and Cameranesi, so Poulin and Lefort with Kayla Tutino presents a similar challenge for them. Wisconsin has mobile defensemen who handle the puck well, but several don't have much size, so that could be a handicap when defending against world-class players like Poulin and Lefort. I expect that both the Badgers and Terriers will use their strength at forward to help defend all over the ice. Wisconsin doesn't have the jaw-dropping first line that BU does, but they mix veterans such as Karley Sylvester, Brittany Ammerman, and captain Blayre Turnbull with talented sophomores Nurse and Syndey McKibbon and freshmen Emily Clark and Pankowski. Because of that balance, Mark Johnson doesn't have to try to play one line heavy minutes, so that could result in the Badgers being fresher more than BU having to fly will. Although, people like Poulin and Lefort always see a lot of ice time, and they are accustomed to it.
If the game becomes a low-scoring chess match because both teams are focused on defending, that favors Wisconsin, because that is its game. The Terriers are better suited to a race to three or four. It is an intriguing match, because more so than in any of the other quarters, it matches two teams that look to be peaking at the right time, having won conference tournaments in impressive fashion as the second seed. It's hard to bet against the Badgers, but the Poulin factor definitely complicates the matter.
Speaking of Poulin, do you have any thoughts on the final three for the Patty Kazmaier Award?
Candace: I'll admit to being surprised Poulin was the third finalist. Obviously, she's a great player, but I don't think she's had the great year from start to finish. She's come on strong in the second half, especially February, so perhaps the voters weighed that, or she was just in their minds more because of how she played down the
stretch. I'd probably have picked Haley Skarupa as my third, after Alex Carpenter and Hannah Brandt, who were locks. Skarupa has been second or third in scoring in the country all year, and her points per game average is higher than Poulin's. Skarupa has also posted some pretty important goals for the Eagles, goals that have gotten them started on rolls or proven to come in pivotal moments.
The selections were made weeks ago, so the interesting thing about Poulin is that against the best teams, she was held pointless four times, once each by Minnesota and Harvard and twice by Boston College. Her three-point night in the Hockey East tournament against BC came after she was announced as a top three finalist. I almost wonder if Poulin's Olympian aura contributed to her being a top three finalist in her senior year at BU.
Other than Skarupa, I thought Brianne Jenner of Cornell had a shot to make the final three; she has before, and she also came on strong in the second half.
What did you make of the final three, and any picks on who might win? I lean toward Carpenter personally.
Arlan: I agree that Brandt and Carpenter were nearly sure things for the top three, but then unlike Poulin, they had the advantage of being healthy for the most part this season. After that, voting could have gone in a number of directions. Having watched Poulin play in person a few times, I do think that there are facets to her game that don't always come across in the numbers. I don't think it is as much Poulin making the top three because she has an Olympic aura, but rather that the same skills that make her an Olympic star have made her a star in the NCAA. Playing in Boston has never hurt either, just because more voters are going to see you play more often.
With the Kazmaier, it seems that impact early in the season counts more than impact late, and because both Carpenter and BC as a whole had that, Carpenter is the favorite.