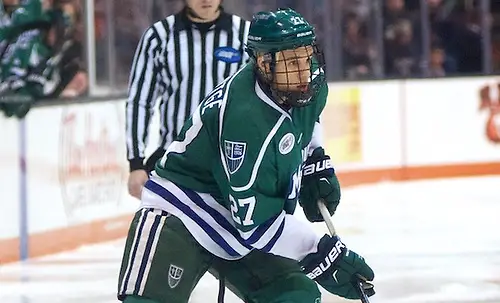 If there's one thing the Atlantic Hockey postseason constantly tells us, it's that nothing is certain.
The margin for error, already razor thin, becomes that much smaller. The same mistakes considered harmful during the season now become fatal if a team or player makes them in a game.
But while the league will crown a champion next week with three single-elimination games at Blue Cross Arena in Rochester, N.Y., perhaps the most exciting time of year is this weekend — the quarterfinals when eight teams play best-of-three series with the chance to advance on the line.
"There is so much parity in our league," said Mercyhurst coach Rick Gotkin. "Whenever we play anybody, regardless of the time of year or if it's at home or on the road, we get some great games. If we win that particular night, we know we played well. It's a credit to the league, and it's a credit to the caliber of student-athlete that all of our teams recruit. Every night is a battle."
Even with the parity, it's always seemed like getting to the semifinal round is easier for the Lakers than it is for others. Since 1999, Mercyhurst has made the playoffs its playground, having advanced to the penultimate games 12 times in 15 tries. Of the three times the Lakers have missed, two came in back-to-back seasons in 2010 and 2011.
"We've had a lot of different classes through the years, and it's the best time of year for any hockey player," Gotkin said. "I don't think, necessarily, we do anything unique, and we all know how important the regular season is to this time of year. But it's the second season and everyone wants to be a part of it."
If the Lakers want to make their 13th trip to the league's championship weekend, they'll have to wade through uncharted waters. Not since 2010 has a team clinched a first-round bye and not played a quarterfinal series on the road. Under the old, 10-team format, seeds seven through 10 played single-elimination games to determine who would face the top and second-place teams. Seeds three through six already knew their assignments, with two teams receiving a first-round bye but having to travel.
With the conference at 11 teams, Mercyhurst's fifth-place finish awarded it a bye, but it forced it on the road for the quarterfinals; the Lakers are making a long trip east to take on Bentley, a team that went 3-0-1 against them during the year. When they came to Massachusetts back in November, a tie on Friday night gave way to an overtime Falcons win on Saturday.
"We're definitely in a unique position," said Gotkin, "since we get the bye and we have the extra rest, but at the same time we're preparing to be on the road [this week]. The rest definitely allowed us to take advantage of being able to get our work in while letting some of our guys get a couple of solid days off.
"It's spring break, so we were able to let some of our guys go home, take a couple of teammates with them. It lets them really get away and helps them rest, so when they came back, they were ready for full work so we can be good and strong for a series against a very, very good Bentley team in a very tough place to play."
The best-of-three series kicks off Friday night at 7:05 EDT with the first possible elimination game at the same time on Saturday. An if-necessary third game is slated for the same time Sunday.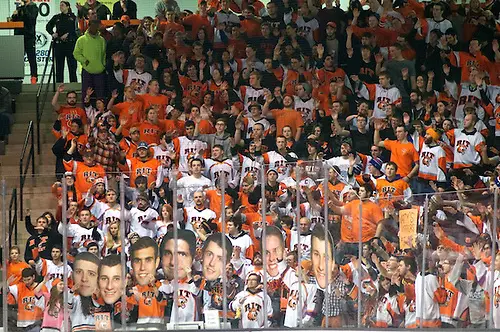 This week's matchups
No. 5 Mercyhurst at No. 4 Bentley
It's been almost 10 years since Mercyhurst and Bentley, who joined the old MAAC together for the 1999-2000 season, played in the playoffs. In 2006 — when the playoffs were single elimination and hosted at top-seeded Holy Cross — the Falcons won 3-2 on a goal scored 58 seconds into a second overtime period.
Overall, they've played only three postseason games against each other, all while the league was exclusively single elimination, with Mercyhurst holding a 2-1 advantage.
As mentioned earlier, Mercyhurst is looking for its 13th trip to the semifinals. The Lakers are 6-2 in the best-of-three format with an overall record of 12-6. All-time in the MAAC/AHC playoffs, they're an astounding 30-16 with three league championships.
They'll face a Bentley team previously unbeaten at home in a three-game series until last season, having won their previous two series in three games. Bentley's one of the toughest outs in Atlantic Hockey, taking Rochester Institute of Technology to three games two years ago and having played a double-overtime game in both of their previous quarterfinals series. The Falcons are looking for their first trip to the semifinals since 2009. Overall, every three-game series they've ever had at home went the distance.
No. 7 Air Force at No. 3 RIT
For their first six years in the AHC, Air Force simply didn't seem to lose. The Falcons fell in just two quarterfinal games and advanced to the semifinals every year, winning five championships. Their lone loss came in 2010, when Sacred Heart defeated them in the semifinal. RIT fans conceivably remember that year for their team's league championship and run to the Frozen Four.
Since playing in its first playoff series in 2008, RIT has been dominant in the postseason. The Tigers didn't play a postseason game outside of Rochester until 2013, when they were forced to go to Niagara after sweeping American International in the first round. They've never lost a quarterfinals matchup at home (although those games were at old Ritter Arena) and from 2008 to 2012, they went 10-2 overall in the round. This is the first time they'll host a quarterfinals series since that 2012 meeting against Bentley.
They have a habit of meeting on the grand stage: All three prior head-to-head meetings were during the championship weekend. Despite running essentially neck-and-neck for five years, RIT's never scored a goal against Air Force, let alone won a game head-to-head. In 2008, the Falcons won 5-0 in the semifinal round, and in 2011 and 2012, Air Force defeated RIT in the championship game (1-0, 4-0). This season, they split a two-game series in Colorado.
No. 8 Sacred Heart at No. 2 Canisius
The 2013 champ, Canisius is looking for its seventh trip to the Atlantic Hockey semifinals. Of the Golden Griffins' six quarterfinals series victories, three came within the best-of-three format. In 2010, Canisius swept Mercyhurst to advance to the penultimate round; in 2013, it took a two-game sweep out at Air Force; last year, it came back from down a game at Bentley to win in three games.
Sacred Heart is advancing to the quarterfinals for the first time since 2011, but it is a program with some success playing in the best-of-three format. Since the league expanded its playoffs to a best-of-three format in 2008, the Pioneers have played in four different quarterfinals matchups, winning twice. That 2008 expansion utilized a "final five" format, and the Pioneers played in the only play-in game in AHC history, losing to Mercyhurst.
Charter members of the MAAC hockey league, the teams have met only once in the postseason — in 2002, the Pioneers won 3-2 in overtime in the quarterfinal round. This year, Sacred Heart hosted Canisius and took home the series with a win and a tie in Connecticut.
No. 11 Niagara at No. 1 Robert Morris
Two teams forever linked by the bonds of the old CHA, the Purple Eagles and Colonials have a substantial postseason rivalry. Niagara won the first three matchups in the CHA postseason (2005, 2006 and 2008) before Robert Morris won in 2009.
After joining Atlantic Hockey in 2010-11, they met in the 2012 postseason, with Niagara sweeping a best-of-three second-round series. Last year, Robert Morris gained a measure of revenge, winning in overtime 5-4 en route to the league crown.
This year, the defending champs haven't missed a beat, spending most of the year ranked in the national polls. Even though this is the first time the Colonials host a quarterfinals series, they haven't been eliminated in the first round since the league went to a three-game series in 2012. They're a combined 10-7 in the Atlantic Hockey postseason.
Niagara, meanwhile, is trying to make Atlantic Hockey history for a second time. The only NCAA at-large team out of the AHC, it will try to become the lowest seed to ever make the playoff semifinal. History's on the Purple Eagles' side: They're a perfect 3-0 in the quarterfinal round, with a 6-1 overall record.
Robert Morris swept Niagara during the season's early stages, but the Purple Eagles picked up a win to split their matchup two weeks ago.
Diaper dandies
Atlantic Hockey released its all-rookie team this week. Two of the athletes were unanimous selections, denoted below with an asterisk:
F Tyler Pham, Army
F Jack Riley, Mercyhurst
F Brady Ferguson, Robert Morris
D Brady Norrish*, Rochester Institute Of Technology
D Keegan Harper, Niagara
G Jayson Argue*, Bentley
Players of the week
From the league's office, the stars who shined during the first week of the playoffs:
Player of the week — Air Force's Cole Gunner: Gunner scored 10 points during the Air Force sweep of American International. He scored four goals in the series, highlighted by a hat trick during the second game. Thanks to his output, he became the first Air Force skater since Jacques Lamoureux to have back-to-back 40-point seasons.
Goaltender of the week — Niagara's Jackson Teichroeb: Teichroeb outdueled Holy Cross netminder Matt Ginn, stopping 136 of 142 shots in the series. During the triple-overtime second game, he stopped 30 shots in overtime alone, making 58 saves although the Purple Eagles lost. In the third game, he made 18 saves in the third period en route to a 47-save performance.
Defenseman of the week — Sacred Heart's Mitch Nylen: Nylen, one of the league's best at the blue line, went plus-4 during the Pioneers' sweep of Army. During Saturday's 5-2 win, he registered two assists.
Rookie of the week — Air Force's Tyler Ledford: Ledford had five assists and was plus-3 in the cadets' home sweep of AIC.
The final word
Since this is my last weekly column for this season (Chris Lerch has next week's edition), this is my chance to say thank you to a number of people who made the 2014-15 season possible for me.
First: Todd Milewski, our executive editor of USCHO.com. He does yeoman's work on a constant basis and deals with ever-shifting deadlines and last-minute edits, but he remains the heartbeat of this site. I can't thank Todd enough for all of the work he puts in across all writers and all conferences.
This was my second season working with Chris Lerch on Atlantic Hockey coverage, but he remains as much of a mentor to me today as he did with my very first column. Chris is a wealth of hockey knowledge and experience, and I can't fathom working alongside anyone else. I can't overstate enough how lucky we all are to have him as the foundation of Atlantic Hockey's media coverage.
A big thank you, of course, to the coaches, who let me interrupt their lives and weekly preparations. Their accessibility and candor is what makes this league, in my opinion, the best to work with in college hockey. A special thank you as always to Bentley's Ryan Soderquist.
Kyle Mack, the sports information director at Bentley, is a tremendous journalism resource and one of the all-time greats to work alongside. This being our sixth year working the games on radio for the Falcons, I can't speak highly enough of having Kyle to pitch pretty much anything off of at any time.
Those of you who extend out into other areas of college hockey know my brother Michael broadcasts for Brown. He's simply the best at what he does, and the countless conversations we've had shape my views of hockey, the games and on journalism in general. He's been supportive from day one, and he always helps make what I do possible.
If you've caught a Bentley broadcast, you'll have heard my father-in-law, Steve Brouillard, calling color commentary alongside my play-by-play. "Stevie B" is a former goalie who brings a wealth of hockey knowledge and candor to the games. I've had one of my favorite seasons being able to call games with him, and every week, I get taken to school with matters on the ice while having someone to really banter with during the lulls during game play.
Finally, if you remember back in November, I went on roughly a two-week sabbatical so I could get married. From the beginning, my girlfriend/wife Michelle has had my back. She's dealt with interruptions so I could make and take phone calls, and I know the season can become especially long when I'm running around various rinks in New England. The constant restructure of our lives is something she does with a smile, and as much as I enjoy doing this every week, I enjoy it more because I get to do it with her at my side.
Thanks to all of you for reading; the fans and supporters are what make Atlantic Hockey so great. I look forward to whatever the future holds for all of us.