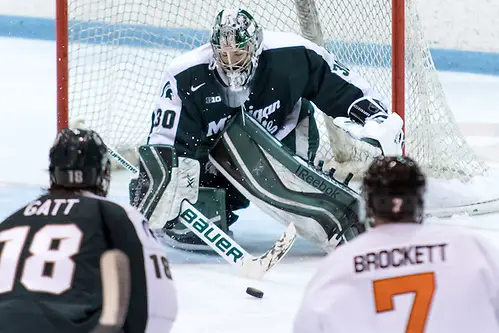 It all comes down to this. Really. And heading into the last weekend of regular season play, suddenly my midseason prediction for Michigan State's postseason hopes doesn't seem so farfetched. The Spartans are in first place with 34 points, a single point ahead of both Michigan and Minnesota, and three points ahead of Penn State.
That's a single game separating first place from fourth, with the regular season championship within the grasp of four teams.
To say that I am surprised would be an understatement.
"Well, I'm not surprised," said Michigan coach Red Berenson, a man who knows more about hockey than most people on the planet and knows more about nearly anything than I do, and whose Wolverines will finish the season with a home-and-home series against the Spartans.
"I thought that Minnesota would be the team to beat and they still might be," said Berenson, "but at least they didn't run away with it.
"You knew that Michigan State would be better. I thought that Wisconsin would be in the mix. Who's the surprise team? It's hard to say, but Penn State comes to mind."
Penn State, indeed. While Berenson is taking the end of this season in stride, the coach of the Nittany Lions had a one-word answer to my question of whether he expected his team to be three points out of first place entering the last weekend of the season: "No."
Guy Gadowsky's team is playing its third full season of Division I play, its second in league affiliation. Last year, Penn State finished the first season of Big Ten play at the bottom of the standings with a record of 3-16-1-0 in conference play.
Thanks to finishing off the Wolverines last weekend, the Nittany Lions are 10-7-1-0, with as many conference wins as Michigan State and Minnesota.
Gadowsky said that he's not exactly sure what's happened to lead the Nittany Lions to this specific moment, but he added, "All I know is that the guys have been working extremely hard to improve."
One significant area of improvement for Penn State this season has been in goal scoring. The Nittany Lions are seventh nationally (3.41) in goals per game, up from 53rd (2.22) last season. They put up 10 against Michigan last weekend in their home sweep. They've also been able to figure out how to maintain a lead this season after collapsing in the third period of so many games last year.
Whatever the reason for their success this year, Gadowsky said he is happy for his players, especially the seniors who began on the club team.
"I feel really good for the senior class because when they committed here, a lot of people asked them why because they were going to lose for all their years," said Gadowsky. "Instead of having that attitude, they came in with the attitude that they could succeed.
"When they committed, we were still a club team and we didn't have a shovel in the ground. There were a lot of questions. There were a lot of players that didn't come because we were so new. I think that everybody that said yes had a lot of faith in themselves. I think they have a unique college experience."
At this point, said Gadowsky, "We're just trying very hard to look at this weekend, but it's nice to be part of the conversation." The conversation being who'll capture the regular-season title. "It's something that we didn't expect. It's fun."
I am not at all certain that Michigan State coach Tom Anastos would describe sitting atop the Big Ten standings by a point this week as "fun," especially since Michigan State is far down in the PairWise Rankings and needing a conference playoff championship to earn an NCAA tournament bid. With a record of 5-9-6-4 in conference play last season, the Spartans finished fifth in the league and were picked by Big Ten coaches this preseason to finish fifth.
Michigan State can't enjoy the honeymoon period Penn State can; there are big expectations attached to Anastos' tenure at the helm.
"Coming into the season, you set pretty lofty objectives because they're objectives for your program," said Anastos. "That's where you want to get on a regular basis. After the start we had to the season, you don't think that far ahead [to the NCAA tournament]. You use the nonconference schedule to ready yourself for conference play."
Michigan State finished the first half of the season with an overall record of 5-10-1, culminating in a 2-1 loss to Michigan in the title game of the Great Lakes Invitational. Said Anastos, "Our first primary goal [of the season] was to win the GLI, which we didn't accomplish."
In the first half, the Spartans were solidifying their defense but were unable to muster goals. In midseason, said Anastos, the team began to transition. Since then, he said: "Each week has gotten more important, and that's been a part of our growth. Each weekend, especially staying in the mix, you become better.
"I don't know if anybody sits there and thinks, 'Is this realistic or not?' because you kind of learn to take it a weekend at a time, and we needed help to stay in the mix. You think, 'OK, here's where we sit,' and go into the next time.
"The most important part isn't being in first place — because who cares who's in first place the second-to-last week of the season? — but that it puts us in control of our own destiny."
As improbable as it may seem given the arc of the season, if the Spartans sweep the Wolverines this weekend, Michigan State earns the regular season championship.
Heading into the weekend, the Spartans find themselves in unfamiliar territory — being chased by everyone else. Anastos said he hasn't seen this development affect his team in any discernible way.
"It's been business as usual," he said. "We're on school break, so they have a lot of time on their hands. Practices have been good, spirits have been high. I don't notice any differences in approach. You always try to look at those things, but you don't know until they play. I don't know."
One of the biggest reasons for Michigan State's second-half success is defense. "Michigan State is there because of their goals against," said Berenson.
The Spartans have the best overall team defense in the Big Ten, allowing 2.19 goals per game on average in overall play, putting them at ninth in the country.
No one else in the Big Ten is anywhere close to Michigan State defensively. The next-best defensive team is Minnesota, at No. 36 in the country (2.65 goals per game), followed by Penn State at No. 39 (2.91), Michigan at No. 41 (3.00), Ohio State at No. 53 (3.47) and Wisconsin at No. 55 (3.75).
"Michigan State had a large nucleus of returning players and look at the season that [Jake] Hildebrand's had this year," said Minnesota coach Don Lucia. "You can certainly make the argument that he's the MVP of the league this year."
Count Lucia as another coach that isn't surprised by this year's photo-finish ending to the regular season.
"You know what, I thought the league would be much more compressed this year than it was last year," said Lucia. "You can see the progress that Penn State made in the last year."
As for Michigan State, said Lucia, "They've played very well in the second half of the season and they've earned their spot."
Heading into last weekend against Ohio State, Minnesota was in second place with 30 points, three points behind first-place Michigan. A split with the Buckeyes on the road prevented the Golden Gophers from taking advantage of the Wolverines' two road losses to Penn State.
Now, Lucia said, all the Gophers can do this weekend at home against Penn State is to focus on themselves.
"We don't control what's going to happen at Michigan and Michigan State," said Lucia. "We control what's going to happen in Mariucci Arena on Friday and Saturday night. We've played well at home all along."
Berenson is another coach keenly aware of last weekend's missed opportunities. "We didn't help ourselves last weekend and Minnesota lost a game at Ohio State that changed their situation," he said.
Berenson pointed to the Wolverines' "bad start" in Friday's 6-4 loss. "We didn't score on our chances. We tried to claw back into the game but it just didn't happen. We got four goals and we still lost the game. We gave up too many goals against."
Too many goals against is a familiar refrain for the Wolverines this season, and Berenson knows it. "It's been a feast or famine type thing," said Berenson. "It's partly on our goalie and partly on the team. Our defense should be better than we've played at times. It's a little bit of everything.
"Then it's our inability to maybe take a team out of the game when we have our chances. I've said all along that we've got to do a better job without the puck. It's the same old, same old."
And that same old, same old may be something that bites the Big Ten when it comes to NCAA play.
"You get to this time of year and it becomes even more difficult to score," said Lucia, who added that there's more at stake this weekend than the regular season conference title. "These are important games not only in the Big Ten but obviously also in the national picture."
Heading into the weekend, Minnesota is the only team high enough in the PairWise Rankings to be in position for an at-large berth to the NCAA tournament.
All of the coaches are thinking about that, of course, but they're focused on this weekend and earning that first-round Big Ten playoff bye, as the top two teams do.
They're trying not to think about the following weekend in Detroit, when there will be an NCAA autobid at stake.
Each of the top four coaches had exactly the right thing to say regarding the end of the regular season, including Lucia drawing attention to the NCAA picture. Each coach, however, added something a bit different.
"A lot of it is out of our control," said Gadowsky.
"It's good," said Berenson. "It's worked out that all the teams have had a season that's identified them."
"It's a big weekend," said Anastos. "It's nice to see meaningful hockey being played the last weekend of the season."
Players of the week
This weeks stars are no strangers to recognition.
First star — Michigan State junior goaltender Jake Hildebrand: Hildebrand posted back-to-back shutouts against Wisconsin last weekend, the first Spartans goaltender to do so since Jeff Lerg (2008), registering 59 saves in the sweep. He's tops in Big Ten numbers (.940 save percentage, 1.88 GAA) and is 11th nationally for save percentage (.930). This is his ninth career weekly honor, his fifth of the season and his fourth first star for 2014-15.
Second star — Penn State sophomore forward David Goodwin: Goodwin had five points in Penn State's sweep of Michigan, including a goal in each game and three assists in Saturday's 4-3 win, extending his point streak to four games. Goodwin has 15 goals and 19 assists in 33 games; in 34 games as a freshman last season, he had seven goals and 11 assists. This is his third career Big Ten weekly award, the second of this season.
Third star — Michigan State senior forward Matt Berry: Berry had both game-winning goals last weekend in the Spartans' sweep of Wisconsin and three goals and an assist in the series. Berry (11-16–27) leads the Spartans in scoring and leads all Spartans players in multi-point games this season with 10. This is his third career Big Ten weekly award and his second of the season.
My ballot
1. North Dakota
2. Minnesota State
3. Michigan Tech
4. Minnesota-Duluth
5. Omaha
6. Miami
7. Boston University
8. Denver
9. Boston College
10. Quinnipiac
11. Providence
12. Yale
13. Minnesota
14. Bowling Green
15. UMass-Lowell
16. Vermont
17. Michigan
18. Robert Morris
19. Colgate
20. St. Lawrence