Just a few months beyond its first national title in 29 years, it has been a year to forget in the Capital District.
Defending national champion Union and two-time titleholder Rensselaer finished the regular season a combined 26-39-5, with the Dutchmen eking out a .500 record (16-16-2) with a win in the season finale, and RPI getting all kinds of bad news en route to a 10-23-3 regular season finish.
Thus, the teams finished ninth (RPI) and 10th (Union) in the ECAC Hockey standings, and each squad ended up on the road in the first round.
Then the fun began.
Union upset seventh-seed Cornell in Ithaca, sweeping the series by an 11-2 aggregate and sending the Big Red into their earliest offseason this millennium. Up the road a bit, RPI sandwiched a 5-0 loss with 3-2 and 3-1 wins, mercifully ending eighth-place Clarkson's miserable winter.
In their own desperate, determined, deliberate ways, the Dutchmen and Engineers managed to put their regular seasons to rest and battle through to the ECAC Hockey quarterfinals.
Dutchmen unify for the second season
It was the best of times, it was the worst of times in Schenectady. Like the year of 2014 in miniature, the Union season began with celebration, then fell into turmoil. The campaign opened with five straight wins but let the gains fade with five losses and a tie. The following four months had streaks and skids, but on the whole it was a struggle for the Dutchmen to maintain a .500 record.
Things didn't look good for Union entering the final weekend of the regular season, stumbling through a five-game losing slide and a 1-6 record in its last seven. The team pulled it together just in time, however, posting twin 3-2 victories against St. Lawrence and Clarkson to conclude the schedule.
"We've had better buy-in, we played better defensively, and through that we're finally being rewarded," Union coach Rick Bennett said. "I think through the course of the year we were taking some shortcuts, and that'll get you. It's a credit to the leadership — Charlie Vasaturo, Sam Coatta and Mike Vecchione — that they've got the locker room going, and that's helped us out a ton."
One key to Union's well-timed resurgence has been its team defense, which held opponents to two goals or fewer in its last eight outings (4-4). The Dutchmen were shut out in the first three games of that streak but stuck to their systems well enough to see the pendulum of fate swing back in their direction.
"It's basically some puck luck, the willingness to shoot," Bennett said. "Even though we were shut out, I thought we were playing some pretty good hockey, and it just wasn't finding the back of the net. That happens in all sports: Sometimes you get in a rut and it's tough to get out of, but in order to get out of them, things seem to work out. It's funny how sports work kind of work out that way."
While often it is tempting to compare editions of teams — say, last year's champs to this spring's sudden contenders — Bennett said there is little similarity between the units or their postseason paths.
"Oh, this is totally different. This is definitely uncharted water, at least in my and our staff's time," he said. "Being on the road for the second time in the playoffs is something different, and that's OK. The group has accepted it, and that's where we've put ourselves. We have to realize — and these guys do — that we've put ourselves in this situation, and we've got to figure it out. If you want to be champions, you've got to win each series, and it just happens to be on the road."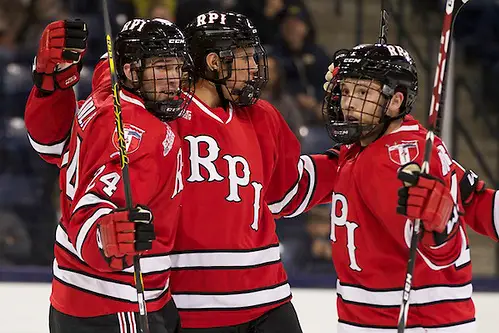 RPI made difficult decisions to prepare for the postseason
If Union's season was mediocre, RPI's was miserable.
"We just faced a lot of adversity, an incredible amount of injuries to key players at some hard times, a nonconference schedule that was probably too demanding especially given the injuries and early NHL departures," said coach Seth Appert, who for good measure added, "and there were some other things that went wrong."
The high-water mark of the Engineers' regular season was just one game in, following a 3-2 win at Notre Dame. RPI enjoyed just one three-game winning streak and three other instances of consecutive wins; the offense struggled mightily to score multiple goals in consecutive games. Fortunately, Appert and RPI were ready for the playoffs.
"We faced a lot of adversity, and as I said to the guys, there's nothing that's going to be thrown at them this weekend that they hadn't seen this year," Appert said. "We've been through a lot, and as long as you don't let it break you, you can use it to harden you."
RPI was outshot 108-61 in the three-game, first-round series at Clarkson but made the most of its chances in Games 1 and 3 to scratch out two wins. Jason Kasdorf stopped 69 of 72 shots in the wins (though only 24 of 28 in Saturday's loss), establishing some solid foundational confidence heading into this weekend's North Country second round.
"It's mostly about us, but we made some key adjustments in preparation for Clarkson and also for Game 3 at Clarkson and we'll do the same thing against St. Lawrence," Appert said. "They're different teams: Clarkson's defense is centered around their big, mean, physical defensemen who run around, trying to absolutely destroy you, and they make it really hard on you. I think St. Lawrence's defense is more based on good-skating defensemen who are hard to play against because they skate really well; they can take time and space away from you. They have good team systematic play, and they have an outstanding goaltender. They are two defensive teams, but I think they go about the process a little bit differently."
Appert and RPI faced a silver-lining scenario midseason, given how poor the Engineers' record was at the time.
"We went through a really difficult stretch, and probably from mid-January on, I've really just told the guys that everything is about preparing for the playoffs," Appert said. "Every decision I make is going to be about putting us in the best position to win in the playoffs, and we probably sacrificed some things on Friday and Saturday nights to be more ready for now.
"We did extra conditioning through weeks of practice where usually you tail off because of the time of year; that may not put us in as fresh a position on Friday or Saturday, but we needed it for this time of the year. The reality is, no matter what we did in the last week or two of January or February, the regular season wasn't going to be great; it just wasn't, and so we tried to make a lot of decisions as a staff that were going to put us in a position to have a chance to win right now."
In truth, it wasn't a huge gamble: Every team in ECAC Hockey makes the playoffs; the only thing RPI could have really hoped to gain with February wins was a better seed.
As such, Appert's tack has Rensselaer in the next round, which is more than four league-mates can claim.
Quarterfinals preview
As noted by pathologically devoted RPI fan blog Without A Peer, the quarters have been remarkably predictable lately, with 11 of the past 12 bye-berth teams advancing to the semifinals. To quote writer Tom Reale:
Road teams in the quarterfinals have won just 10 of 48 series to date (20.8%). 20 home teams have swept (41.7%). Only 4 road teams have swept (8.3%).
So there's that. Be sure to check the ECAC Hockey blog on Friday for celebrated pundit Nate Owen's weekend predictions; until then, some notes:
5 Dartmouth at 4 Colgate
Colgate won the season series 1-0-1 by a 5-2 aggregate score. Dartmouth's James Kruger has been the stronger goaltender (.930, 2.04), but special teams have been comparable. These are evenly matched teams, as the seeds indicate, and both have been playing well of late; there is nothing strikingly disparate about these sides at this point.
6 Harvard at 3 Yale
Yale swept the season series 3-0 by a 9-2 aggregate score. Harvard hasn't defeated Yale in three seasons (0-9-1), and boasts equivalent special teams and superior goaltending (at least by the numbers). Fortunately for the casual (or Harvard) fan, both teams are coming into this already-rivalry-fueled series warm: Harvard has three straight wins and is 5-3-1 in its last nine; Yale is 6-1-3 in its last 10 and hasn't lost in a month. Oh, yeah, the Bulldogs are also 8-2 in home playoff games since 2011 and 4-0 in those series. Harvard hasn't won a road series since the first round of 2011, either.
9 Rensselaer at 2 St. Lawrence
The teams split the season series 1-1; SLU outscored RPI 6-5. RPI may have sacrificed regular season points with the long view in mind, but SLU is a solidly built, goal-out defensive labyrinth. Also, SLU is 7-1 at Appleton in 2015. Really, the most likely potential fly in the Saints' Lake Placid soup will be the play of frequently outstanding goaltenders Jason Kasdorf (RPI) and Kyle Hayton (SLU).
10 Union at 1 Quinnipiac
Quinnipiac swept the season series 2-0, by an 8-6 aggregate score. Both games ended 4-3, and that has to give Union hope. Unless the Bobcats lost a large measure of chemistry and work ethic last weekend, however, the hosts have to be the favorite. Apart from a mostly meaningless 3-1 loss at Dartmouth in the regular season finale, Quinnipiac finished the season 6-1-3 and went 11-4-3 since the holiday break.