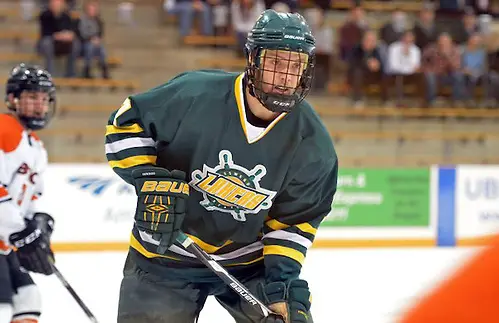 The SUNYAC has announced its individual year-end awards, in addition to three All-Conference Teams.
All the awards were voted on by the head coaches in the conference.
The MVP Herb Hammond Award as Player of the Year was given to Oswego's Shawn Hulshof, while Rookie of the Year went to Cortland's Dan Broderick and Plattsburgh's Bob Emery was named Coach of the Year.
Hulshof, a sophomore forward, led the Lakers with 40 points (19 goals, 21 assists), helping the Lakers to an 18-3-4 overall and 12-2-2 regular-season conference record.
Broderick tallied 40 points with 17 goals and 23 assists, including 26 points in conference play.
The Coach of the Year award is Emery's seventh. In his 26th season at the helm of the Plattsburgh program, he led the Cardinals to a 13-2-1 conference record and the SUNYAC tournament championship crown, its first since 2012.
2014-15 SUNYAC First Team All-Conference
| Player's Name | Position | Class | School |
| --- | --- | --- | --- |
| Chase Nieuwendyk | F | Jr. | Brockport |
| Nick Zappia | F | Sr. | Cortland |
| Shawn Hulshof | F | So. | Oswego |
| Chris Luker | D | Jr. | Brockport |
| Bobby Gertsakis | D | Sr. | Oswego |
| Jon Hall | G | Jr. | Potsdam |
2014-15 SUNYAC Second Team All-Conference
| Player's Name | Position | Class | School |
| --- | --- | --- | --- |
| Alex Botten | F | So. | Oswego |
| Michael Cassidy | F | Sr. | Plattsburgh |
| Connor Toomey | F | Sr. | Plattsburgh |
| Brandon Beadow | D | Sr. | Plattsburgh |
| Anthony Calabrese | D | Jr. | Plattsburgh |
| Matt Zawadzki | G | So. | Oswego |
2014-15 SUNYAC Third Team All-Conference
| Player's Name | Position | Class | School |
| --- | --- | --- | --- |
| Tyler Brickler | F | Sr. | Geneseo |
| Mike Montagna | F | Sr, | Oswego |
| Kevin Emmerling | F | Jr. | Plattsburgh |
| Ben Kramer | D | Jr. | Buffalo State |
| Jack Caradonna | D | Sr. | Geneseo |
| Nick Horrigan | G | Jr. | Geneseo |