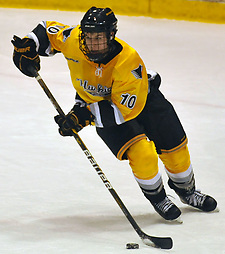 Michigan Tech's outstanding year translated to Huskies' senior forward Tanner Kero being named the WCHA's Player of the Year after winning the league's scoring crown with a 13-goal, 21-assist performance for 34 points in 28 conference games.
Kero was also named Student-Athlete of the Year after maintaining a 3.72 GPA in mathematics with a concentration in actuarial sciences.
The WCHA Defensive Player of the Year award went to Alaska junior Colton Parayko for the second year in a row. Parayko, who signed a two-year contract with the St. Louis Blues earlier this week, ranked third among WCHA defensemen with 20 points in 28 league contests, while tying for third among all league players with 13 power-play points.
Bemidji State goaltender Michael Bitzer was named Rookie of the Year. He led the WCHA with a .936 save percentage in conference play, while ranking second with a 1.61 GAA. He ranks sixth nationally (third among freshman) with an overall .932 save percentage, while pacing all NCAA rookies with a 1.76 GAA (fourth overall).
Minnesota State goalie Stephon Williams was named the Goaltending Champion this season after going 21-5-3 with a 1.66 GAA and a .925 save percentage.
Mike Hastings from Minnesota State is the Coach of the Year after guiding the Mavericks to the first MacNaughton Cup in program history and a No. 2 national ranking entering the postseason. Minnesota State went 21-4-3 in league play, posting a .804 winning percentage that is the third-best in WCHA history for a 28-game conference schedule.
In addition, the league named three All-WCHA Teams and an All-Rookie Team.
2014-15 All-WCHA First Team
| Player's Name | Position | Class | School |
| --- | --- | --- | --- |
| Tanner Kero | F | Sr. | Michigan Tech |
| Matt Leitner | F | Sr. | Minnesota State |
| Tyler Morley | F | Jr. | Alaska |
| Colton Parayko | D | Jr. | Alaska |
| Zach Palmquist | D | Sr. | Minnesota State |
| Jamie Phillips | G | Jr. | Michigan Tech |
2014-15 All-WCHA Second Team
| Player's Name | Position | Class | School |
| --- | --- | --- | --- |
| Bryce Gervais | F | Jr. | Minnesota State |
| Alex Petan | F | Jr. | Michigan Tech |
| Malcolm Gould | F | Jr. | Michigan Tech |
| Matt Prapavessis | D | Sr. | Bemidji State |
| Casey Nelson | D | So. | Minnesota State |
| Stephon Williams | G | Jr. | Minnesota State |
2014-15 All-WCHA Third Team
| Player's Name | Position | Class | School |
| --- | --- | --- | --- |
| Blake Pietila | F | Sr. | Michigan Tech |
| Marcus Basara | F | So. | Alaska |
| Brendan Harms | F | So. | Bemidji State |
| Blake Tatchell | F | Jr. | Alaska-Anchorage |
| Shane Hanna | D | So. | Michigan Tech |
| Brock Maschmeyer | D | So. | Northern Michigan |
| C.J. Motte | G | Sr. | Ferris State |
2014-15 WCHA All-Rookie Team
| Player's Name | Position | School |
| --- | --- | --- |
| Brandon Hawkins | F | Bowling Green |
| C.J. Franklin | F | Minnesota State |
| Max McHugh | F | Alabama-Huntsville |
| Mark Friedman | D | Bowling Green |
| Nolan Valleau | D | Bowling Green |
| Michael Bitzer | G | Bemidji State |