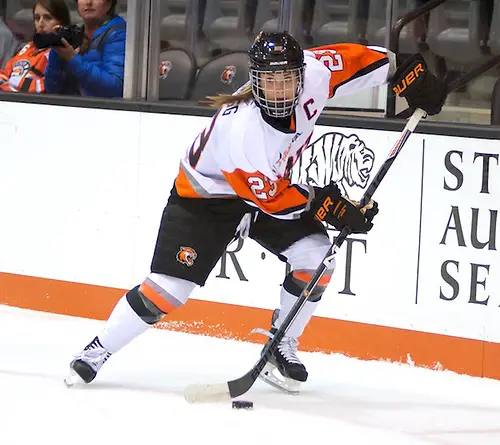 For the first time in three years, there is a new entrant to the NCAA field; in fact, there are two. We could put an asterisk on that statement, as this is RIT's first opportunity in this version of the national tournament, but the team's seniors competed and won at the Division III level three years ago.
The Tigers get in via an automatic bid that wasn't available when they won their first CHA tournament last season. Quinnipiac, after falling just short last March, also makes its first appearance.
For others, this is getting to be routine. Minnesota is back for a 13th time, Harvard is competing in its 11th tourney, and Wisconsin has earned its ninth invitation.
For everyone, the situation has become very simple: win three games and become NCAA Champion. As a first step, each will be looking for a victory on Saturday to advance to the Frozen Four in Minneapolis.
Rochester Institute of Technology Tigers at No. 1 Minnesota Golden Gophers, Saturday, March 14, 5 p.m. ET, 4 p.m. CDT
The only quarterfinal to pair two teams without a previous postseason meeting, it also marks the first-ever game between the two programs. Statistically, this is a total mismatch, but statistics rank up there with lies and damn lies.
There are some bits of trivia that favor the Tigers. Minnesota's all-time postseason record against CHA opponents is 0-1. In addition, the only Division I program to have played the Gophers at some point in their 18-year history with a nonlosing record is Robert Morris, another CHA team.
The most meaningful stat in RIT's favor is that its senior class has the best four-year postseason winning percentage of any senior class in the country. Clearly, this is a program that knows how to find another gear when the playoffs arrive. The problem is that the team the Tigers will face on Saturday is better than any of the opponents included in that record.
Statistical comparison

| Category | RIT | Minnesota |
| --- | --- | --- |
| Record: | 15-18-5 | 31-3-4 |
| Versus NCAA field: | 0-0-0 | 3-0-1 |
| Common opponents: | 1-6-1 | 6-1-0 |
| Goals-scored/game: | 1.82 | 4.50 |
| Goals-allowed/game: | 2.13 | 1.16 |
| Power-play pct.: | 7.2 | 30.2 |
| Penalty kill pct.: | 84.2 | 88.9 |
| Avg. penalty minutes: | 10.3 | 6.3 |
| NCAA appearance: | First | 13th |
RIT
Top scorers: Lindsay Grigg, Sr., F, (7-11-18), Celeste Brown, Sr., F, (10-6-16), Kolbee McCrea, Sr., F, (8-8-16), Mackenzie Stone, So., F, (6-10-16).
Goaltender: Ali Binnington, Sr., (12-10-3), 1.69 goals-against average, .940 save percentage, five shutouts.
"What a monster step for our program," coach Scott MacDonald said after his team earned its NCAA berth.
The problem for Cinderella stories in various NCAA sports over the years is keeping the roll going after the athletes return to campus and soak in the accomplishment. From that aspect, it may have better if RIT could have just gotten on a plane to Minneapolis immediately and played without further adieu.
The Tigers shook off an injury-plagued start to the season that precipitated a last-place finish and claimed a second-straight CHA Championship. The formula in that event was good team defense in front of a franchise goaltender in Binnington, while seeking an opportunistic goal here and there.
There isn't a Plan B. It would seem that RIT can't win a special-teams battle. It's power play ranks last in the country; Minnesota's ranks first. The Gophers have 10 players with more points than the Tigers' leading scorer, including five with at least twice as many points.
The bright spot is that Minnesota has been shut out in all three of its losses, so even with all that firepower, the Gophers can be stopped, so Plan A has a chance of working.
Minnesota
Top scorers: Hannah Brandt, Jr., F, (31-36-67), Dani Cameranesi, So., F, (23-39-62), Kelly Pannek, Fr., F, (13-29-42), Maryanne Menefee, Jr., F, (21-20-41).
Goaltender: Amanda Leveille, Jr., (25-3-3), 1.16 goals-against average, .946 save percentage, six shutouts.
Minnesota's tried-and-true road to triumph this season has been for its top line of Hannah Brandt, Dani Cameranesi, and Maryanne Menefee to jumpstart the offense early or score the clutch goal late. The Gophers have another scoring line with Kelly Pannek between seniors Rachael Bona and Meghan Lorence, but that trio is often feast or famine.
When the forwards stall, a skilled blue line led by two-time WCHA Defensive Player of the Year Rachel Ramsey and U.S. Olympian Lee Stecklein gets more involved on the offensive end. People seldom talk of goalie Amanda Leveille because of the talent that lines up in front of her, but she's perfectly capable of standing on her head when her teammates are off their game.
After a run of claiming championships in five straight conference and national tournaments, Minnesota has now come up short in its last two tourneys, but they'll get the chance to atone for that with three wins on home ice.
Why the Tigers will win: Their eight-game postseason winning streak is exactly eight games longer than Minnesota's current streak.
Why the Gophers will win: They are riding a one-game losing streak and its been four years since they dropped back-to-back games.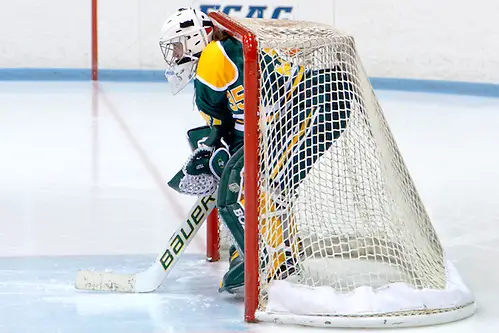 Clarkson Golden Knights at No. 2 Boston College Eagles, Saturday, March 14, 1 p.m. ET, noon CDT
For the second straight season, these squads meet in a quarterfinal after disappointing losses in a conference tournaments where each was top-seeded. Clarkson started its run to a national championship in that quarter last year, but now it's BC's turn to host.
Both have overachieved to an extent this season. The Golden Knights returning to defend their title was unexpected after they lost heavily to graduation. However, they've reloaded quickly and found a way to best a competitive field during the ECAC season, although they've sometimes seemed slightly outclassed by the elite teams.
The Eagles would seem to fit that description. Big things were expected coming into the year with the return of Alex Carpenter after an Olympic stint, but BC raced out of the gate looking like it would never lose, and didn't until February. After failing to win only once over its first 28 games, it has come up short in three of its last nine contests. While that is hardly a slump, it has changed the perception of the Eagles from an unstoppable juggernaut to another team with a very good shot of winning it all.
Statistical comparison

| Category | Clarkson | Boston College |
| --- | --- | --- |
| Record: | 24-10-3 | 33-2-2 |
| Versus NCAA field: | 1-6-2 | 4-2-1 |
| Common opponents: | 16-9-2 | 20-2-2 |
| Goals-scored/game: | 2.92 | 5.11 |
| Goals-allowed/game: | 1.51 | 1.19 |
| Power play pct.: | 22.1 | 18.3 |
| Penalty kill pct.: | 90.0 | 90.3 |
| Avg. penalty minutes: | 6.9 | 7.2 |
| NCAA appearance: | Fourth | Seventh |
Clarkson
Top scorers: Cayley Mercer, So., F, (24-19-43), Shannon MacAulay, Sr., F, (16-17-33), Genevieve Bannon, So., F, (13-19-32), Olivia Howe, Jr., F, (11-20-31).
Goaltender: Shea Tiley, Fr., (24-10-3), 1.33 goals-against average, .942 save percentage, nine shutouts.
The Golden Knights have far less margin for error than last year's champions did. They scored a goal or less in all six games in 2015 versus teams that are currently ranked in USCHO's poll.
Such offensive doldrums put a lot of pressure on a defense backed by a freshman goalie. Shea Tiley has stood up well in that role, ranking in the top 10 in all categories.
Shannon MacAulay elevated her game to provide a a scoring threat in the absence of last year's Patty Kazmaier winner, Jamie Lee Rattray, but her pace has slowed of late. Sophomore Cayley Mercer has emerged as the top producer on the team.
Clarkson also gets offensive help from the blue line corps, most notably juniors Renata Fast and Erin Ambrose and freshman Savannah Harmon. It will need an extra boost from some source, because the Eagles average more that six goals a game on their home ice.
Boston College
Top scorers: Alex Carpenter, Jr., F, (35-43-78), Haley Skarupa, Jr., F, (30-37-67), Emily Pfalzer, Sr., D, (8-34-42), Kenzie Kent, Fr., F, (7-30-37).
Goaltender: Katie Burt, Fr., (29-2-2), 1.08 goals-against average, .942 save percentage, 10 shutouts.
BC enters the tournament with seven other teams, five of whom won their most recent meeting versus the Eagles, and a sixth where the two teams have no prior history. Only two of those games took place this year; the other three occurred in the NCAA tournament.
The Eagles wouldn't mind turning the clock back to earlier in the year, when pucks were flying into opponents nets at will. Alex Carpenter and Haley Skarupa did major damage from the top line, but they had plenty of help. The two juniors have maintained their pace, but the supporting cast has slowed down.
The big question entering the year was goaltending in the wake of the graduation of Corinne Boyles. Katie Burt has provided a seamless transition to a new era in net. The two losses hung on her record were due in large part to plays where her defense not only failed her, it was barely in the building.
If the Eagles intend to check, "Win NCAA Championship," off of their bucket list this month, they'll have to be more accountable in their defensive zone.
Why the Golden Knights will win: Never underestimate the pride of a champion.
Why the Eagles will win: They've been perfect in their first 18 starts on home ice.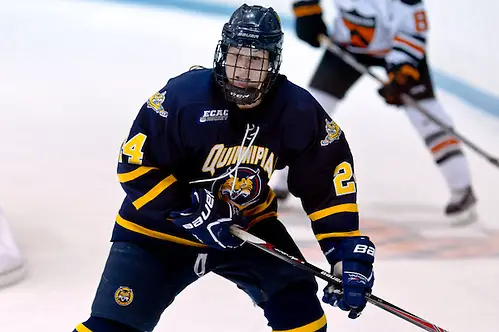 Quinnipiac Bobcats at No. 3 Harvard Crimson, Saturday, March 14, 4 p.m. ET, 3 p.m. CDT
Three times, Quinnipiac has played Harvard this season. Three times, the Bobcats have scored the first goal. Each time, the Crimson have tied it up and gone on to win, 2-1, the last two times in overtime.
What direction does the rivalry go from here? Do the Bobcats finally figure out a way to win a race to two goals? Do the Crimson pull away and win by a more comfortable margin? Maybe it will be another rerun and stick to the same script.
As frustrating as this must be for Quinnipiac, the Bobcats must also feel a new life after qualifying for the NCAA tournament for the first time. Knowing how things in life tend to even out over time, I doubt anyone for Harvard will feel much peace should the game wind down with the score tied, 1-1.
Statistical comparison

| Category | Quinnipia | Harvard |
| --- | --- | --- |
| Record: | 26-8-3 | 25-5-3 |
| Versus NCAA field: | 3-5-0 | 5-2-2 |
| Common opponents: | 21-5-2 | 21-5-3 |
| Goals-scored/game: | 2.62 | 3.73 |
| Goals-allowed/game: | 1.08 | 1.58 |
| Power play pct.: | 17.6 | 23.5 |
| Penalty kill pct.: | 90.7 | 86.4 |
| Avg. penalty minutes: | 4.3 | 7.5 |
| NCAA appearance: | First | 11th |
Quinnipiac
Top scorers: Taylar Cianfarano, Fr., F, (17-13-30), Nicole Connery, Jr., F, (13-14-27), Nicole Kosta, Sr., F, (10-16-26), Erica Uden Johansson, Sr., F, (10-15-25).
Goaltender: Chelsea Laden, Sr., (25-8-2), 1.12 goals-against average, .933 save percentage, 16 shutouts.
Laden is one shy of tying the NCAA record for shutouts in a season. It would be a great sign for the Bobcats if she were to set a new mark in the two weeks at a maximum that remain of her college career.
Laden faces an average of less than 17 shots a game, thanks to a blue line featuring the trio of juniors Cydney Roesler, Kristen Tamberg, and Lindsey West, and forwards that back check with a passion. As effective as they are at squelching opposing offenses, the Bobcats aren't as accomplished at converting their pressure into goals.
Quinnipiac closed by going 6-7 over its last 13 games after a 20-1-3 start to the campaign. That was good enough to gain a first trip to the NCAAs, but to move on to the next round, Rick Seeley will need to find someone to step up and bury a couple of pucks.
Harvard
Top scorers: Mary Parker, Jr., F, (16-21-37), Miye D'Oench, Jr., F, (19-14-33), Samantha Reber, Sr., F, (6-25-31), Sydney Daniels, So., F, (18-7-25)
Goaltender: Emerance Maschmeyer, Jr., (16-4-3), 1.50 goals-against average, .941 save percentage, two shutouts.
Senior Josephine Pucci rejoined the team in 2015 for its final 23 games. She didn't quite match her career numbers, but her arrival further strengthened one of the deepest defensive contingents in the country. Other than a surprising loss at Dartmouth, the Crimson didn't yield more than two goals in any game with her in the line-up until a convincing 7-3 win over Cornell in the ECAC title game.
The problem was the disappearance of the offense in losses to Princeton and Clarkson and a tie with St. Lawrence. A stable of forwards that is also beyond deep somehow doesn't always connect. If a couple of them can emerge as consistent threats, Harvard still has the look of a team that could win it all. If junior goaltender Emmerance Maschmeyer is on top of her game, the Crimson match up well with anyone.
The scary part will be getting past the Bobcats in the first place. It's easy to overlook a team that you've beaten in the last few clashes, although taking 17 of their 26 wins by shutout should make the Bobcats worthy of a second look.
Why the Bobcats will win: One gets the sense that they are sitting on a breakthrough win for the program.
Why the Crimson will win: After a number of near misses in the NCAA tournament, this could finally be the year for a senior-rich squad.
Boston University Terriers at No. 4 Wisconsin Badgers, Saturday, March 14, 3 p.m. ET, 2 p.m. CDT
BU and Wisconsin squared off in the 2011 NCAA title game, with the Badgers hoisting the trophy on the strength of a 4-1 verdict. Both look to be peaking at the right time by winning their respective league tournaments after entering as the second seed.
Each had a more than solid season, but also posted some puzzling losses to supposedly lesser teams. They also endured stretches where dynamic offenses went silent.
Those problems looked to be distant memories when they made convincing tournament charges. Now they'll have to avoid any regression as the format gets unforgiving of any loss.
Statistical comparison

| Category | Boston University | Wisconsin |
| --- | --- | --- |
| Record: | 25-8-3 | 28-6-4 |
| Versus NCAA field: | 4-4-2 | 1-3-2 |
| Common opponents: | 6-1-0 | 8-4-2 |
| Goals-scored/game: | 3.89 | 3.47 |
| Goals-allowed/game: | 2.47 | 1.08 |
| Power play pct.: | 20.7 | 17.0 |
| Penalty kill pct.: | 83.3 | 96.5 |
| Avg. penalty minutes: | 10.1 | 6.8 |
| NCAA appearance: | Sixth | Ninth |
Boston University
Top scorers: Marie-Philip Poulin, Sr., F, (27-27-54), Sarah Lefort, Jr., F, (23-27-50), Kayla Tutino, Jr., F, (14-23-37), Victoria Bach, Fr., F, (19-14-33).
Goaltender: Victoria Hanson, So., (16-4-2), 2.12 goals-against average, .912 save percentage, zero shutouts.
Wisconsin coach Mark Johnson is all-too familiar with BU phenom Marie-Philip Poulin, as she bedeviled the U.S. Olympic Team he coached in 2010 with two goals to wrest the gold medal away from the Americans. Even when he got some measure of revenge in the NCAA final a year later, Poulin scored the Terriers' lone goal to once again display her capabilities.
This year, her offensive game has exploded since being united with junior wings Sarah Lefort and Kayla Tutino. The Terriers scored 25 times in winning their four Hockey East tournament games.
Maintaining that production figures to be unlikely on the ice of a Wisconsin team that is as stingy as anyone defensively, so the Terriers will have to be up to the challenge of shutting down the Badgers on the other end. They did great in that regard against the country's best attack last weekend, so perhaps all of the pieces are falling into place at just the right time.
Wisconsin
Top scorers: Annie Pankowski, Fr., F, (18-22-40), Karley Sylvester, Sr., F, (13-24-37), Brittany Ammerman, Sr., F, (13-24-37), Blayre Turnbull, Jr., F, (15-19-34).
Goaltender: Ann-Renée Desbiens, So., (25-6-4), 1.10 goals-against average, .943 save percentage, 14 shutouts.
If Wisconsin relies on scoring by committee, then it is the rare committee where all the members know what they are doing. Eight forwards have 25 or more points, but nobody has more than 40. Topping that group is WCHA Rookie of the Year Annie Pankowski. For this year, the core of the team is a group of four seniors up front that understands what Johnson wants on both ends of the ice.
The penalty kill has scored four goals, matching the number of power-play goals it has allowed. A big reason for the unit's sparkling 96.5 percent success rate is the play of sophomore Ann-Renée Desbiens, the latest goaltender to form a wall in the Wisconsin crease. She allowed one goal on 42 shots in winning the WCHA Final Face-Off.
For the Badgers to advance to their eighth Frozen Four, they'll have to devise a way to slow down Poulin and company. With nearly a week to prepare, the odds are that they'll come up with something.
Why the Terriers will win: Poulin has won nearly everything else in her career. The stars could be lining up for her to lead her team to a third NCAA title game by defeating the two teams that denied her in her previous two finals.
Why the Badgers will win: Wisconsin is 3-0 all-time versus Hockey East teams in the NCAA tournament.