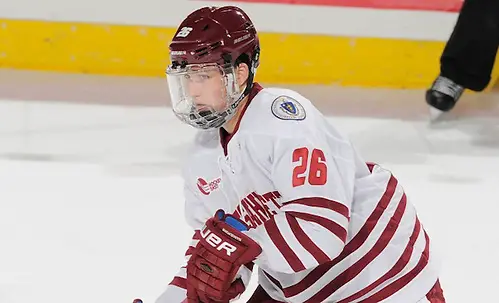 Massachusetts freshman defenseman Brandon Montour has signed with the Anaheim Ducks, foregoing the final three years of his collegiate eligibility.
Montour was selected by Anaheim in the second round (55th overall) of the 2014 NHL draft – the highest draft pick in UMass history.
"I am excited to be signing with the Anaheim Ducks," said Montour in a news release. "It's another step closer, but there's lot more work to go. I'd like to thank everyone who has supported me since the beginning – friends, coaches and, most importantly, my family. This is truly a dream come true. Although it was for a short period of time, I can't thank the staff at UMass enough, as well as the players. I will never forget the time I had there."
"When our staff started recruiting Brandon Montour some two years ago, we knew he was a great kid and fantastic prospect – little did we know how great and how fantastic," added UMass coach John Micheletto. "In his short time with UMass hockey, he has had a significant impact and for that we are thankful. We also wish him immediate and long-lasting success as he attacks his next goal."
Montour, who joined the Minutemen at the conclusion of the 2014 fall semester, played in 21 games in 2014-15 and amassed 20 points on three goals and 17 assists, including six multi-point efforts. His 20 points were the most by a rookie defenseman in UMass' Hockey East era.