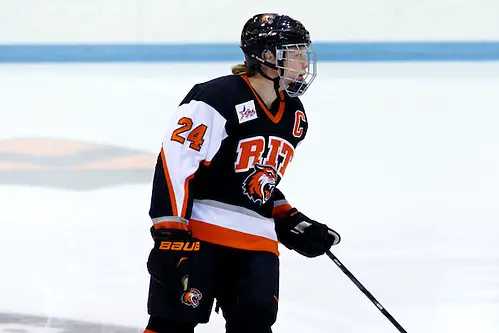 Candace: On paper, the first round of the NCAA tournament looked like it held the potential for at least three very closely contested games, with overtime possibly a deciding factor. Quinnipiac, for instance, had battled Harvard very closely in three 2-1 losses, two of which were in overtime, including the semifinal of the ECAC tournament. Boston University looked to be on a roll after winning the Hockey East tournament, and figured to make Wisconsin nervous, while Boston College had displayed some vulnerability in the last month and was facing defending champion Clarkson, which came on strong in the second half.
I doubt many people would have expected RIT against Minnesota to be close, and it wasn't really, but it's really surprising to me how thoroughly Boston College, Harvard, and Wisconsin took it to their opponents and rolled over them, with BC and Wisconsin racking up 5-1 wins and Harvard taking a 5-0 decision.
I guess it's possible having home ice really helped, but I'm wondering if something more was at play. What do you make of the quarterfinal results?
Arlan: At one point several weeks ago, it seemed pretty clear-cut that the four best teams were Boston College, Minnesota, Wisconsin, and Harvard in some order. Some topsy-turvy results made us start to rethink whether that was still the case, enough so that you went contrary to one of your own mantras and picked Wisconsin to lose on home ice in its NCAA quarterfinal. What was that about? You analyzed that the BU at UW game would come down to goaltending last week, and then you picked the Terriers despite Ann-Renée Desbiens being one of the top goalies in the country. Although now that I think about it, you picked the Badgers to lose to North Dakota in the WCHA tourney as well. Don't read so much into that loss to St. Cloud State.
Anyway, although the PairWise Rankings don't know much in my estimation, apparently they did a fair job of figuring out who the four best teams in the country are. All I saw of the games at Harvard and Wisconsin were highlights, and there wasn't much in those packages for fans of the Bobcats and Terriers to enjoy, and the box scores didn't paint a rosier picture.
Although Quinnipiac held a slight shot advantage, it seemed that it didn't have much in the way of quality scoring chances. It fell behind early, and coming from behind isn't a situation that is conducive to Quinnipiac having success. The Bobcats' usually suffocating defense had some lapses, Chelsea Laden wasn't at her best either, and her pursuit of the single-season shutout record comes up one short. I thought that was the most likely game for an upset if there was to be one, but after three close contests against the Bobcats, Harvard didn't give them any shot at the upset this time.
Of the four teams that are left, Harvard took the longest to start to appear like a championship-caliber club. That could be due to the later Ivy League start, or it could be a sign that the Crimson are still trying to catch up. Emerance Maschmeyer looks to be in form, which is a prerequisite for Harvard winning from here on out. Its blue line is very good, although not as prolific on the offensive end as the contingent skating for BC. The Crimson are very deep at forward, but I think they lag behind some of the other teams left in terms of star power at the position. Mary Parker, Miye D'Oench, and Sam Reber are close to what Wisconsin brings, but after that trio, the production drops off. All these teams have some nice young talent, so who comes of age during the tournament could play a factor.
Likewise, BU didn't seem to present any more problems for Wisconsin than did teams like North Dakota and Bemidji State at the WCHA tournament. Are you back on the Badgers' bandwagon?
Candace: Short answer: no. I picked both North Dakota and Boston University because they had seemed hot right before those games. For BU, I thought Marie-Philip Poulin, Sarah Lefort, and Kayla Tutino might be strong enough to put Wisconsin on its heels, and then anything could happen. Yes, Wisconsin beat BU pretty convincingly, but now the Badgers play Minnesota, the team that has dashed their hopes repeatedly over the last several years. Wisconsin went 0-3-1 against the Gophers this season; two of those were 4-1 defeats. They were 0-5 against the Gophers last year, including losing 5-3 in the exact same round they are playing in this year in the NCAA tournament. The season before that, the Badgers were 0-4 against Minnesota.
You have to go back to 2011-2012 to find the last Badgers team to have success against Minnesota, and that team won the first game of the year between the two on Oct. 14, 2011. Then Wisconsin went 0-3-1 the rest of the year, including losing the NCAA tournament championship. So, by my count, Wisconsin is now on an 0-15-2 run against the Gophers. Even in the games that have been close, Wisconsin has seemed to give up a key goal when it wouldn't normally. The Gophers just seem to have Wisconsin's number, and I don't see them losing to the Badgers on home ice at Ridder Friday.
Did you see anything in Minnesota's game against RIT that might make you think differently? Or something from Wisconsin in its recent string of six straight wins?
Arlan: The only Wisconsin wins I saw were the two in Grand Forks, and those were very impressive. I do think that the Badgers are playing better than the Gophers right now. Desbiens is making it look easy in goal. A variety of people on the blue line are coming up with big plays. Forwards like Sarah Nurse and Annie Pankowski have taken over games, plus the veterans like Blayre Turnbull and Karley Sylvester will be extra motivated as they make their last attempt at an NCAA title. In the past when Minnesota and Wisconsin took turns dominating each other for several-year stretches, the team that was on the short end at least won every year or two. None of those wins ever seemed to come when it mattered most, however.
Minnesota has been a bit off for a while, starting maybe with the tie versus Ohio State. The series in Grand Forks wasn't anything that suggested a championship was right around the corner, shut out in one game by North Dakota, and then shut out a month later in the WCHA tourney. I thought maybe they were ready to break out once the national tournament started, but then the game against RIT was just strange. With both Kelly Pannek and Meghan Lorence from the second line getting game misconducts early on, it wound up being a patched together line-up.
Once the forced line-up switches were made, all the Gophers' offense came from the power play. That won't work against Wisconsin, because the Badgers will stay out of the penalty box and won't given Minnesota many chances with the advantage, and their penalty kill is too good, having only allowed four goals-against all year. The Gophers are an elite team when their second line scores, but they haven't done much against Wisconsin this year, and who knows how they'll bounce back after the game misconducts. As a veteran, Lorence should be okay, but freshmen can lose some confidence, and Pannek is key to how that line goes. Without production there, Minnesota will have to rely on its first line to scratch out a couple of goals and a good defensive effort to shut down Wisconsin. That's worked in the recent past, in large part because the Minnesota defensemen make it hard to generate much and goalie Amanda Leveille usually comes up big, but I think that the Badgers have improved since the last meeting, so the Gophers will have to be better as well.
On another note about the game in Minneapolis, I was impressed by RIT. The Tigers were faster than I expected and played very aggressively at the start. That may have been a product of having not played Minnesota before. I think there hope was that they could force the Gophers into turnovers, but instead, it opened the game up early, and a track meet wasn't in RIT's best interest.
I thought it was a fun game, though, and I think the Tigers added some extra spice to the tournament. They offered a fresh element from the teams that are there on a regular basis, with a go-for-broke attitude. I'm glad they made the field. The players that I talked to also wondered why you never pick them to win. So if you do a picks column next year, remember to send some love to Rochester occasionally. Does that sound possible?
Candace: Sure. Of course, I have picked them to win. Even in the last month I picked them to win games. I picked them to split with Syracuse in mid-February, and to take one game from Robert Morris on the last weekend of February in their best-of-three series. I generally believe home ice helps, and that played out in the tournaments, just as it played out last weekend. I thought it was good for the game that RIT made the tournament, and that RIT won the CHA. For so long, that conference has been "Mercyhurst and a bunch of teams that can't beat Mercyhurst." With the CHA now having an auto-bid, and it seemingly stable with six programs, perhaps it will become as competitive as the ECAC, which to my mind is the conference with the most uncertainty.
For better or worse, Hockey East is Boston College and Boston University, plus everyone else, and while Bemidji really threw a wrench into some people this year, the WCHA, as far as champions goes, is still Minnesota or Wisconsin, with North Dakota and Minnesota-Duluth threatening but falling short.
You said that you think Minnesota is off, but I don't know that it truly is. Bemidji seemed to tailor its game to beat Minnesota, and had done so earlier in the year, so the 1-0 defeat in the WCHA tournament semifinals wasn't completely out of left field. Likewise, I don't know that a 6-2 win over RIT is something that points to problems with Minnesota. The Gophers are still where they always are: on track to win a national championship, and while you say that you think Wisconsin is playing better, until the Badgers actually do it on the ice against Minnesota, I remain unconvinced.
Minnesota shook off its surprising loss in the WCHA tournament and kept right on trucking. Boston College did the same, led once again by Alex Carpenter, who scored two goals and had an assist. Her linemate, Haley Skarupa, was also on fire, getting three assists and a goal. Katie Burt wasn't called on to make tons of saves, but she did stop 20. I think Burt looks remarkably composed for a freshman; I wonder if her play in the U-18 tournament in Buffalo earlier this year helped in that regard?
I talked last week in our Patty Kazmaier discussion about how I thought Skarupa was a better choice as a third finalist than Poulin, especially since Poulin had been shut down against some of the better teams the Terriers faced. It happened again this weekend, as Poulin was held off the score sheet by the Badgers, while Skarupa helped the Eagles move on. Skarupa is second in the country in scoring, and has the second best points-per-game average at 1.97, which is .13 points per game more than third-leading scorer Hannah Brandt of Minnesota.
Carpenter meanwhile, continues at a blistering offensive pace, with a 2.25 points-per-game average. Some of the secondary scoring from the Eagles has fallen off from the first half, but Kenzie Kent is 17 in the country with 38 points and senior defenseman Emily Pfalzer is at 14 in scoring with 42 points. Now BC faces Harvard again; the Crimson hung the first loss on the Eagles all year back in February in the Beanpot. BC also came up short in the Hockey East tournament, losing to BU. Do you see the Eagles advancing Friday?
Arlan: The question about the Eagles this season has never been whether they are up to the task offensively. Their numbers speak for themselves. They can't count on getting the five goals that they average, but they can certainly score enough to win. Although she's young, I think that Katie Burt will be just fine. She's stopping most pucks that she has a chance on and isn't letting in any bad goals.
My uncertainty when it comes to BC is its team defense. It had breakdowns against Harvard the last time, there were even more in the loss to BU, and the Clarkson game wasn't very encouraging in that regard. The Eagles were never in danger in that game; had they needed to score a couple of more goals, I think they could have. But the Golden Knights had some glorious scoring chances that they failed to seize, both odd rushes and loose pucks around partly open nets. So I expect a mentality of, "Go, go, go, and if we give up a goal, we'll score a couple more," because that's what I've seen from the Eagles all year. It's pretty late in the game to change who they are now.
Harvard is more of an unknown quantity to me. Did it keep improving after the Beanpot? I don't know; I haven't seen the Crimson recently. That seemed to be the trajectory that they were on, and the postseason results to date would indicate as much. As balanced as the ECAC was for much of the year, I didn't see any of the rosters outside of Harvard having the potential to be elite. Quinnipiac overachieved for most of the season, but a middling offense eventually limited the noise it could make in the postseason. Clarkson had a great season, but I think the Golden Knights were a year away from being able to seriously contend again. Cornell had some of the pieces it needed to make a run, but not enough of them. So was the Beanpot final for Harvard its apogee? Did it take advantage of having a ton of motivation and a chance for payback on home ice? The finish of that game looked a little like that, where Harvard was holding on and the puck just wasn't going in for BC. It could also be that the Crimson have continued to ascend and are now as good or better than the Eagles.
I seriously don't know what to expect from the Harvard and BC game. I could see either team winning a 2-1 game, or either could come out on top of something that is more like 6-4. Harvard played two low-scoring periods with Cornell and then exploded, and after three previous 2-1 games versus the Bobcats it came up with a five-goal win. The Crimson look like one of those teams with a very big delta. Maybe it will be something in the middle, and we'll see a 4-3 game that goes down to the wire. I'd take that.
I'd say that I'm about 60/40 that BC will advance. All year people have discussed how the Eagles would match up against a top WCHA team, so from a selfish fan perspective, I hope we find out. Harvard actually gets hit harder by graduation, so its roster will change to a greater extent than the Eagles, who do lose Pfalzer. There just hasn't been the same level of anticipation of Harvard meeting Wisconsin or Minnesota.
What are your thoughts on how Harvard compares to the rest of the remaining field, and which team makes for a more intriguing final in your mind?
Candace: To me, Harvard is the wild card, and I think part of that is, "Which Harvard team shows up?" Last week, I talked about how their offense could sometimes go on walkabout. It seems to have reignited, but might it wilt playing at Ridder? You also talked about how they seem to flirt with disaster a lot. Yes, they beat Cornell 7-3, but they trailed the Big Red 3-2 in the third, and Cornell hasn't exactly been the soundest team defensively at any point in the season.
Harvard is a solid team, and we have both commented on their strengths at length this year. We both expected them to win the ECAC, and while they faltered on the last weekend of the regular season, the Crimson came through in the ECAC tournament. The Crimson also came through in the Beanpot. Mary Parker is playing very well, and so is Miye D'Oench. The defense is backstopped by Sarah Edney and Josephine Pucci, two seniors who are also leaders, and junior Michelle Picard. The goaltending, led by Maschmeyer, can be brilliant when needed.
I think the pieces are there for Harvard, but the pieces are there for the other three teams as well. If Harvard plays its best, it is fully capable of winning the next two games and claiming its first-ever national championship, perhaps a little karma for the years when the Crimson were the favored team and then got upset back in the mid-2000s.
As for the more intriguing final, personally, I want to see Minnesota against Boston College. I want to see Carpenter and Skarupa go up against Brandt and Cameranesi. I want to see Pfalzer vs. Ramsey. I want to see Burt vs. Leveille.
BC and Minnesota have been the top two teams all year long, and from a fan perspective, I think it would be incredible to see them skate against each other. What do you prefer?
Arlan: Harvard does have a national championship from 1999. It was two years before the NCAA took over, but it was still a national tournament, and featured one of those explosive top lines with that season's Kazmaier winner in A.J. Mleczko, Jennifer Botterill, and Tammy Shewchuk, plus Angela Ruggiero on defense. I probably have Western bias, but I don't remember Harvard being the top seed any year in the 2000s other than 2008, where the Crimson lost in the semifinals to Wisconsin. It was probably close in 2003, but I think Minnesota-Duluth was the higher seed. That was the first of three straight years where Harvard made the final.
Robin Lock's WCHODR forecasts BC as a 0.81 goal favorite over Harvard, while Minnesota is just a 0.47 goal pick over Wisconsin. With neither being the pick by a full goal, it surely suggests a couple of tight games. I think we'll get that for the first game, and as we've discussed, who knows what'll happen in the nightcap. For the final, he has either WCHA team favored over either Eastern squad, with the closest match being Wisconsin by 0.34 over BC. So we should get close games this weekend, but then we were expecting the games to be closer overall last weekend as well. Expect the unexpected.
I'm with you; all year I've wanted to see BC versus Minnesota from a perspective of, "What would happen if they played each other?" We don't always get what we want, and I'm sure any of the pairings could produce good hockey. Certainly BC versus Minnesota in 2013 was more exciting that the Eagles and the Badgers in 2012, but they are all different teams at this point. Harvard hasn't played Minnesota in so long that the games are irrelevant at this point, and it lost a 2-1 quarterfinal in Madison last year. If the Eagles and Gophers doesn't happen this year, then maybe it will next year while most of the stars are still around. Or we could get Wisconsin versus Harvard, but if we do, I hope it doesn't go four overtimes before we see the first goal, as it did in 2007.
In terms of off-the-ice news, we have a number of coaching vacancies and the season isn't even complete. We've known for a while that this was Shannon Miller's last year in Duluth, but the WCHA has a couple of other vacancies. Minnesota State is looking for a replacement for Eric Means, and Nate Handrahan is out at Ohio State. Eric Rud has been on the job less than a year at St. Cloud State, and he'll soon be in the top half in the league in terms of seniority, as he was announced as coach before Jim Scanlan was at Bemidji State. Amy Bourbeau stepped down at Brown, and any change in the ECAC is noteworthy, because the least amount of tenure in that league is three seasons.
Do you have any thoughts on any of those departures or how the openings might be filled?
Candace: Well, there's a former coach from Minnesota-Duluth who might be available, but whether Miller would take a job at somewhere her salary might be a lot lower is anybody's guess. I'm not sure whether an Ohio State or Minnesota State would be able to lure Miller, or whether she'd want to go there. Handrahan was a slight surprise, especially since the reason he is gone is he was about to be fired due to sexual harassment charges. I'd heard rumors that Handrahan and the players didn't get along; what truth there is to those allegations is anybody's guess.
It is interesting though that for the second consecutive year a male coach has left in a cloud, as last season New Hampshire's Brian McCloskey was fired for inappropriate contact with a player; McCloskey admitted in court that the player's version of the events was true, but that controversy also led to  Megan Armstrong and Alexis Crossley leaving New Hampshire for St. Lawrence and Boston University, respectively. It remains to be seen whether any Buckeyes will transfer with Handrahan's departure, but my gut says no. Players departing Minnesota-Duluth wouldn't necessarily surprise me, but I find it less likely now than I might have two months ago.
As for how the openings might be filled, I'd imagine that the schools will do a search and try to find someone. It might be unexpected to. On the men's side a couple of years ago, Denver fired George Gwozdecky, one of the most successful coaches in recent history. His successor, Jim Montgomery, wasn't even on the initial list of possible successors. Montgomery has been very successful in his first two years; Denver is currently third in the PairWise. Given where coaches have come from in recent years, I won't even speculate on who might step into these vacancies.
On another note, since this weekend will end the season, this will also be the last Wednesday Women of the year. I'd like to thank our readers again for following our ramblings, and for allowing us to discuss this game we love so much every week. We'll be back next October, ready to talk about the women's game in depth all over again.
Before that, I guess I'd like your perspective on the coaching vacancies, and perhaps also a little speculation on who might win the Patty Kazmaier. I think it's Carpenter; do you agree?
Arlan: You asked me last week who I thought was going to win the Kazmaier and I said Carpenter, and because there hasn't been another vote since then, I'll stick with that. A more interesting question at this point is, who will be the Most Outstanding Player of the Frozen Four? I'll go with the winning goaltender for that one, because any individual I commit to now won't make it out of Friday, but I know that the winning goaltender will. Are you more daring on that front?
As for coaches, I don't see Miller being a good fit at Ohio State. Once she finds out what Urban Meyer earns, the honeymoon will be over. I could see a couple UMD players leaving to go play for her somewhere else, but in the WCHA, they'd have to sit out a year. And anyway, I don't think she ends up at another WCHA job after all the rancor regarding her parting in Duluth.
Two coaches that I'd think would be attractive hires would be the top assistants at Wisconsin and Minnesota, Dan Koch and Joel Johnson. Each was gone from his program for awhile, and the program of each benefited from his return. The problem in hiring either is that there aren't many head coaching jobs that are likely better in terms of stability and compensation than those assistant positions. We've also seen many jobs over the years that have been filled by assistants from the men's side, including some very successful hires like Mike Sisti, Mark Johnson, and Brian Durocher.
People usually suggest great former players to fill openings, especially on the women's side. Somehow it is assumed that the better she was as a player, the more effective she'll be as a coach. I'll grant you that a famous name will open some doors on recruiting visits, but beyond that, some actual coaching experience would come in handy. After the success of Jim Scanlan at Bemidji State, I could see another high school coach that also has college coaching experience being considered.
We're starting to look at our All-USCHO awards for the season. One category we don't have is "Most Fun," so I'll informally add one here. In the phone interview category, I'll go with Zoe Hickel of Minnesota-Duluth, for giving me like 25 minutes of her time on a Friday night. As far as in-person interviews go, maybe because it was so recent, but Celeste Brown of RIT stands out. Half crying, half laughing in the minutes after her career had come to and end, but with an unmistakable enthusiasm for the game. We could probably call it the Erika Lawler Award.
Do you have any nominees, or have you spent your whole season interviewing male hockey players? If so, that's a sign to you that you need to do a few features on the women's game next year.
With that, I'll sign off, and join you in thanking our readers for giving us their attention and forgiving our shortcomings. October is just around the corner.
Candace: I'm the editor, so I've left the women's stories to you and a couple of people who have pitched freelance pieces to me. All my interviews have been on the men's side with players in the NCHC, plus I did a story on Arizona State when the Sun Devils announced they were moving to D-I. Perhaps I'll do some stories next season.
I will say I'm looking forward to seeing a game in person this weekend in Minneapolis, which since I live in Colorado I haven't gotten a chance to. I do wish Denver would consider adding a women's team and joining the WCHA, but it seems to be a pipe dream at this point.
Anyway, perhaps I'll find a "Most Fun" interview on Sunday after the national championship game; I won't be at the semis Friday, as I am covering the NCHC Frozen Faceoff, but will be there Sunday. It's nice that the hockey gods and goddesses smiled on me for that.