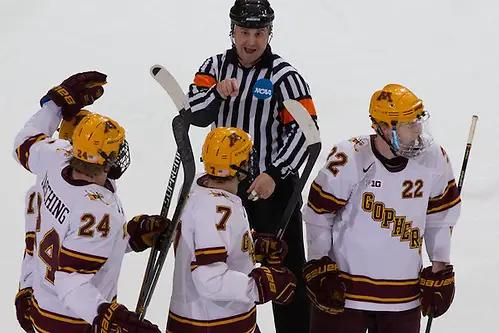 Heading into the Big Ten tournament, none of the six teams in the conference can coast its way into the NCAA tournament. That should lead to some interesting hockey this weekend.
Penn State will play Ohio State at 4:30 p.m. EDT on Thursday, with the winner playing Minnesota at the same time Friday. Michigan will face off against Wisconsin at 8 p.m. on Thursday, with Michigan State getting the winner on Friday. The championship game will be at 8 p.m. on Saturday.
Big Ten tournament
See the tournament bracket and get links to schedules and stories at Big Ten Playoff Central.
Last year's tournament in St. Paul, Minn., averaged an announced 8,522 fans per game. With Michigan and Michigan State both being within an hour and a half drive to Detroit, that number could rise this year or at least be a little more diverse in fan support.
Here's a quick look at where each team stands going into the weekend:
1. Minnesota
Record (B1G): 21-12-3 (12-5-3-0)
Neutral-site record: 2-2-0
Second-round opponent: Winner of the Penn State-Ohio State game
Leading scorers: Mike Reilly (6-36–42), Kyle Rau (19-20–39), Travis Boyd (16-20–36)
Top goaltender: Adam Wilcox (20-11-3, 2.46 GAA)
About the Gophers: The Gophers showed that they still have a killer instinct last weekend when they swept Penn State and claimed their second consecutive Big Ten regular season title. Minnesota finished the regular season 9-3 in its last 12 games.
Going back to its days in the WCHA, Minnesota has won at least a share of its conference title during the last four seasons. The Gophers have also had some success in the NCAA tournament over the last couple of seasons but their one blemish has been at conference tournaments. Minnesota is 0-4 in its last four conference tournament games and hasn't won a game since the 2008 WCHA Final Five, excluding WCHA first-round games.
This year also will be the first time that the Gophers have had to travel outside of their home state to play in a conference tournament since they won the Final Five at Milwaukee's Bradley Center in 1996 when that tournament rotated between that arena and the St. Paul Civic Center. The Final Five was held at the Xcel Energy Center from the time the arena opened until Minnesota departed the conference, and the inaugural Big Ten tournament was at the X last season.
Even though the Gophers are the No. 1 seed at this year's Big Ten tournament, they are by no means on solid ground when it comes to getting an NCAA tournament bid.
Minnesota has a 2-1-1 record against Michigan State and a 3-1 record against Ohio State this season. Three of those combined wins against the two teams came at home. Mariucci Arena features an Olympic-sized ice sheet which tends to give the typically-speedy Gophers an advantage. Penn State coach Guy Gadowsky, however, claimed last weekend that the ice size wasn't a huge advantage.
The fact remains, however, that Minnesota enjoyed a 14-3-1 record at home during the regular season. Joe Louis Arena is an NHL arena with, obviously, an NHL-sized ice sheet.
2. Michigan State
Record (B1G): 17-15-2 (11-7-2-2)
Neutral-site record: 2-2-0
Second-round opponent: Winner of the Michigan-Wisconsin game
Leading scorers: Matt Berry (11-17–28), Mackenzie MacEachern (11-14–25), Michael Ferrantino (12-11–23)
Top goaltender: Jake Hildebrand (17-15-2, 2.12 GAA)
About the Spartans: Not many people expected the Spartans to contend for a Big Ten title this season, but consistent defense kept Michigan State in the running until the last games of the season. Michigan State received a first-round bye in the Big Ten tournament and will have a potential rematch with in-state rival Michigan as its first game.
The Spartans went 2-3 against the Wolverines this season.
Michigan State's game isn't high-flying or flashy, but it does key things well. The Spartans give up only 2.24 goals per game, which is good for No. 12 in the nation and tops in the Big Ten. They're a balanced team, which means that one won't find any individual near the top of any statistical category. Michigan State has 10 players with 10 or more points this season.
The Spartans also are one of the least-penalized teams in the nation, averaging only 8.79 penalty minutes per game.
One player that is near the top of national statistical categories is the only player to play between the pipes for Michigan State this season — Jake Hildebrand. The junior netminder is No. 9 in the nation with a .930 save percentage and No. 12 with 2034:04 minutes played. His six shutouts are tied for second.
3. Michigan
Record (B1G): 20-14-0 (12-8-0-0)
Neutral-site record: 3-1-0
First-round opponent: Wisconsin
Leading scorers: Zach Hyman (19-30–49), Dylan Larkin (14-29–43), Andrew Copp (14-16–30)
Top goaltender: Zach Nagelvoort (11-9-0, 2.63 GAA)
About the Wolverines: Michigan's season had a lot of highs and a lot of lows and ended with a split with Michigan State that led to the Wolverines playing in the first round this weekend. The Wolverines are the same seed as they were last season when Penn State beat them in double overtime.
Michigan is one of the most dangerous teams in the nation when it comes to putting the puck in the net. On the other hand, the Wolverines' consistently porous defense could lead to them watching the NCAA tournament on television.
"We have to have a good tournament to get any consideration for the NCAAs," coach Red Berenson said.
"I feel good about our team and I think we're in a good place right now, [but] we have to prove it."
The Wolverines are averaging 3.88 goals per game this season but their defense has consistently given up around three goals per contest. That means that when Michigan doesn't light up the scoreboard, it generally loses.
Michigan also has had a tumultuous season in net, with both Zach Nagelvoort and Steve Racine having roller-coaster seasons.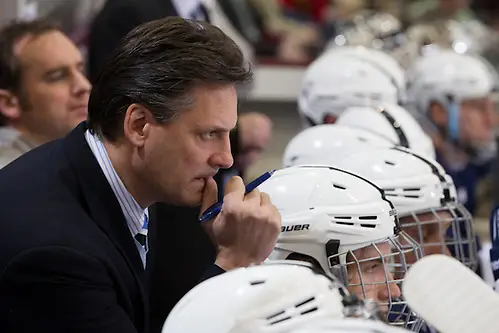 4. Penn State
Record (B1G): 18-14-4 (10-9-1-0)
Neutral-site record: 1-3-1
First-round opponent: Ohio State
Leading scorers: Casey Bailey (22-18–40), David Goodwin (15-19–34) Taylor Holstrom (7-26–33)
Top goaltender: Matthew Skoff (7-6-2, 2.81 GAA)
About the Nittany Lions: Penn State was in the title hunt up until the final weekend of the season. Before the season that fact alone would have caused many to define the season as a success, but the Nittany Lions are a team that is capable of doing some damage in the postseason.
Things won't be easy, however. It's uncertain whether the team's top assist man, Taylor Holstrom, will be able to play Thursday because of a leg injury, and the play of Penn State's goaltenders has been shaky at times this season.
Penn State tends to get a lot of shots on goal and was ninth in the country in terms of team offense with 3.28 goals per game. The Nittany Lions also have a potent power play that is firing at 21.88 percent this season.
"We've had a lot of success in different areas, not only in our four lines but all of our defensive pairs," Gadowsky said.
Gadowsky was named the Big Ten coach of the year on Monday. During the conference's media teleconference on Tuesday, he allocated the accolades from that award to a lot of different people.
"It's always a reflection of the program, everything from the marketing department to the atmosphere in the building to how much they've taken to college hockey here," he said. "This is a program award."
5. Ohio State
Record (B1G): 13-18-3 (8-11-1-1)
Neutral-site record: 0-1-0
First-round opponent: Penn State
Leading scorers: Tanner Fritz (11-15–26), Anthony Greco (15-8–23), Matthew Weis (8-14–22)
Top goaltender: Christian Frey (8-11-2, 3.17 GAA)
About the Buckeyes: Though it dropped a point during the final weekend, Ohio State is one of the hottest teams in the field heading into the tournament. The Buckeyes finished the season on a 6-3-1 streak after suffering through a 0-6 stretch during the end of January and the beginning of February.
Before the season, Ohio State's biggest problem was supposed to be finding a way to replace its two leading scorers from the previous season, Ryan Dzingel and Max McCormick. As it turns out, the main problem was simply having enough healthy players.
"Sometimes there are some things that are out of your control and certainly we went through some tough times with some guys out of our lineup," coach Steve Rohlik said. "For us, it's certainly been nice to get the guys back. There are no excuses in the game of hockey. We went out there and expected to compete at a high level."
Ohio State was bit hard by the injury bug, but the Buckeyes are healthy right now and are playing by far their best hockey of the season. Even with their struggles this season, the Buckeyes managed to pick up at least one win against each Big Ten opponent so that proves that they could make a run at the tournament.
6. Wisconsin
Record (B1G): 4-25-5 (2-15-3-2)
Neutral-site record: 0-3-0
First-round opponent: Michigan
Leading scorers: Grant Besse (11-11–22), Joseph LaBate (6-12–18), Morgan Zulinick (5-10–15)
Top goaltender: Joel Rumpel (4-22-4, 3.43 GAA)
About the Badgers: Like the 2006 movie that starred Matthew McConaughey and, for some reason, Terry Bradshaw, a documentary about the Badgers' 2014-15 season could be called "Failure to Launch."
Wisconsin started the season 0-7 and things never really got better. There were some highlights, like a 1-0-1 weekend against Ferris State, a split with then-No. 5 Michigan Tech and two shootout wins against the Gophers, but Wisconsin's abundance of youth led to a long season of learning lessons.
Joel Rumpel may be the best four-win goaltender in NCAA hockey history, but even with him playing 30 games the Badgers struggled. He's skilled enough to steal a game for the Badgers this weekend, but getting three wins will be an extremely tall order.
Three stars of the week
First star — Minnesota sophomore forward Hudson Fasching: Fasching had a six-point weekend (three goals and three assists) against Penn State.
Second star — Minnesota senior forward Kyle Rau: Rau had a five-point weekend (three goals and two assists) against the Nittany Lions.
Third star — Minnesota junior goaltender Adam Wilcox: The Gophers' junior netminder had 47 saves last weekend against Penn State and picked up a shutout on Friday.
2014-15 Big Ten postseason honors
Michigan State's Jake Hildebrand is the player of the year and Gadowsky is the coach of the year. See the rest of the award winners here.
Big Ten in the poll
No. 13 Minnesota is the Big Ten's lone representative in this week's USCHO.com Division I Men's Poll.
My ballot
1. Minnesota State
2. North Dakota
3. Boston University
4. Michigan Tech
5. Denver
6. Miami
7. Bowling Green
8. Boston College
9. Providence
10. Quinnipiac
11. Minnesota-Duluth
12. Omaha
13. Massachusetts-Lowell
14. Minnesota
15. Colgate
16. Harvard
17. Yale
18. St. Cloud State
19. Michigan
20. Robert Morris
Thank you
With this being my last midweek column of the season, there are some people I'd like to thank. First off is our amazing editor at USCHO, Todd Milewski, who does an amazing job of not only editing everything but also doing the scheduling and helping keep us scatterbrained writers on track.
Second, I'd like to thank the sports information directors from the six Big Ten teams and the communications people at the conference itself. These people make setting up interviews and getting information relatively easy, and it's not always that way in the journalism world.
Third is my wonderful girlfriend, Sophie, who may not understand why I like voluntarily spending hours at hockey rinks on the weekends covering games but never gets too angry about it.
Finally to you, the readers. Without you I wouldn't have this job and even though we may not agree about everything we're all very passionate about the same thing — college hockey. So, thanks for reading.
I'll be switching lanes and covering the WCHA in St. Paul this weekend. Look for a preview from me or Paula C. Weston about the Big Ten team(s) that made the NCAA tournament next week.