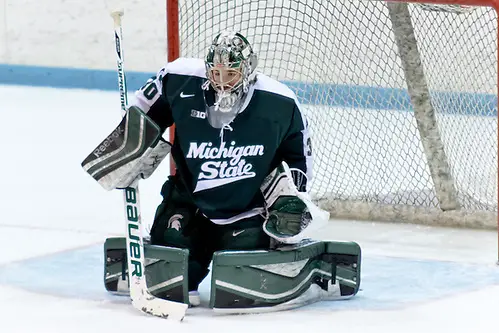 The Big Ten announced Monday its All-Big Ten teams and individual award winners.
Michigan State's Jake Hildebrand was named Big Ten Player of the Year and Goaltender of the Year. Hildebrand started all 20 conference games, registering a .940 save percentage and five shutouts. Hildebrand recorded a 1.94 GAA and 11 conference wins.
For the second consecutive season, Minnesota's Mike Reilly was tabbed the Defensive Player of the Year after leading the Big Ten in defensemen scoring, while Penn State head coach Guy Gadowsky was selected as the Coach of the Year guiding the Nittany Lions to a 18-14-4 overall record and a 10-9-1-0 mark in conference play.
Michigan's Dylan Larkin collected Freshman of the Year laurels, while teammate Zach Hyman was named the Big Ten Scoring Champion after leading all players in points during conference play.
Larkin was second in the conference with 32 points, tied for second with 21 assists, tied for fourth with 11 goals and third with 10 power-play points. His 32 points were 16 more than any other freshman in conference contests. Hyman led all players with 33 points in conference play on 12 goals and 21 assists.
In addition, Hyman, Michael Ferrantino (Michigan State), Kyle Rau (Minnesota), Tanner Fritz (Ohio State), Max Gardiner (Penn State) and Joel Rumpel (Wisconsin) were the Big Ten Sportsmanship Award honorees.
2014-15 First Team All-Big Ten
| Player's Name | Position | School |
| --- | --- | --- |
| Zach Hyman | F | Michigan |
| Dylan Larkin | F | Michigan |
| Casey Bailey | F | Penn State |
| Zach Werenski | D | Michigan |
| Mike Reilly | D | Minnesota |
| Jake Hildebrand | G | Michigan State |
2014-15 Second Team All-Big Ten
| Player's Name | Position | School |
| --- | --- | --- |
| Andrew Copp | F | Michigan |
| Travis Boyd | F | Minnesota |
| Kyle Rau | F | Minnesota |
| Michael Downing | D | Michigan |
| Travis Walsh | D | Michigan State |
| Adam Wilcox | G | Minnesota |
2014-15 Big Ten Honorable Mention
| Player's Name | Position | School |
| --- | --- | --- |
| Matt Berry | F | Michigan State |
| Anthony Greco | F | Ohio State |
| David Goodwin | F | Penn State |
| Taylor Holstrom | F | Penn State |
| Brady Skjei | D | Minnesota |
| Nate Jensen | D | Penn State |
| Luke Juha | D | Penn State |
| Patrick Koudys | D | Penn State |
| P.J. Musico | G | Penn State |
2014-15 Big Ten All-Freshman Team
| Player's Name | Position | School |
| --- | --- | --- |
| Dylan Larkin | F | Michigan |
| Matthew Weis | F | Ohio State |
| Scott Conway | F | Penn State |
| Zach Werenski | D | Michigan |
| Josh Jacobs | D | Michigan State |