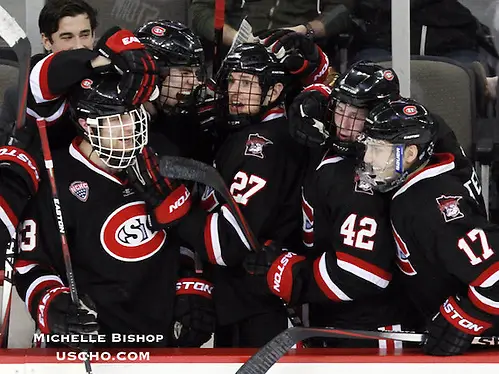 Each week during the season we look at the big events and big games around Division I men's college hockey in Tuesday Morning Quarterback.
Jim: Week two (or one, or zero for some) of playoffs had plenty more surprises. Three Game 3s in Hockey East and two lower seeds advancing provided a lot of excitement. ECAC Hockey watched the defending national champion fall, opening the door for a new champ.
But probably the most surprising series of the weekend was St. Cloud State's two-game sweep of Omaha. All season, I have watched St. Cloud hover around the bubble in the PairWise Rankings, wondering how it belongs there as a team barely above (and sometimes below) .500. Well, the Huskies certainly impressed when the chips were on the table. So what does this say about the NCHC?
Matthew: I don't know if it necessarily says something about the whole league but it definitely says a lot for St. Cloud and Omaha. These are, I think it's safe to say at this point, two teams that appear to be going in very different directions.
Try our PairWise tools: PairWise Predictor | Aggregate results from scenarios tried
UNO started this season so well, and it wasn't that long ago that the Mavericks looked as though they could even be a No. 1 seed in the NCAA tournament. They also have a history of falling off late in the regular season and in the playoffs — they haven't been to a conference playoff championship weekend in more than a decade — and that happened again last weekend when SCSU swept them.
UNO is still more than likely going to be in the tournament, but I don't have a great feeling about the Mavericks going forward from here to when the NCAA tourney begins. St. Cloud needed to advance to the NCHC Frozen Faceoff in order to really cement the Huskies' own place in the PairWise Rankings, and that's what happened.
Jim: Well, I will answer the question that you skipped. I do believe that St. Cloud's win says a lot about the NCHC. Right now, that league is in solid position to place six teams in the NCAA tournament. That's three-quarters of the league.
That was the dream of eight athletic directors and coaches when they formed the NCHC. I never thought it was possible. But not only is it possible, it took just two years for the NCHC to put itself in this position. North Dakota, Denver, Minnesota-Duluth, Miami and Omaha have all locked up their seats in the tournament.
St. Cloud State needs one win to likely make the tournament (because of the NCHC's third-place game, it's guaranteed to play two games) and can still make it if it loses on Friday. Can I say it again: This is year two. Time to recognize just how strong an accomplishment that is, no?
Matthew: Absolutely, and that I think that was the dream the NCHC's founders had even before the league truly came into being when the puck dropped at the start of last season. I think there was a little bit of concern back then about having such a strong conference top-to-bottom and how some teams might cannibalize themselves in terms of where they might end up in the PairWise, but, at least this season, that doesn't appear to be the case.
Six teams in the NCAA tournament — whether that's three-quarters of your league or if you're in a much bigger conference — is just unreal.
The great thing for me about covering the league, though, is that there is no bad team in it. Miami got the short end of the stick last season when it finished at the bottom of the regular season standings — I mean, someone had to — but then did well in the NCHC playoffs. I was in Grand Forks on Saturday for the second game of the North Dakota-Colorado College series, and CC didn't look like a last-place team at all. I hadn't predicted that the Tigers would take that series to three games, but I knew they would be competitive and they gave the No. 1 team in the country a lot to handle.
It's almost cliche anymore, but is the NCHC the SEC of college hockey?
Jim: Man, sometimes when you give a compliment, people take everything one step too far.
I'm happy to give credit to the NCHC for what is a banner year on the national stage. But then you had to go ahead and call the league the SEC of college hockey. The SEC? The league with tradition and domination in football. Read that word: tradition. One good season does not make a legacy.
I think Hockey East would take a lot of issue with calling any other league the SEC of hockey. That league has proven to be a top-to-bottom league of success for many years. Maybe someday we can draw that parallel to the NCHC, but if there is an SEC in college hockey, most days you would have to point to Hockey East.
Matthew: That's fair. I was looking at it in terms of what the NCHC's quickly become, but you're right that we're going to have to see what the league's teams do years down the line.
Speaking of Hockey East, though, the league's playoffs rolled along last weekend and there were a few upsets. Vermont knocked off Boston College, and New Hampshire took out Providence. Between UVM, UNH, Massachusetts-Lowell and Boston University in the final four in Boston, how wide-open do you see the remaining field as being?
Jim: The way Boston University dominated this weekend makes me think it is the Terriers' tournament to lose. But I also feel like you have four teams that are playing excellent hockey right now. Vermont and UNH have both been stingy on defense, while Lowell's offense exploded this weekend with five goals on Friday and six more on Sunday against Cal Petersen, the goalie who one week earlier set the all-time NCAA mark for saves in a game.
I think Hockey East is the league most likely to produce an "upset" this weekend. Which league is most likely to see a major upset in your mind?
Matthew: I don't know about you, Jim, but I wouldn't be surprised if the biggest surprise comes out of Atlantic Hockey. Robert Morris has been carrying the flag for the league much of the season in the USCHO.com Division I Men's Poll, but I'm not altogether ready to write off Mercyhurst, RIT and Canisius in the AHA semifinals.
Thumbs up
To Boston College's Thatcher Demko for a remarkable save in a losing effort Sunday against Vermont. Check it out at 45 seconds in the video below:
[youtube_sc url=https://youtu.be/3nDdUgMCcyk?t=45s]
Thumbs down
To the Star Tribune of Minneapolis for forgetting about Alaska.
The @StarTribune saying there are no DI hockey teams west of Denver got us like "whaaaat" @UAAHockey #alaskapride pic.twitter.com/nKgcGfp3Hx

— Alaska Hockey (@Alaska_Hockey) March 13, 2015
Coming up
Three days, 21 games. Look for our live blogs and complete coverage from all six Division I men's conference championships Thursday through Saturday.
And on Sunday, join us at 11:30 a.m. EDT for a live blog for the NCAA tournament selection show, which will air at noon EDT on ESPNU.
If you happen to be in the Twin Cities on Sunday, join us at Campus Pizza & Pasta to watch the selection show. Doors open at 10:30 a.m. CDT, a half-hour before the show starts.