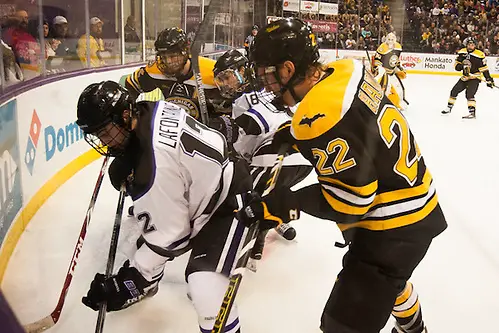 Pardon Bob Daniels if he confused this season's WCHA Final Five with an NCAA tournament regional.
The Ferris State coach is pretty familiar with what NCAA regionals look like — his Bulldogs have qualified for the tournament twice in the past three years.
WCHA playoffs
See the tournament bracket and get links to schedules and stories at WCHA Playoff Central.
So this season's Final Five field — which features Minnesota State, Michigan Tech and Bowling Green along with Ferris State — seems familiar to the longtime Bulldogs coach.
"As I looked at the tournament this weekend, I thought to myself, we ended up in an NCAA region," Daniels said during a conference call with Final Five coaches on Tuesday. "It's no different than if we were fortunate enough to advance in the tournament, we'd be looking at three of the top nine teams in the country."
College hockey fans looking for some star power need look no further than this weekend's Final Five, which is back at the Xcel Energy Center in St. Paul, Minn., Friday and Saturday for the first time since conference realignment.
It's a pair of semifinal matchups that feature two potential No. 1 seeds — Minnesota State and Michigan Tech are No. 2 and No. 5 in the PairWise Rankings, respectively — plus Bowling Green, a bubble team that is No. 9 in the USCHO.com Division I Men's Poll and No. 12 in the PairWise.
Then there's Ferris State, which needs to win it all to make the NCAAs but is 7-1-1 in its last nine games, features Hobey Baker Award nominee CJ Motte and is three years removed from the national title game.
That's an impressive group of teams. And for WCHA commissioner Bill Robertson, seeing them play in the semifinals will be an ideal culmination to the season.
The first-year head of the league has made it a point all year to make sure people knew just how good the league still is. Getting three teams — and maybe four — into the tournament is a real possibility.
"I've felt all along we had several teams that could compete at the highest level," Robertson said. "We're seeing the fruits of that right now. We have three of the top nine in the country. We're right where we need to be. Last year we had two [in the tournament]. I believe we'll have all three of these teams, and potentially if there's an upset we could get four."
Even more intriguing about this season's Final Five is that all four teams are playing for something — even league champion Minnesota State (27-7-3) and runners-up Michigan Tech (28-8-2), who are tournament locks.
"We all have something at stake in this tournament," said Michigan Tech coach Mel Pearson, whose Huskies are in the midst of a record season and will return to the NCAA tournament for the first time since 1981.
Still, Pearson said he knows Tech has much to prove.
"I still consider us the underdog," he said. "We had a good year but we're just starting to scratch the surface on what we can do. We have a lot to prove to a lot of people in the hockey world, including ourselves."
The Huskies, the No. 2 seed, take on third-seeded Bowling Green in Friday's first semifinal game at 4:07 p.m. CDT.
The Falcons (23-10-5) started hot and were once considered a virtual lock for the tournament before a midseason swoon brought them down to the bubble.
Coach Chris Bergeron said his players know what they're playing for this weekend — BGSU's first NCAA tournament appearance since 1990.
"We've talked about it," he said. "The last six weeks we put ourselves in not a great spot by being inconsistent and not having a whole lot of room for error. The only way we control it is to play well.
"The reality is, we're a bubble team and our guys know that. We have to go this weekend and play well to get ourselves off the bubble. But we're still in a spot where we can control what happens."
The other semifinal, set for 7:37 p.m., is a rematch of last season's final, which saw Minnesota State take on Ferris State.
The difference this year is the Mavericks pretty much have a lock on a No. 1 seed in the NCAA tournament, while the Bulldogs (18-19-2) won't be dancing unless they win the Broadmoor Trophy.
Daniels and Minnesota State coach Mike Hastings said their teams know one another well. The Mavericks are 7-0 against the Bulldogs over the past two seasons, including sweeping this season's series 4-0.
"Minnesota State, in my book, is the No. 1 team in the country," Daniels said. "I haven't really seen North Dakota but I've seen Minnesota State more than I care to, and they're a great team. We've run into No. 1 teams over the last few years, and they're every bit as good as the teams we've played against."
Hastings won't expect anything less than a close game.
"When they've got a guy like CJ Motte on the other side, I don't know if you can plan on having it being much more than a one-goal game," Hastings said. "You look at them and some of their veterans … this team [Ferris] and the coaching staff hasn't won a little bit. They've won a lot. And they've won at the most important times of the year."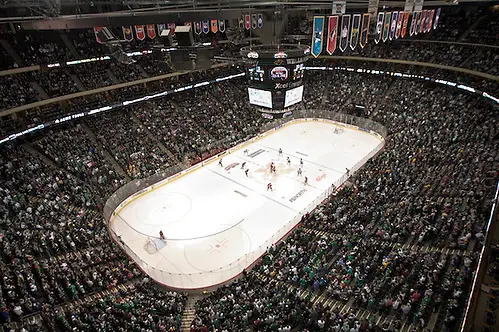 Back in St. Paul
After a year away, the Final Five returns to its seemingly rightful home this weekend.
For 13 years, the WCHA's championship weekend was held in St. Paul's Xcel Energy Center. But with conference realignment came competition for the building.
The Big Ten got the X last year, and the WCHA went to Van Andel Arena in Grand Rapids, Mich., marking the first time the Final Five was played outside Minnesota's capital city since 2000, when it was played at Target Center in Minneapolis.
Next year, the event will go back to Grand Rapids and, a year later, will be back in St. Paul.
"I do believe there's no better college hockey tournament that leads into the NCAA tournament than the WCHA Final Five," Robertson said this week.
It won't be the same as previous years at the X. Gone are full houses and a lot of local flavor.
Robertson wouldn't say what advance ticket sales looked like but said 6,000 to 7,000 fans per game would be considered a success.
Attendance for the last Final Five game at the X, the 2013 Broadmoor Trophy championship game between Wisconsin and Colorado College, was 18,782. Last year's title game at Van Andel between Minnesota State and Ferris State drew 3,986. The Big Ten title game a year ago was played before 10,153.
Robertson hopes this year's field, with three top-10 teams, will be a big selling point, if not to Twin Cities hockey fans, at least to those connected with the teams.
"We need our fan support to come out," he said. "We want to make sure all four schools participating, their fan base … all make the trip to St. Paul. Without them, this will not be as successful as it could be."
Minnesota State played in the 2013 Final Five in St. Paul, while Michigan Tech advanced there in 2012.
"We're so excited about getting back to that venue," Robertson said. "We think having our tournament in St. Paul is a great foundation for building our conference for years to come."
Ice chips
• There will be two events associated with this year's Final Five: a rally from 5 to 7 p.m. Thursday at the Mall of America and a fan fest 3-6 p.m. Saturday at the Xcel Energy Center.
• Robertson said his goals as commissioner "have not wavered" since he took the job last May. Those have included increasing league revenues, boosting exposure through various media platforms and exploring expansion. "In the weeks, months and years to come, I hope to have more to announce on that front," he said.
• Michigan Tech's Jamie Phillips enters the Final Five with a shutout streak of 179:39. On Wednesday, he was named one of five finalists for the Mike Richter Award, which goes to college hockey's top goaltender.
• Minnesota State center Matt Leitner sits two points shy of the Mavericks' Division I-era scoring record of 164 points set by Aaron Fox from 1996 to 2000.
• Bowling Green has won a first-round playoff series for five straight seasons, at least one in each of coach Chris Bergeron's five seasons with the team. The Falcons are the only team in the country to accomplish that feat.
• Michigan Tech and Ferris State each played the longest game in team history last weekend, with the Huskies going to triple overtime on Friday against Alabama-Huntsville and the Falcons doing the same against Bemidji State on Saturday.
• Alabama-Huntsville goaltender Carmine Guerriero's 76-save performance in the Chargers' 1-0 triple-overtime loss to Michigan Tech last Friday was a WCHA single-game record. The Tech-UAH game, at 118:49, was the second-longest game in WCHA history.