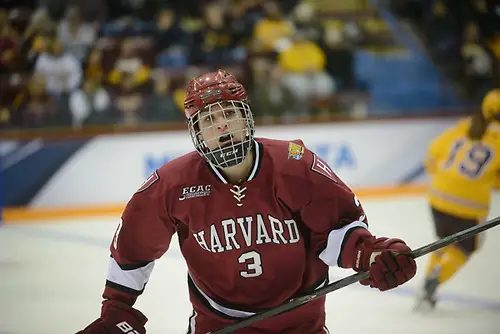 MINNEAPOLIS — The Harvard Crimson senior class is a unique group, with multiple players having missed years either due to injury, time with U.S. Olympic team, or both.
The struggles they've endured helped forge a unique bond and build a core group of players that led Harvard to the Frozen Four and national championship game for the only time in their careers.
"We have a pretty unique group of seniors, a few that should have graduated already but due to injury are back, so our class has been through a lot; getting this far was a really, really big deal," said senior Sarah Edney.
Edney, ECAC Best Defenseman and ECAC Tournament Most Outstanding Player and the Crimson's lone goal scorer and entry on the all-tournament team in Sunday's loss to Minnesota, is a dual threat. She finished the season with eight goals and 13 assists, leading all defenseman on her team.
The Harvard Crimson and Minnesota Gophers play very similar defense. Potent offensive threats Hannah Brandt, Dani Cameranesi, and Maryanne Menefee knew that Harvard would push them outside and along the boards. Despite that knowledge, Edney and the rest of the Crimson managed to keep the Gophers' forward corps in check for most of Sunday's national championship game.
Edney and her blueline teammates held Hannah Brandt to just two shots. At the end of the second period, 13 of Minnesota's 25 shots were from their own defensive corps, as the Gophers had to adjust to the way Harvard stymied their regular offensive threats.
"Being able to hold them to that one goal for a while was able to give us a little bit of a jump, especially going into the third period, to just stick with our game because we were doing something right if they weren't scoring more goals," said Edney. "It's hard making mid-game changes, but I think we're pretty versatile and we have pretty good depth through all our lines. (Being) able to figure out what they're doing and make quick changes, I think that's something that we've been good at."
Edney's goal came at 15:06 of the third. She had the puck even with the goal line and the ensuing shot snuck past Minnesota's Amanda Leveille.
"I just wanted to get it out of the zone and we were trying to go wide if the middle wasn't working, so I basically drove wide and I was really just trying to put the puck on net, hit the net to produce a rebound because the forwards were driving pretty hard through the middle and it just squeaked in, so that was nice," she said.
Minnesota scored less than two minutes later, taking the air out of Harvard's brief comeback and forcing them into a more desperate offense, but Edney said the Crimson weren't giving up, even then.
"It was just 'play to the end' – we'd had that from the beginning of the game, to play 60 minutes and there was still five minutes, four minutes, even with two minutes left, there was still game left to go, so we were just going to play right until the last buzzer," she said.
Despite the outcome, the run further than any Harvard team they'd been on was special for Edney and her teammates. It'll just take them some time to find the positive in it.
"Obviously we wanted to win the title, but I think in a few days when the sting wears off we're going to be pretty proud of all the adversity we've gotten through and how everyone's been able to come back and make this senior class what it is," she said.