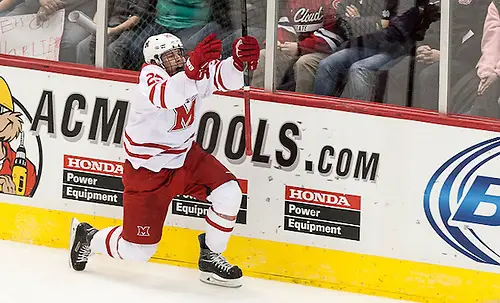 Each week during the season we look at the big events and big games around Division I men's college hockey in Tuesday Morning Quarterback.
Matthew: NCAA tournament time is upon us once again, and I have to say I look at this year's field as being quite wide open.
Minnesota State, North Dakota, Boston University and Miami are the four No. 1 seeds and each will have big expectations to cope with, but I don't think it's at all a stretch to say that none of them might end up as national champions. Do you agree?
Jim: I agree that I can make a case for all four of these teams to not reach the Frozen Four. Minnesota State is going to have to prove why it earned that top overall seed by beating an upstart Rochester Institute of Technology team that has had NCAA tournament success and possibly facing the hottest team, Harvard.
Boston University has last year's runner-up in its bracket in Minnesota. Miami will have to get through at least one Hockey East team in Providence (and possibly a second in Boston College), and playing Hockey East teams in the NCAA tournament has been disastrous for the RedHawks.
North Dakota might be the most favored to come away from its regional in Fargo, though you can make a case that Quinnipiac, Michigan Tech and St. Cloud State are all equally as dangerous. So I think the term wide-open is the proper way to sum up this tournament.
Matthew: North Dakota will be heavily favored in Fargo, I agree. Beating both Quinnipiac and then either Michigan Tech or St. Cloud State — a team UND lost to last Friday in the NCHC Frozen Faceoff semifinals — would be far from straightforward, but UND has the talent to do it and it'll have huge crowds at Scheels Arena just barely over an hour south of Grand Forks.
Is there anyone you feel should be on upset alert heading into the first round? I look at the No. 1 seeds and I think you have to worry about how Miami might do against Providence in, somehow, Providence. Strange to think that a No. 4 seed would play its regional games in its hometown, but there you are.
On top of that, the RedHawks will be without Blake Coleman (suspended after a third misconduct penalty of the season last Saturday) and, perhaps, the injured Riley Barber. I wouldn't mind being proven wrong on this, but if there's any No. 1 seed that particularly needs to mind its P's and Q's in the first round, it's Miami.
Jim: I do have concerns about Miami against Providence, but one would have to hope that being short-handed and being given the tough task of playing the Friars in Providence would be rallying cries.
Your mention of placing Providence in the East Regional brings up a curious point: Was the committee trying to be fair or trying simply to protect the gate? Yes, the NCAA gave Miami a game against the 15th overall team in the PairWise Rankings, but that game becomes almost a road game for Miami.
Our Jayson Moy outlined a bracket that didn't have Providence in the East Regional. It seemed fair but also might have negatively impacted attendance in Providence. What are your thoughts on the committee's decisions?
Matthew: For the most part, I don't really have a problem with any of them. Providence ought to have a good crowd when it's playing and Scheels Arena in Fargo sold out quickly, but I'm less convinced that the regions in South Bend, Ind., and Manchester, N.H., will fare so well in terms of gate receipts.
When you look at the Midwest Regional, Minnesota State and Omaha don't have too far to travel, but UNO doesn't have a reputation for traveling spectacularly well and I'm not sure that Mankato does, either. And you can't expect huge swaths of people in South Bend pulling for either RIT or Harvard.
Boston University and Yale might bring solid contingents to Manchester, but you would know better there than I would. Is that Northeast Regional one you're worried about in terms of, like you said, protecting the gate?
Jim: I actually think the Northeast Regional will draw very well for the semifinal between BU and Yale on Friday. Even at 2 p.m., I think those teams travel relatively well.
As for the nightcap between Minnesota and Minnesota-Duluth, I expect it will be lucky to have more than 1,000 fans in the stands for that game. I don't know, unless you placed Boston College in that regional, if you could have avoided that.
Enough discussion about who plays who and where. Let's get down to brass tacks: What four teams to you think we will see in Boston come April?
Matthew: I feel like I should preface this by saying that I am historically terrible at making sports predictions. My NCHC writing partner Candace Horgan wiped the floor with me in our predictions contest this season and did the same a year ago, and I think I lost to Tyler Buckentine in our WCHA prediction contest before that, too. Just a fair warning to anyone who would ever take my advice on this.
I like North Dakota to win the West Regional, but it's not going to be easy against a solid three-team field, and I think the Midwest Regional is Minnesota State's to lose, too.
As for the Eastern regionals, I like Denver to get out of Providence and Boston University to advance from Manchester. Is that far off from what you've got?
Jim: We match on two and we differ on two. I agree wholeheartedly that North Dakota and BU will be the two No. 1 seeds to survive and reach Boston. I actually have North Dakota winning the whole thing.
I think Harvard is the best team right now in the Midwest Region. The Crimson were one of the best teams I saw play all year, but they struggled when the injury bug hit them midseason. They are close to 100 percent healthy right now and it shows.
As for Providence, I have Boston College coming out of there. In years where BC has not reached the Hockey East tournament at the Garden, they've typically rebounded very nicely in the regionals. I see that happening again but do worry about either Denver or Miami being barriers. That region, to me, feels like the most competitive on paper. But I guess we will have to wait and see.
Next time we talk — our last TMQ for the season — we will know just how bad our selections are.
Thumbs up
To the fans of Hockey East for crushing the rest of the country in attendance. The league had nearly 27,000 fans over the two nights in Boston, more than 4,000 more than the NCHC had in Minneapolis.
Thumbs down
To the fans of the Big Ten. We saw photos surfacing of an opening game of the tournament between Ohio State and Penn State that looked like it had about 200 fans in the stands. Friday's semifinal between Michigan and Michigan State played in Detroit should have been the biggest draw in the nation all weekend. Instead, just 6,324 passed through the gates for both games combined that evening. How does that happen?
Coming up
The NCAA tournament starts Friday with games in Manchester, N.H., and Fargo, N.D. Regionals in Providence, R.I., and South Bend, Ind., start Saturday. By Sunday night, we'll know which four teams are headed to Boston for the Frozen Four.
We'll have live blogs and complete coverage from all of the regional games this weekend.