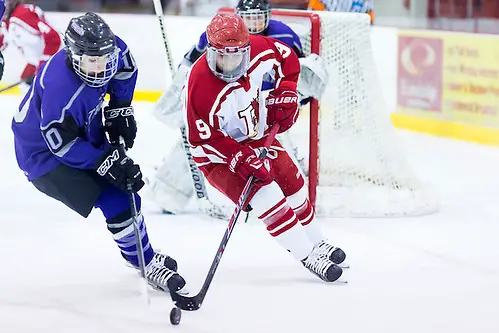 She scored a goal in her first collegiate game and then never looked back.
Plattsburgh's Kayla Meneghin, who finished with 49 points on the year, good for a 1.63 point-per-game average, has been named USCHO Women's D-III rookie of the year.
In her 30 games this year, Meneghin was only held without a point in seven of them. She had 14 multi-point games on the year, with her season-high coming on December 5, 2014, in a game against Buffalo State.
Showing poise beyond her years, Meneghin proved a key contributor to the Cardinals' defense of their national title, scoring two goals against Norwich in the semifinals of the Frozen Four in a 5-2 win, then finished her season perfectly by scoring the game-winning goal in the national championship game against Elmira, a 3-2 win for Plattsburgh.
Meneghin led the Cardinals in scoring on the year.
Other candidates for rookie of the year included Carly Moran of Wisconsin-River Falls, Jessica Young of Middlebury, and Sydney Belinskas of Trinity.