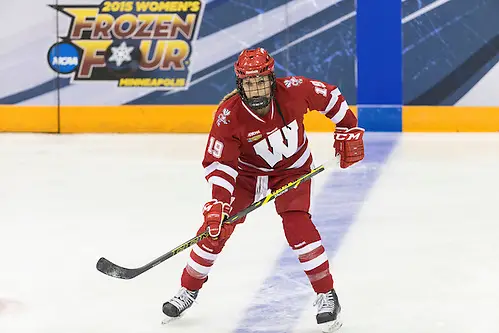 Annie Pankowski of Wisconsin (David Stluka)
Wisconsin's Annie Pankowski is the USCHO Rookie of the Year for 2015.
The Laguna Hills, Calif. native would have started her career in Madison a year earlier, but she was one of the final cuts from the United States roster heading into the Olympics, delaying her NCAA debut. Prior to her national team stint, she played for North American Hockey Academy.
In her first year in cardinal and white, among the nation's rookies Pankowski led in points per game (1.10) and goals (21), and she finished second in total points (43). That point total placed her atop the Badgers' scoring chart.
Her season highlights included hat tricks versus Minnesota State and defending national champion Clarkson. Pankowski continued to display her scoring prowess in her first NCAA tournament. She needed less than three minutes versus Boston University to get loose on a breakaway and provide Wisconsin a lead it would not relinquish, adding a second goal a period later. In her first Frozen Four appearance against Minnesota, Pankowski ripped a laser off of a faceoff that found a corner to once again open the scoring.
With a quick release, deadly accuracy, and the creativity to get her shot off, Pankowski is certain to be among the scoring leaders throughout her career. Already named rookie of the year in her league by the WCHA and in the nation by the Women's Hockey Commissioners Association, Pankowski adds USCHO's top first-year award to her freshman laurels.
She emerged from a talented field that included goaltenders Shea Tiley and Katie Burt who backstopped season titles at Clarkson and Boston College, respectively, and prolific forwards such as NCAA points leader Kelly Pannek of Minnesota, Hockey East Rookie of the Year Victoria Bach, and the CHA's top freshman, Stephanie Grossi. With the depth of talent in this freshman class, the game looks to be in good hands.
USCHO's awards are voted on by the editor and writers.