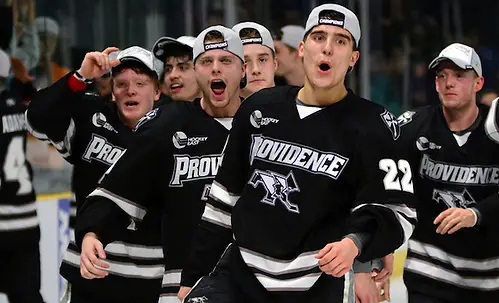 Each week during the season we look at the big events and big games around Division I men's college hockey in Tuesday Morning Quarterback.
Jim: We have our Frozen Four field, and the sides of the bracket seem like polar opposites.
On one side you have a first-time team in Omaha and a team that hasn't been to a Frozen Four in 30 years in Providence. On the other you have two perennial powers over the last three decades in North Dakota and Boston University, clubs that have also been near the top of the polls all season.
Give me your early take on these four who will descend upon Boston next week.
Matthew: I don't think that UND and BU qualifying for the Frozen Four counts as a big surprise in either case. UND had what felt like a pair of home games against whomever they were going to play in the West Regional 75 miles from Grand Forks, and I thought that BU was probably the No. 1 seed best equipped to navigate through its regional bracket.
I have a feeling that the UND-BU semifinal will probably give us our eventual national champion. There will still be the national title game against either Omaha or Providence, of course, but whoever wins that UND-BU game will be heavily favored the next (and final) time out.
Providence is probably my favorite story of the four teams still left. The Friars got a fortunate regional draw by playing in their own city, but they were good value for their wins over Miami and Denver. Good for Providence, because that region didn't go at all like I thought it might.
The Midwest Regional really surprised me, too. We had talked before about what Minnesota State had to prove, and the Mavericks weren't able to get the job done against a Rochester Institute of Technology team that I think snuck up on some people who don't follow Atlantic Hockey that closely.
Omaha's a big surprise story, too. The Mavericks were carrying 11 freshmen heading into this season and were picked to finish sixth in the NCHC, and I don't think anyone saw coming back in October what Omaha has done thus far in this tournament. Their regional bracket did become somewhat easier after the No. 1 seed fell, but RIT gave Omaha all it could handle and the Mavericks won out.
Jim: I agree that Providence probably provided the most entertainment value and debate in their two wins. Taking a 6-2 lead on Saturday against Miami, the Friars held on by their fingernails while the RedHawks scored three extra-attacker goals (after pulling their goaltender with 12 minutes remaining).
Then on Sunday, the Friars were part of a highly debated call against Denver. Tied 1-1 late in the game, Denver's Joey LaLeggia leveled a Friars player at center ice and, after a lengthy video review, received a five-minute major and game disqualification for contact to the head.
That play put to use the NCAA's new rule for use of video replay in NCAA tournament games:
93.7 NCAA Championship Competition – During NCAA Championship competition, game officials may use replay during the game to review major penalties that would result in the removal of a student-athlete to ensure proper enforcement.
This is one of this year's rule changes that I really like. Officials get the opportunity to review such a critical call before making it, something that I believe might even merit use in the regular season but most certainly belongs in the NCAA tournament.
And although it is difficult for fans who have watched hockey for a long time to understand, the officials got the call correct as LaLeggia's hit was directly to the head of the Friars player.
Providence, though nearly surrendering a short-handed goal first, got the game-winning goal on the ensuing power play and is on to Boston.
Matthew: Let's stick to Providence and — slightly tenuous link warning — officiating. Miami was without Blake Coleman, one of its leading scorers this season, in that game after picking up his third game misconduct penalty of the season in the NCHC finals in Minneapolis the weekend before.
How much of an effect did Coleman's absence have on the game? Enrico Blasi wasn't asked about that after the game — although he was short on everything else that was put his way in the postgame presser, but it seems like once PC won that game, the Friars were on their way.
Jim: Providence certainly won that game in the second period, although Miami gave the fans their entertainment value with the near comeback. It is hard to know how much of a difference Coleman could have made on that game, but it does highlight the importance of staying disciplined late in the season.
It seems so rare that you see players suspended this time of year but the cumulative game misconducts caught up with Coleman, so I have a hard time feeling bad for such a player.
But it certainly seemed like Miami was missing everything in its game in that middle period. It was certainly 20 minutes that cost them their season
Matthew: Is that the biggest disappointment for you from the first two rounds?
Frankly, I'm still a little surprised by Minnesota State's early exit against RIT. Maybe it wasn't Holy Cross over Minnesota, but you're always going to do a double-take when a 16 beats No. 1.
Jim: I think both the WCHA and ECAC Hockey, in general, disappointed. The WCHA got two of the top eight seeds in the tournament (including Minnesota State's No. 1 overall seed) and didn't win a game. Michigan Tech couldn't finish off St. Cloud State and, as you mentioned, Minnesota State lost to RIT.
The ECAC got three teams into the field and didn't win a single game. Quinnipiac was outclassed by North Dakota (a tough draw, admittedly); Harvard couldn't solve Omaha; and Yale, the most impressive of the trio, played BU tough but lost in OT.
Obviously, it's easy to say now that the regionals are over that the NCHC and Hockey East were the class of the tournament thus far (NCHC was 7-4; Hockey East was 4-1). But I really wanted to see more from either the WCHA or ECAC. That is my biggest disappointment.
Matthew: Alas, it is just the NCHC and Hockey East now, though, and the Frozen Four is going to bring together two teams each from the leagues you and I primarily cover for USCHO. Given the occasion, I'm wondering if we ought to put together a little friendly wager.
Regional stereotypes: Maine lobster on your end and Omaha Steaks on mine? What do you say?
Jim: Bring it on. I love good steak!
Thumbs up
Give Miami's Louie Belpedio an "A" for effort here, even though it came in a losing cause.
[youtube_sc url=https://www.youtube.com/watch?v=pcTgOID6z_8]
Thumbs down
Miami's Blasi was a man of few words — almost too few — in the RedHawks' news conference following their first-round loss to Providence. Anger was clearly there to be seen on the dais, but Blasi didn't seem to show a tremendous amount of grace in defeat.
[youtube_sc url=https://www.youtube.com/watch?v=lVK3MRq1khk]
Coming up
The national semifinals take place April 9 in Boston, with Omaha playing Providence at 5 p.m. EDT and Boston University taking on North Dakota at 8:30. The final is on April 11.
We'll have coverage every day leading up to and through the tournament, with everything getting added to our Frozen Four Central page.