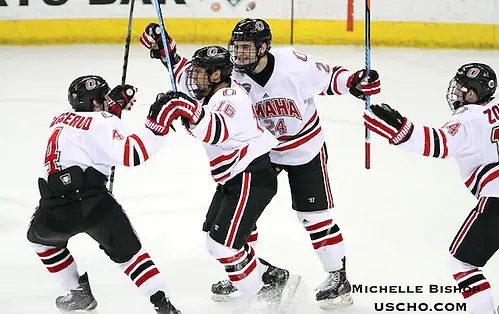 Dean Blais knew what his roster looked like heading into the 2014-15 season.
Eleven freshmen were arriving on campus to complement an Omaha Mavericks roster that returned only two of its top six scorers from a year ago. At the helm was a senior class whose previous three campaigns all ended in the first round of conference play, an NCAA tournament berth just beyond reach.
2015 Frozen Four
Follow all of USCHO's coverage at Frozen Four Central.
But the underclassmen found their groove right away, and wins started piling up from the drop of the puck in October and through a grueling NCHC schedule. Before they knew it, they were in the hunt for a conference title.
And now, after dispatching Harvard and Rochester Institute of Technology in their program's first two NCAA tournament victories, the Mavericks are Frozen Four bound.
"I never even thought that this was a possibility at the start of the year," Blais said. "We didn't know what we had."
Blais' top seven scorers are all freshmen and sophomores. Sophomore Austin Ortega leads the way with 20 goals, an NCAA record 11 of them game-winners. But even though budding stars like Ortega and Jake Guentzel (13 goals, 25 assists) have stolen the spotlight offensively, the upperclassmen — led by goaltender Ryan Massa's exclamation point of a senior year — have pushed the team beyond anybody's expectations.
"Obviously, all five seniors have been huge for us," Guentzel said. "Without them, we wouldn't be where we are now. We have [eight] upperclassmen; we are a young team and they have helped us adjust."
It's clear that explaining Omaha's success this season begins and ends with Massa, who enters the Frozen Four with jaw-dropping numbers — including a .939 save percentage and a 1.92 GAA.
"We knew that we were a young team," Blais said. "We knew we had a great goaltender in Ryan Massa, but he's taken us to another level. I'm thrilled with the way we've been playing."
To Massa, this season has become about more than having a great end to his college career.
"We have waited four long years with a lot of postseason collapse," Massa said. "Every year we put ourselves in a good position, and when the pressure comes, those must-win games, we always found a way to end our season early.
"We may not have 10 seniors on this team, but the five of us have really taken a pretty large step in instilling these young guys with what potential is there. No offense to any of the previous guys I've played with over the past four years, but this is the most championship-ready team that we have been able to be a part of as seniors."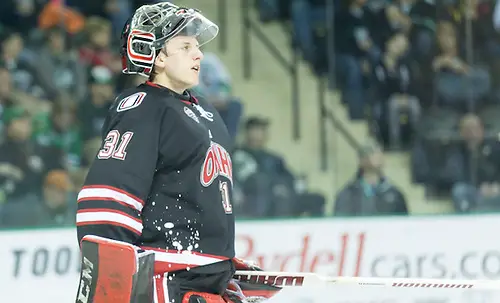 Blais said he rarely talks to his current team about his time at North Dakota. But in trying to decipher how this could be a "championship-ready" team, Blais pointed out common threads between his successful teams in Grand Forks and what he sees in today's Mavericks.
"I think a lot of it is just their work ethic in practice," Blais said. "Not very often have I had to stop practice and chew the guys out for bad habits. They work hard every day.
"The other thing is that they all get along. That was one of the characteristics that I had at North Dakota with championship teams — whether it was the WCHA championship, a playoff championship or the NCAA teams that won it. All those teams had great leadership and great chemistry all because they were quality players."
The comparison for Blais, however, breaks down there. The pressures and expectations at North Dakota don't yet exist for Omaha. This year's team is blazing a trail all its own.
"This is not the way this team is operated," Blais said. "We've played real hard mostly with great leadership by our seniors and captains and a very, very talented freshman and sophomore class. You look at scoring, and sometimes they've done it all. But certainly without senior leadership, you're never going to win a championship, no matter how good those younger players are."
The bottom line for this Mavericks team, however, is that nobody is stealing the spotlight. The younger players have been looking up to the seniors, but the seniors have stepped aside to let the talented freshmen and sophomores flourish.
"We've talked about this before with how unselfish the players are," Blais said. "Even the seniors and juniors have to take a back door sometimes to the freshmen getting power-play and penalty-kill time. It's not easy to do in today's society, to let the younger players take over. But that's the type of team they are, and they really came together over the summer in our weightlifting program. They got to know each other and I think that's where it all started. It's certainly a unique bunch of kids."
It's a class that comes at an exciting time for the program, too, with a burgeoning fan base and an on-campus arena set to open next season. Their sudden success brightly illuminates the future of a program looking to match the name recognition of other Nebraska college sports such as Creighton basketball and Cornhuskers football.
College hockey's national stage, and whatever fate becomes of the Mavericks, will only make it brighter.
"It's just going to show what this program is going to be three, four years down the road when these guys are juniors and seniors," Massa said. "I see a lot of long-term success in this team, and we are by no means finished yet."