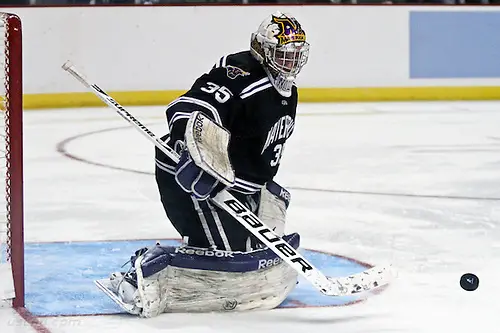 The New York Islanders announced Thursday that Minnesota State junior goaltender Stephon Williams has agreed to terms on a two-year, entry-level contract that will take effect with the 2015-16 season.
Williams will join the Bridgeport Sound Tigers of the American Hockey League on an amateur tryout for the remainder of the 2014-15 season.
The Islanders selected Williams in the fourth round (106th overall) of the 2013 NHL draft.
Williams posted a 25-6-3 record in 2014-15 with the Mavericks and his 1.65 GAA was the second-best mark in the country. A WCHA Second-Team All-Star, Williams played in 35 of the Mavericks' 40 games, helping lead the club to a second straight conference championship and a top seed in the NCAA tournament.
He was named to the WCHA First All-Star Team, the WCHA All-Rookie Team and was named the WCHA Rookie of the Year after his freshman season in 2012-13.