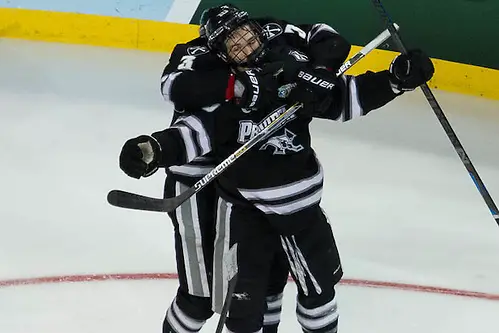 BOSTON — Brandon Tanev broke a tie off a faceoff with 6:17 remaining, and Providence won its first national championship with a 4-3 victory over Boston University on Saturday.
The Friars' Kevin Rooney won a faceoff aganst the Terriers' Jack Eichel, and Tanev beat BU to the net and beat goaltender Matt O'Connor.
That came just over two minutes after O'Connor dropped the puck in his own net on a flip-in from center ice by the Friars' Tom Parisi, a stunning turn of events that tied the game 3-3.
The Friars (26-13-2) outshot the Terriers 20-12 in the third period after Boston University (28-8-5) held a 40-23 advantage through two periods.
Jon Gillies made a career-high 49 saves for Providence.
Cason Hohmann gave Boston University a 3-2 lead after two periods. Providence's Mark Jankowski had tied the game with a power-play goal earlier in the period.
Ahti Oksanen had a goal and an assist for the Terriers. The goal was the first of two for BU in a four-second span in the first period, setting an NCAA tournament record for quickest two goals.
Danny O'Regan scored after an Eichel rush off the faceoff immediately after Oksanen's goal, giving the Terriers a 2-1 lead.
Anthony Florentino gave Providence a 1-0 lead.
The Friars are the second No. 15 overall seed to win the NCAA tournament in the last three years, joining Yale in 2013.
More coverage of the championship game to come.