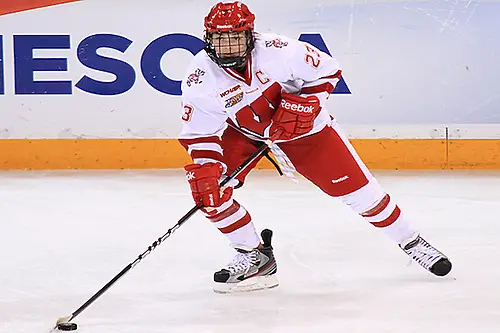 The soft media launch of the NWHL that didn't so coincidentally coincide with the IIHF Women's World Championships in late March caused a stir of excitement and interest among fans and players, but it also left them with as many questions as answers.
The league officially launched on April 13 in New York, when founder and CEO Dani Rylan announced that the league championship would be called the Isobel Cup. The trophy is named after Lord Stanley's daughter, Lady Isobel Stanley, who was one of the first women to play hockey.
The NWHL is planned to be a small league with big ambitions. Currently planned with just four teams regionally located in the Northeast, expansion into other hockey-rich markets is in the long-term goals. First however, the league has to show it can work on a smaller scale.
"(We are) starting small and growing more as the sport grows," said Rylan.
Before that happens, though, the NWHL has to prove viable on the smaller scale — a feat no other women's professional league has been able to achieve with any success.
Rylan is firm in her belief that the intense preparation and research she and her group did before ever thinking about a launch will be the difference.
"It's a different strategy, and we've done a lot of research into other viable women's leagues and we put a bunch of minds together and came up with something that we think is going to work, and if you look at all the positive feedback we've received from just a soft media launch, then I think that's to say that there's only positive down the road," she said. "This is something that fans want, players want, and it's time to do it."
The soft launch of the league was part playing off the interest in the women's worlds, part timed to coincide with the fact that many of the NWHL's prospective players are looking to make a decision about their future. Collegiate women just finished their season, and women playing internationally have finished their schedule.
Rylan wanted to get the NWHL out there because, "It's best for the players to have all their options on board."
One crucial detail of the player-focused plan for the league is to draft college juniors. Seniors and players that have already graduated are considered free agents. The idea is that juniors would have a full year to plan for a relocation to a new city. They can look for housing and jobs and work to establish themselves long before their season even begins.
There was not a firm answer as to how the free agent market will work, though the free agents will have until August 25 to negotiate. The first games of the new NWHL will be played on October 17, 2015. In this first season, there will not be open tryouts, and Rylan said she didn't see them happening in the foreseeable future.
Potential players are currently being contacted by the league.
"To keep the caliber as high as possible, we want every team to be filled with the best women," said Rylan.
Rylan and her as-yet undisclosed board of directors and advisers have created a business plan that she said sets this league apart from others. While they've focused on many small details to help foster success, ultimately the beginning and end of their planning is based on the NWHL being a player-centered league.
Paying the players and making their participation in the league viable in the scheme of their larger-than-life-plan is fundamental to the goals of the league.
One of the speed bumps that's hindered the growth of the Canadian Women's Hockey League (CWHL) has been the inability of players to get visas. The league has four Canadian teams and one team in the U.S. – in Boston. The Boston team is loaded with U.S. talent, mostly because it's incredibly difficult for a U.S. citizen to get a visa to play in Canada. Conversely, because they are not paid, the Canadian players have difficulty getting visas to the U.S.
Those problems should become much more surmountable when the players are receiving paychecks and can apply for work visas.
Despite having won two of the last three CWHL Championships, the Boston Blades struggle with attendance and costs. Their players are required to sell tickets and earn money to help the team stay afloat.
Knowing the struggles the Blades have had to gain a small foothold in hockey-crazy Boston, the NWHL had to be leery of jumping into an already flooded market where competition for the citizens' entertainment dollar is fierce.
However, it was a necessary and obvious choice for a franchise when Rylan took into account that it's where many of the prospective players want to live and work. They are established in the area; they live, work, and train there.
Putting women's professional hockey in New York State with two of the four founding franchises is also a new approach. It's a hockey-rich state, with eight NCAA Division I programs and nine Division III programs. The only non-WCHA team to win an NCAA D-I National Championship, the Clarkson Golden Knights, is from Potsdam. TV viewership statistics from Sochi showed that Western New York had the highest ratings in the U.S. for the women's gold medal game.
The early excitement over the NWHL and the prospect of getting paid means Rylan has received inquiries from players across the country hoping to be able to play. With just four teams with 18 roster spots apiece, competition to be a part of the inaugural season is fierce.
"We're definitely starting at the top, so we're contacting players on the U.S. and Canadian Olympic teams and working down from there," said Rylan.
For their part, the top U.S. and Canadian players have shown interest tinged with skepticism. While they want to see a successful women's hockey league that pays its players, there's still a lot unknown about the NWHL. These players have been let down on this front before, and seem to be approaching the situation with both hope and a rational logic.
Caroline Ouellette is a four-time Olympic gold medalist who's yet to see any league be fully successful in her lifetime.
She told the Globe and Mail, "They're promising to pay the players. That's what we're striving for. It's getting harder and harder every year to still have to pay to play. The players are open to hearing about the new league and seeing how it's going to work, but often I feel there are rumors about a new league coming on board and it never really happens. Maybe I'm pessimistic."
Two-time silver medalist from the U.S., goalie Jessie Vetter, told the Globe and Mail, "It's very inviting what we've heard about it, but I think everybody just needs to get more research on it and learn more about the league."
In a few year's time, the league may prove to be a place for collegiate talent that hadn't previously planned on being able to play after graduation, but at the moment it's a hand-selected batch of players that will be filling out the 72 roster spots.
One thing the league has done is allow the players to rank, from 1-4, the team they'd like to play for. Players with family or already secured jobs in a certain city will be given preference. Rylan admitted that interest in Boston was the highest, but she pointed out that with each team carrying just a $270,000 salary cap, there could be financial incentive for a top player to be willing to head to one of the other teams.
The team salary cap, and how those funds will get allocated, has been a hot discussion topic since the league was announced. Distributed evenly, it would amount to $15,000 a player, but each player and the individual team general managers will be negotiating contracts.
Though a few of the biggest names in women's hockey have agents, most of the women joining the league will not. Rylan said there is already an NWHL Players' Association, and that this union will be in place to help the players make the right decisions and to keep things fair and equitable during the contract process.
One major struggle for the CWHL has been marketing its product and appealing to a wide audience in order to fill the arenas.
A focal point of the NWHL is to play just one game per team per weekend. The players will be able to accommodate that in a work schedule, fans will know to watch for a game, and marketing efforts and hype can be condensed. Each game will be marketed as a single event, and many will have theme nights to attract wider audiences.
"I think we're just really conveying the passion that we have for the sport. This is professional hockey. These are the best women at what they do. That is definitely number one in the marketing plan.