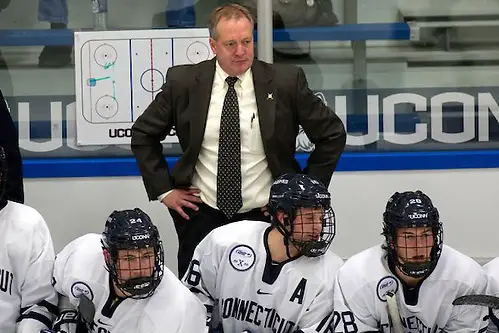 Former Connecticut coach Bruce Marshall has been named the head coach at Franklin Pierce.
Marshall, who took a leave of absence from the Huskies in November 2012 and resigned in January 2013, will be the fourth head coach at the Division II school in Rindge, N.H.
He replaces Jaymie Harrington, who was 41-115-15 in seven seasons, including 3-20-1 in 2014-15.
Marshall spent parts of 25 seasons leading UConn, taking the program from Division III to Division I. He was 351-386-72 with the Huskies
"I am very excited to be a part of the Franklin Pierce community and am looking forward to getting back on the ice and helping student-athletes reach their goals," Marshall said in a statement released by the school. "Spending the last two years away from the game has helped me realize my real passion is for helping young men, and I'm excited at having that opportunity again."
In 2013, Marshall said a divorce and a trip to alcohol rehabilitation contributed to his decision to resign from his UConn job.