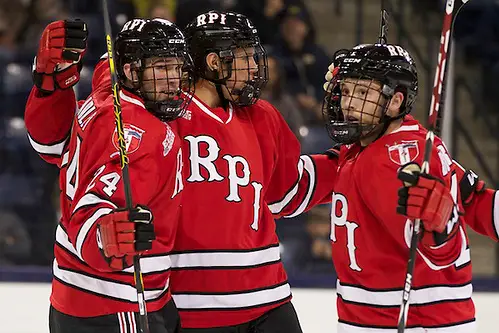 Five men's hockey teams and three women's hockey teams scored a perfect 1,000 in the NCAA's Academic Progress Rate for the 2013-14 academic year.
Dartmouth, Merrimack, Princeton, Rensselaer and Robert Morris were the men's teams with the highest possible score. Boston College, Penn State and Rochester Institute of Technology scored a 1,000 among women's teams.
All but Rensselaer also recorded the highest score in the 2012-13 calculations.
The APR gives programs a score for their student-athletes' eligibility and progress toward a degree over a four-year period. (Read the NCAA's full explanation here.)
Among men's sports, hockey was tied with fencing and water polo for the top four-year score at 985. That's up one point from the four-year average ending with the 2012-13 academic year.
Gymnastics was the top women's sport with a 991 four-year average. Hockey was one point behind.
Use the interactive graphic below to explore the four-year averages for college hockey programs: