June 25, 2005, was supposed to be a day of pomp and circumstance in Canada's capital of Ottawa. For the first time, Ottawa was scheduled to be the host city for the NHL Entry Draft.
Things, however, hardly went as planned. In fact, nothing that year had gone as planned for the NHL. A work stoppage the previous September at first delayed the season's start. But by early 2005, with no resolution in sight, NHL commissioner Gary Bettman canceled the entire season and the Stanley Cup playoffs on Feb. 16.
2015 NHL Entry Draft
June 26-27, Sunrise, Fla
Selections: College players and recruits picked
Gallery: College players at the draft
First round: Record three players picked in top eight
Second round: Four Terriers players picked in top 50
Notebook: 27 college teams represented over 56 picks
A.J. Greer: At NHL scouting combine, Boston University forward sells his value in playing roles
10 years ago: Unusual draft launched memorable pro careers for college players
Zach Werenski: Young Michigan defenseman has high draft hopes but isn't sure on future plans
Noah Hanifin: Boston College defenseman serious about hockey on and off the ice
Jack Eichel: Top prospect distances himself from 'generational' talk
For the first time since 1919, when the flu epidemic canceled the series between the Montreal Canadiens and the Seattle Metropolitans, no Stanley Cup was awarded.
As the summer rolled around, negotiations that broke down in February resumed and by early July a new collective bargaining agreement had been reach in principle. This, however, came weeks after the scheduled NHL draft had come and gone and the city of Ottawa was left without what had become one of the league's marquee events.
When the new deal was ratified on July 22, the owners and league hastily put together a draft and scheduled it for about a week later.
"There was enough notice given to cover the event, but it definitely wasn't your traditional NHL Entry Draft experience," said David Pagnotta, editor-in-chief of thefourthperiod.com, who was one of the media members able to make it to Ottawa on short notice. "It took place inside a hotel ballroom.
"It was a unique experience, having covered almost every draft since 2002, in that the access to the players was a little easier, given the small space the league had to work with."
To get things on track on the day the new CBA was ratified, the league held a draft lottery that, for the first time, involved all 30 teams. Entries were weighted based on each team's performance over the past three seasons — both in the regular season and postseason.
The lottery had the potential to be a game-changer for all teams given that there was a prospect thought to be a once-in-a-generation player leading the draft class: Sidney Crosby.
Most remember the outcome. The Pittsburgh Penguins, perhaps fittingly seeing as they had finished last in the 2003-04 season, won the lottery and selected Crosby, a game-changing player for the franchise that just a few years before was bankrupt.
The 2005 NHL draft did, in fact, take place in Ottawa on July 30 and 31. But instead of being celebrated as a major event at the (then) Corel Centre, it was held privately over two days in a room at the Westin Hotel.
And while the draft is thought of as the birth of Crosby in the NHL, there were some significant college hockey players selected. Here, 10 years later, is a quick look at some of the players with college ties selected in 2005 that went on to have impact careers in the NHL.
The first college pick: Michigan's Jack Johnson
A Michigan recruit at the time, Jack Johnson was all the buzz heading into the draft. Significantly overshadowed by Crosby, Johnson was the top college player eligible, and there was never any question that Johnson would be the first collegian to be picked.
Ten years later, his selection — third overall by Carolina — looks a bit overhyped. Johnson has played his entire career in the NHL (after attending Michigan for two seasons), but the dropoff between Crosby and Johnson has been more significant than the average first-to-second picks. In 627 NHL games, Crosby has recorded 853 points, compared to Johnson's 230 points in 569 games.
First-round busts: Skille, Lee, Pokulok
After Johnson's selection at No. 3, three college players were picked in short order: Wisconsin's incoming freshman forward Jack Skille seventh by Chicago; North Dakota freshman-to-be Brian Lee ninth by Ottawa; and Cornell blueliner Sasha Pokulok 14th to Washington.
Although Skille has had the best NHL career of the trio, he has bounced back and forth between the NHL and AHL. He is coming off one of his top NHL seasons in games played, being in the lineup 45 times for Columbus in 2014-15.
Lee had a career hampered by a knee injury that required multiple surgeries and ultimately ended his career two years ago.
But the biggest bust of this trio (and possibly the first round) was Pokulok, who never played a single NHL game after leaving Cornell after only two seasons. He bounced all over the minor leagues and even tried his luck in Europe before hanging up the skates in 2013.
Best of the first-rounders: T.J. Oshie
Of the seven college players taken in the first round in 2005, the best undoubtedly was T.J. Oshie. After three years at North Dakota, including an All-America campaign in 2008, Oshie has potted 310 points in 443 games for the St. Louis Blues.
The offensive talent, however, may be best remembered for his role on Team USA in the 2014 Olympics. Although the team didn't medal, Oshie gained national recognition when he scored four times in six attempts in a shootout against host Russia as the United States prevailed.
The Ironman: Andrew Cogliano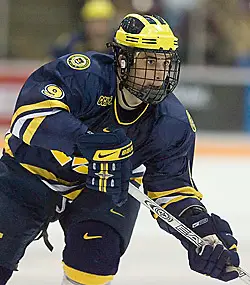 Andrew Cogliano, selected 25th overall, played two seasons for Michigan before leaving for the NHL in 2007.
Some players leave college early and simply aren't ready. That was never the case with Cogliano. He became just the fifth NHL player to appear in 500 consecutive games from the beginning of his career and to this day hasn't missed a single game as a scratch or with injury. He is the active ironman in the NHL, having appeared in all 622 games since turning pro in 2007.
Third round a gold mine for goalies: Quick and Bishop
If you're looking for the college players from the 2005 draft that had the biggest impact in the NHL, look no further than the third round when a pair of goaltenders were selected.
With the 72nd pick, Los Angeles picked netminder Jon Quick, about to become a freshman at Massachusetts. Thirteen selections later, St. Louis picked Ben Bishop, who was headed to Maine that fall.
Before their pro careers, both had major impacts on their college programs. Quick lasted just two seasons at UMass but led the Minutemen to their most successful season in Division I history in 2006-07 and ended his career in the NCAA regional final, the program's only NCAA bid.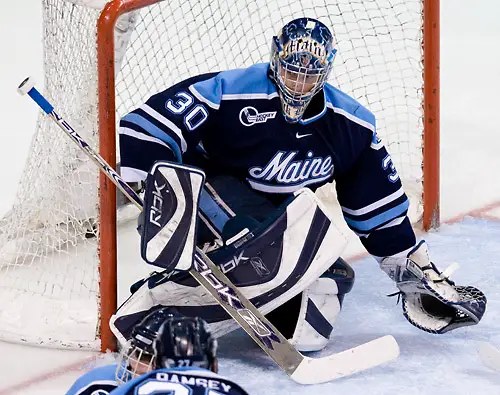 Bishop stayed at Maine for three seasons and took the Black Bears to two Frozen Fours.
Quick has since led the Kings to the team's only two Stanley Cup championships and is considered one of the top American goaltenders playing today. Bishop, after being traded to Tampa Bay, took the Lightning to the Stanley Cup final in 2015.
Other impact college players from the 2005 draft
Matt Niskanen (Minnesota-Duluth), selected 28th overall, has appeared in 573 games on the blue line for Dallas, Pittsburgh and Washington.
Justin Abdelkader (Michigan State), selected 42nd overall, has become a mainstay for the Detroit Red Wings. He is coming off his best season in the NHL with 23 goals and 44 points.
Paul Stastny (Denver), selected 44th overall, played eight seasons with Colorado before signing last season as a free agent with St. Louis. He has appeared in 612 NHL games.
Mason Raymond (Minnesota-Duluth), selected 51st overall, has played 513 games in the NHL for the Vancouver Canucks, Toronto Maple Leafs and Calgary Flames.
Nathan Gerbe (Boston College), selected 142nd overall, had a slow start in the NHL but has become an everyday player the past two seasons in Carolina. He has played in 347 NHL games.