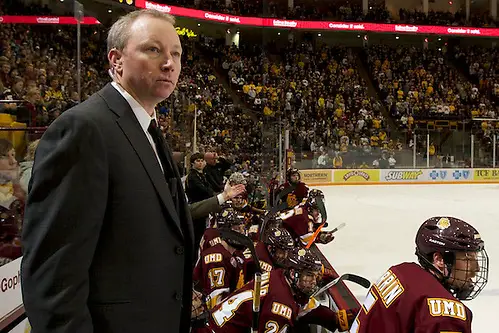 Minnesota-Duluth assistant coach Derek Plante, who has served in that capacity for the past five seasons, has resigned from that position for personal reasons, according to a school-issued press release.
"The opportunity to play and coach as a Bulldog has been a special part of my life," said Plante, whose resignation is effective June 26, in a statement. "It has been a great experience to work with and learn from head coach Scott Sandelin. While I will miss being part of the program every day, I'm excited to spend more time with my family. It has been an honor to be a part of the development, maturation and success of the UMD hockey players. I will always be a Bulldog and look forward to supporting coach Sandelin, the team, staff and entire UMD athletic department in the future."
"I sincerely appreciate the passion, efforts and contributions Derek gave to our hockey program the past five years," added Sandelin. "It has been a pleasure to coach with Derek and want to wish him and his family all the best."
Plante played at UMD from 1989 to 1993 and was a Hobey Baker Memorial Award finalist in 1993, a first team All-American, the USA Hockey Male Athlete of the Year and the WCHA Player of the Year. He closed out his collegiate playing days with 219 points on 96 goals and 123 assists in 138 outings, which currently puts him in a tie for second place on UMD's all-time scoring list.
Inducted into the UMD Athletic Hall of Fame in 2009, Plante also spent eight years in the NHL with Buffalo (1993-99), Chicago (1999-2000), Dallas (1998-99 and 1999-2000) where he won a Stanley Cup, and Philadelphia (2000-01).