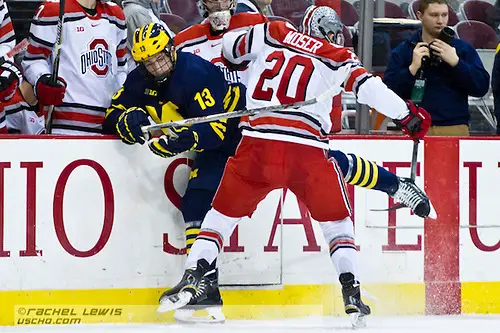 Being the youngest player in college hockey last season certainly forced Zach Werenski to elevate his game.
The ability for the Michigan defenseman to do so grabbed many eyes. In particular, NHL's Central Scouting took notice, ranking Werenski sixth in the midterm rankings and eighth in the final version released in advance of this weekend's NHL Entry Draft, which will take place in Sunrise, Fla., beginning Friday.
2015 NHL Entry Draft
June 26-27, Sunrise, Fla
Selections: College players and recruits picked
Gallery: College players at the draft
First round: Record three players picked in top eight
Second round: Four Terriers players picked in top 50
Notebook: 27 college teams represented over 56 picks
A.J. Greer: At NHL scouting combine, Boston University forward sells his value in playing roles
10 years ago: Unusual draft launched memorable pro careers for college players
Zach Werenski: Young Michigan defenseman has high draft hopes but isn't sure on future plans
Noah Hanifin: Boston College defenseman serious about hockey on and off the ice
Jack Eichel: Top prospect distances himself from 'generational' talk
Werenski said a big reason for his immediate success in Ann Arbor was his teammates.
"I was really comfortable," said Werenski, who finished the year with nine goals and 25 points to lead all Wolverines defensemen. "Once I got to Michigan, all the guys were really great to me. I just wanted to go out there and be a hockey player and a student, and it was just an easy year to be around the team."
That doesn't mean that the game came easy. He acknowledged that playing against older players — some seven years his senior — was a difficult transition. The speed of the game was an adjustment. But it also prepared him for the potential for a pro career, where taking a step up in class is not just difficult, but required.
"[Playing against older competition] is something you can base your game on," said Werenski. "So it's good to go out there and compete against them, and hopefully one day you can go out and compete against them at a higher level."
Werenski grew up with hockey in his blood. The popularity and success of the Detroit Red Wings surrounded the 6-foot-2, 214-pound player from Grosse Pointe, Mich.
"The Detroit area is a great place to develop," Werenski said. "There are a lot of great players from here."
Success came relatively easy for this young player. After youth hockey, Werenski, at just 15, played for the Little Caesars Under-18 major midget team before matriculating to the U.S. National Team Development Program.
Upon arriving at Michigan, it was clear Werenski, who won't turn 18 until July 19, had valued skills for his position. He immediately showed the highly coveted ability to move and shoot the puck, quarterback a power play and take control offensively from the blue line. Those might be some of his most valued commodities if he reaches the NHL.
"I didn't think too much [about being a puck-mover]," said Werenski. "I just went out there and played my game. Now looking at it, it is a very valuable asset to every team. But growing up, I just went out there and played and had some fun with it."
The sophomore-to-be at Michigan admitted that with all his strengths there is still room for improvement. Although he considers himself a two-way defenseman, he also knows that leading from the back end should be the priority of every defenseman.
"I think I need to be more firm and take charge in the defensive zone," Werenski said. "I think I got better at that as the year went on. But that's still something I'm trying to work on."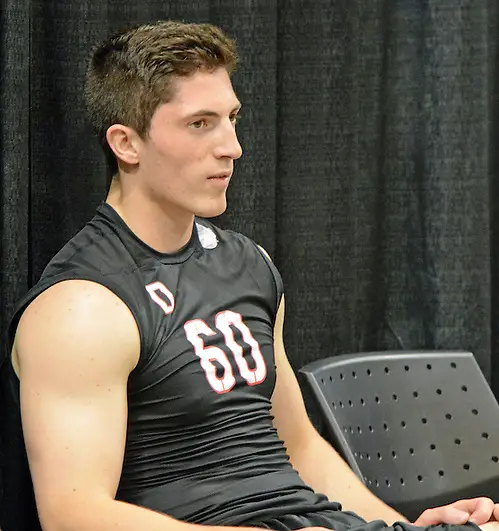 Ranked in the top 10 for North American skaters by Central Scouting usually carries with it a first-round position come draft day. And for every first rounder who is in college, that also carries with it the burden of deciding when your college career ends and when your professional career begins.
It's something that Werenski admitted weighs on his mind and a topic on which he's sought counsel from veteran Michigan coach Red Berenson.
"In terms of taking the next step, I'm really not sure [if I'm ready]," said Werenski. "It could go either way. I'm confident in my abilities but there is stuff I still need to work on.
"[Berenson and I] talked about [staying or leaving] and he told me his two cents and what he thinks. And I respect that.
"I respect him as a person and everything he stands for. He's been around the game for a long time. He's seen a lot of players go through the ranks and knows what it takes to get to the NHL. So I do listen to him. I happy he gave me the advice he did."
The advice from Berenson, whatever it was, should come into play soon. Werenski hopes to hear his name called from the stage of the BB&T Center on Friday evening, something that after a season at Michigan is here at long last.
"I wasn't worried about the draft," Werenski said. "I was going out and trying to go about my year and help Michigan win. But whatever happens, happens. I'll be happy either way. You obviously want to go as high as you can, but you have no control so I'm going to just try to go out there and have fun."