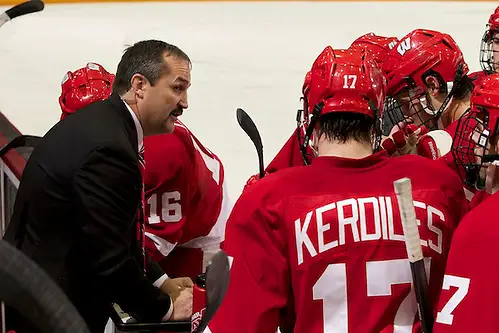 Michigan Tech has hired former Wisconsin assistant coach Gary Shuchuk to fill a similar position with the Huskies.
Shuchuk comes to MTU after a five-year stint (2010-15) with the Badgers. He was fired in April along with fellow assistant coach Matt Walsh.
"I'm extremely excited to announce the addition of Gary to our coaching staff," said Huskies head coach Mel Pearson in a statement. "He's very well-known and respected in the hockey community, and is very accomplished in the sport as both a coach and player. Gary is a passionate teacher of the game and has a proven track record of developing athletes. His vast network of contacts will be a tremendous asset and allow him to help attract high-end student-athletes to Michigan Tech."
A four-year letter-winner (1986-90) with the Badgers, helping Wisconsin to the 1990 NCAA title while earning First-Team All-America and WCHA Player of the Year honors, Shuchuk also enjoyed a 14-year professional career that was highlighted by stops with the Detroit Red Wings and Los Angeles Kings.
While with the Kings, Shuchuk played in the 1993 Stanley Cup final and also helped the AHL's Adirondack Red Wings to a Calder Cup championship (1992), earned a DEL title while playing in Germany (2003), and was named team MVP of the AHL's Springfield Falcons in 2004 while also serving as an assistant coach.
Shuchuk and his wife, Michelle, have three children who all play NCAA hockey – Alex (Wisconsin men's team), Maki (Norwich women's team) and Kat (Middlebury women's team).