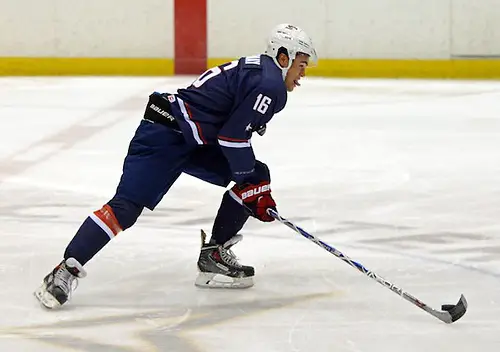 LAKE PLACID, N.Y. — Jordan Greenway is as intriguing a physical specimen as you'll find in hockey.
If there is a list of players with his size (6-foot-5, 225 pounds) and his skating ability (just picture that stride), it's a short one, and his name is on it.
It's why the Minnesota Wild nabbed the lanky winger in the second round in the recent NHL draft and why Boston University will be overjoyed to usher Greenway into its freshman class this fall.
It's also why USA Hockey made Greenway one of 39 players selected to its World Junior Championship evaluation camp, which wound up its activity last week at the Lake Placid Olympic Center.
And although the native of nearby Potsdam, N.Y., didn't make it to the end of camp — he was among seven players cut early in the week — Greenway said that he's much better for the experience.
"It's been fun," said Greenway. "They've been great to me. I enjoyed every moment of it."
Greenway was no stranger to the USA Hockey environs, having played with a host of fellow WJC campers — fellow incoming freshmen Erik Foley (Providence), Jack Roslovic (Miami), Jeremy Bracco (Boston College) among them — the last two years on the national Under-17 and U-18 squads.
Even so, he said, there were still some adjustments to be made while seeking a spot on the 2016 WJC team.
"It wasn't a huge jump to what I'd seen before," he said. "Getting used to the pace was probably the biggest thing. There were some things I had to figure out on my own. The more you play with these guys, the better you get."
Greenway had three games — an inter-squad tilt and matches against Sweden and Finland — plus practices to catch the eye of USA coach Ron Wilson.
And at times, Greenway was hard to miss.
There was the thunderous hit he laid on Finland's Mikko Rantanen that seemed to send shock waves through historic Herb Brooks Arena, the full-contact body banging in the corners, all that thumping in front of the net.
You'd expect all that from a young man of his stature.
Then there was the unexpected, coming in the form of a short-handed goal that capped an impressive rink-length rush past flat-footed Swedish defenders.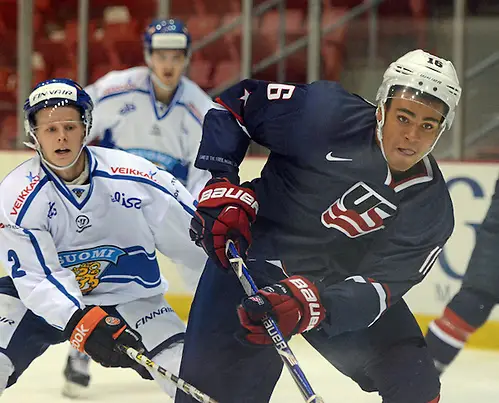 Such penalty killing chores are usually handled by smaller, more reflexive forwards with tighter turning radii.
But there was Greenway, playing that role and handling himself well.
"[I haven't done it] a ton," he said. "But I know what has to be done on the PK, so I have some knowledge. I got a lucky bounce that went my way and took advantage of it and took it all the way."
On the flip side, there were some rough spots, particularly in the 10-3 pasting that Finland handed the U.S. Blue team, when he was on ice for a fistful of enemy goals.
Then again, who wasn't?
"It's more important," said Greenway, "to beat Finland in December, not August."
Despite having been an early camp cut, Greenway's WJC hopes aren't completely crushed. A strong start with the Terriers could bring him another invite by USA Hockey when the squad reconvenes in December.
To that end, Greenway, who hopes to add about 15 more pounds of muscle to his already imposing frame, said he'll take what he's been able to glean from Lake Placid and bring it with him to the Terriers.
"Coming from here," he said, "it's definitely going to help going into college. Knowing what I have to work on to keep moving forward. That's what I will probably take."