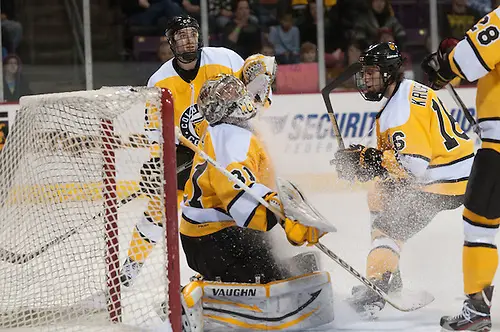 Denver announced Tuesday that former Colorado College goaltender Joe Howe has been hired as the Pioneers' volunteer assistant coach for the 2015-16 season.
Howe will primarily work with DU's goaltenders, but will be involved in all aspects of the program from an on-ice perspective.
"We're very pleased to be bringing Joe on board as a volunteer coach," said DU head coach Jim Montgomery in a statement. "He's a bright young man with some good experience at the junior, collegiate and professional levels and we're looking forward to having him play an important role in our program this coming season."
A three-time WCHA All-Academic Team honoree and a member of the conference's All-Rookie Team in 2009-10, Howe appeared in 119 games with the Tigers from 2009 to 2013, amassing a record of 54-50-10 in addition to a 2.97 GAA and a .905 save percentage.
Last season, Howe was a member of five ECHL teams (Fort Wayne, Utah, Reading, Rapid City, Orlando) and two AHL teams (Manchester, San Antonio). before retiring as a player earlier this summer.
"I'm excited for the opportunity to be a part of a great program that I've always had a lot of respect for," added Howe. "Hockey is my passion and I look forward to being able to continue the pursuit of that passion through coaching. I feel very fortunate to be able to step into a position such as this with the Pioneers where I'll be able to learn from a truly elite coaching staff.
"I can't wait for the season to get started."