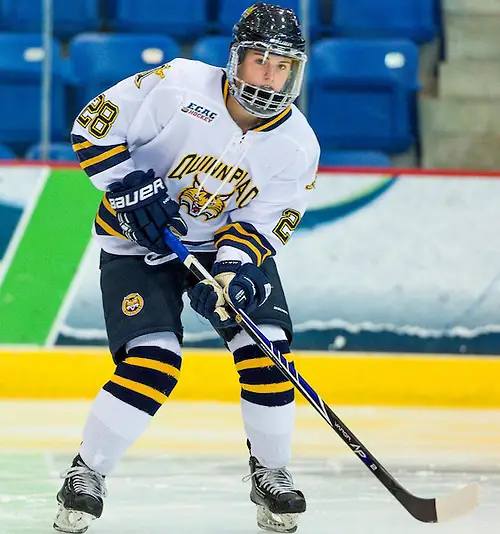 Quinnipiac Bobcats
USCHO prediction: Third
Coaches' prediction: Third
Last season: Third (26-9-3, 15-5-2 ECAC)
The names
"For us, it's a pretty exciting time," coach Cassandra Turner said. "Our group, yet again, is coming off our best season in our program's history with 26 wins last year, making it to the NCAA tournament for the first time in our program's history. There's a great energy around our team. You can feel it from our kids that they want more."
Certainly, Turner has more to work with than some of the other coaches embarking in their first season.
"I'm the luckiest person out there," Turner said. "If I was to count off what I think are the best jobs in the country, this is certainly one of them in women's hockey. It's a great combination of athletics and academics, really has a good balance in opportunity for young women to grow and be the person they need to be at the end of four years to go into the world and tackle any challenge. For me, I feel like this is such a blessing, and I'm incredibly lucky to be able to step into this position."
Now that she's holding the reins, she doesn't envision making sweeping changes to the approach that made the Bobcats successful.
"We've really worked to evolve and look at the talent that we have on our team and understand what we can do well and what we can do to grow," Turner said. "We're going to do the same approach this year. We have been a team that we really value defense. We really value being hard to play against. We want to limit shots. We want to limit opportunities to our net. We want to be able to posses the puck as much as possible. I think you can look to see those things continue with our program."
A strength of the team last season was its blue line, and the entire unit returns, led by seniors Cydney Roesler, Kristen Tamberg, and Lindsey West.
The team also has a veteran presence up front with three senior forwards: Nicole Brown, Nicole Connery, and Nicole Kosta.
"We're also excited to have Taylar Cianfarano returning as a sophomore; she was our leading point getter [with 30] as a freshman last year," Turner said. "One year older and a lot more experienced, we're excited about what she's going to add to our team offensively."
The freshman class contains another star in the making.
"We're excited about Melissa Samoskevich, who last year was voted the top player by USA Today, National High School Player of the Year, so she certainly comes with a lot of accolades, having made the USA development team this summer as the only player leading into her freshman year to make that team," Turner said. "She's a great character kid and someone who we look to getting on board quickly in terms of how we play hockey."
Samoskevich is one of six first-year players.
"When we were looking to bring this group in, we wanted good-character people, who would really be committed to getting better every single day," Turner said. "I think that's exactly what we've been able to do."
Included in the arrivals is goaltender Claire Lachner. She and junior Sydney Rossman will fill the vacancy created by the graduation of Chelsea Laden.
The numbers
Over the last five seasons, Quinnipiac has a winning percentage of .710 before the holiday break and just .570 after. Last year, the Bobcats were undefeated after 16 games, but lost nine times the rest of the way. To maximize the team's potential, it will be key that it deals better with the adversity that is bound to arrive.
The prognosis
So far, Turner has said all the right things in her interim season. Perhaps she'll create a lighter mood around the team and the Bobcats will respond better to the big stage; they are still looking for the program's first win beyond the conference quarterfinals. The problem is that even if Quinnipiac does everything right, it may not be able to best loaded squads like Clarkson and Harvard.
"I think there's so much more we can accomplish," Turner said. "We are going to continue to strive for championships. That's our expectation here and that's what we're going to look to accomplish."