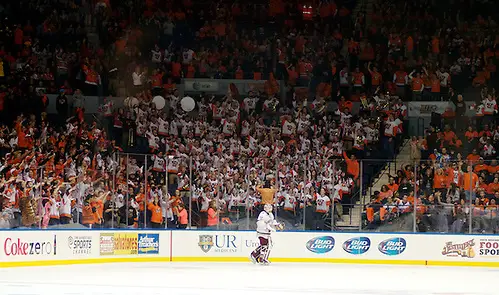 The 2015-16 Division I men's college hockey season features more than 50 games being played at venues away from the traditional campus sites, including 10 NHL arenas.
Here's the lowdown on the games that take on more of a special-event feel.
The Ice Breaker
Maine hosts the annual Ice Breaker Tournament at Cross Insurance Arena in Portland, Maine, on Oct. 9 and 10. Lake Superior State, North Dakota and Michigan State join the Black Bears for the 19th annual tournament.
Benefit game in Danbury
Sacred Heart plays NCAA newcomer Arizona State at 7:30 p.m. EDT on Oct. 17 in the second annual Pagni Family Benefit Game at Danbury Arena in Danbury, Conn. Proceeds go to an education fund for the family of Jason Pagni, a devoted hockey enthusiast in Connecticut who passed away in January 2014. Tickets cost $10 and can be purchased through Eric Opin at 203-878-5881 or [email protected].
Turning Blue Cross Arena orange
Rochester Institute of Technology hosts Bowling Green in its annual game at Rochester's Blue Cross Arena on Oct. 17. The Tigers have drawn a sellout crowd of 10,556 for their regular season game there in each of the last five seasons.
Capital City Classic in Trenton
The Sun National Bank Center in Trenton, N.J., is the site of the Capital City Classic on Oct. 30 and 31, featuring Maine, Massachusetts, Yale and Princeton.
Doubleheader in Brooklyn
The new home of the NHL's New York Islanders, the Barclays Center in Brooklyn, gets its first taste of college hockey on Nov. 1. Bentley plays Army West Point and Notre Dame squares off against Connecticut.
Across the pond for Thanksgiving
Brown, Colgate, Northeastern and UMass-Lowell will spend Thanksgiving weekend in Belfast, Northern Ireland, where the inaugural Friendship Four takes place Nov. 27 and 28 at Odyssey Arena.
NHL arenas on Thanksgiving weekend, too
Madison Square Garden in New York hosts Boston University against Cornell in Red Hot Hockey on Nov. 28, while the Philadelphia College Hockey Faceoff between Vermont and Penn State takes place the next day at the Wells Fargo Center.
The holiday tourneys
Three NHL venues are included in this year's lineup.
• Consol Energy Center in Pittsburgh hosts the Three Rivers Classic on Dec. 28 and 29, featuring Clarkson, UMass-Lowell, Penn State and Robert Morris.
• Providence, Cornell, Ohio State and Boston College play in the Florida College Hockey Classic at Germain Arena in Estero, Fla., on Dec. 28 and 29.
• The Great Lakes Invitational on Dec. 29 and 30 at Detroit's Joe Louis Arena features mainstays Michigan, Michigan State and Michigan Tech along with Northern Michigan.
• Arizona State gets in the holiday tournament game with the Desert Hockey Classic at Gila River Arena in Glendale, Ariz., home of the NHL's Arizona Coyotes, on Jan. 8 and 10. Yale, Michigan Tech and Connecticut are the guests.
The Sun Devils play two other non-NCAA games at Gila River Arena this season: Oct. 3 against Arizona and Feb. 28 against the U.S. Under-18 Team.
UNH, Maine go home-and-home away from home
On Dec. 29, New Hampshire and Maine play in Portland, Maine. The next day, they face off again in Manchester, N.H.
Toledo, hello
Old CCHA foes Western Michigan and Bowling Green meet for the first time since their days in that conference on Dec. 30 at the Huntington Center in Toledo, Ohio. It's the opener of a doubleheader that also features an ECHL game between Toledo and Elmira.
More in the Big Apple
The second of three games at Madison Square Garden this season comes Jan. 9, when Harvard and Quinnipiac play the Rivalry on Ice game. It's also the middle of three games on the ice that day, following a Rangers-Capitals NHL game and preceding an exhibition between teams representing the Army (not to be confused with the Army West Point NCAA team) and the Navy.
Dutchmen, Engineers in Albany
Union and Rensselaer once again take their Capital District rivalry to the Times Union Center in Albany, N.Y., for the annual Mayor's Cup game on Jan. 23.
North Star shines again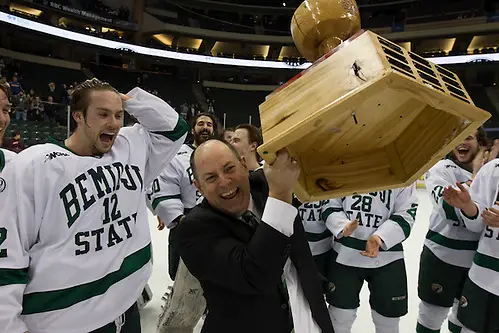 The third edition of the North Star College Cup, featuring four of Minnesota's five Division I teams, takes place Jan. 30 and 31 at the Xcel Energy Center in St. Paul, Minn. Minnesota State, St. Cloud State, Minnesota and defending champion Bemidji State are in the field.
MSG hat trick complete
The men's basketball and men's hockey teams from Michigan and Penn State will take part in a doubleheader at Madison Square Garden on Jan. 30. The hoops game is in the afternoon; the ice gets uncovered for the night game.
Beanpot on schedule this year?
Both nights of the annual Beanpot tournament had to be moved because of winter storms last season, but for now this year's event is on the traditional first two Mondays of February — this year, Feb. 1 and 8 — at Boston's TD Garden. Boston College plays Harvard and Boston University plays Northeastern in this year's first round.
Rivalry at the Joe
Michigan and Michigan State have their annual game at Detroit's Joe Louis Arena on Feb. 5. It's Wolverines' turn to give up a home game for the event.
Moving across town
American International heads into downtown Springfield, Mass., on Feb. 9 to play Massachusetts at the MassMutual Center.
Heading outdoors
The Gold Pan rivalry goes outdoors this season when Colorado College and Denver play at Coors Field on Feb. 20 in The Battle on Blake. It's the last of four regular season games between the teams, which means the traveling trophy could be on the line at the home of baseball's Colorado Rockies. The NHL's Colorado Avalanche and Detroit Red Wings are playing on the same rink on Feb. 27.
Whose side will Nationwide Arena be on?
Ohio State takes its home game against rival Michigan across town to Nationwide Arena on March 6. When you add in the Big Ten tournament at the Xcel Energy Center, the Wolverines will play in four NHL venues this season.
The postseason
Conference championships will be decided on Saturday, March 19.
Regionals take place on March 25 and 26 in Cincinnati (Midwest) and Worcester, Mass. (Northeast), and on March 26 and 27 in St. Paul, Minn. (West) and Albany, N.Y. (East).
The Frozen Four returns to Amalie Arena in Tampa, Fla., for the second time in five seasons on April 7 and 9.