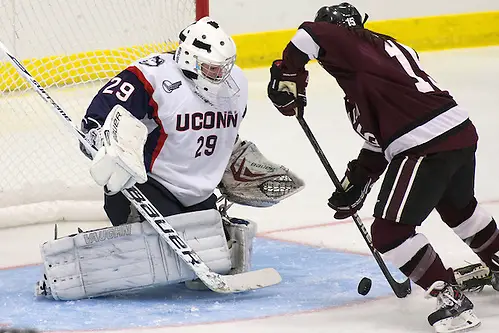 Connecticut Huskies
USCHO prediction: Fifth
Coaches' prediction: Fifth
Last season: Fifth (11-18-8, 5-11-5 Hockey East)
The names
Connecticut closed the regular-season with a sweep at Maine, and then the Huskies reprised that performance in a Hockey East quarterfinal.
"It was a nice run at the end, advancing in the playoffs," coach Chris MacKenzie said. "People told me it was the first playoff win in five years. To win a series, which was new for our league, was exciting. We were fortunate to beat a very good Maine team and move on. I was happy with the progress made, and obviously looking to try to build on that this season."
For the Huskies, it was a case of losing the battle for home ice in the first round, but winning the war in terms of advancing out of the quarterfinals and gaining the semifinal round.
"If I had to choose one of them, I'd say peak and play your best hockey at the end of the year," MacKenzie said. "I think that's what we did, and we're going to try to replicate that, obviously. The goal of our program is to try to get home ice in the playoffs. It definitely is an advantage. That would be something our program would love to see. But the choice would be playing our best and peaking at the end of the year."
To some extent, Connecticut is built for the conservative style of play often seen in the postseason.
"We've had a nice tradition of goaltenders here at Connecticut, and Elaine Chuli is certainly going into her senior year has been one of the better goaltenders in our conference and in country," MacKenzie said. "I'm confident in both our goalies. Annie Belanger coming back for her sophomore year played a lot of minutes as a freshman."
The area in doubt is the same for so many teams around the country year after year.
"We return solid goaltending, our defense will be very deep and more experienced, and up front, we'll be younger, less experienced, and we'll just have to see where the offense will come from," MacKenzie said. "I could not tell you right now where that will come from."
The numbers
Last season, forwards Sarah MacDonnell, Emily Snodgrass, and Kayla Campero topped 20 points with double-digit goal output. They were the only players to reach those milestones in points or goals. All three graduated, producing MacKenzie's uncertainty as to where he'll find offense.
The prognosis
Connecticut's soundness defensively should give it the edge over half of the league. Teams like BC, BU, and Northeastern have players that can single-handedly produce offense, putting UConn at a disadvantage. Maine versus the Huskies is very nearly a coin flip, in terms of who is likely to finish higher.