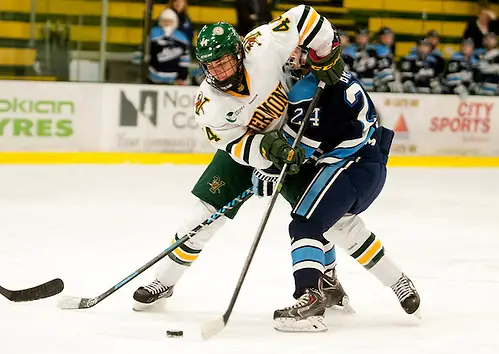 Vermont Catamounts
USCHO prediction: Sixth
Coaches' prediction: Seventh
Last season: Seventh (15-19-2, 6-14-1 Hockey East)
The names
"We're still in the building process here, and I think in a lot of ways, we had high expectations for last year and coming off our record-breaking season the prior year," coach Jim Plumer said. "It's difficult to sort of think of this as a linear progression. We probably were disappointed with the second-best record in program history. Big picture at 30,000 feet, we're happy with where the program is going."
Vermont suffered five additional losses above what it did in 2013-14 in large part because it surrendered 29 more goals on the season. Reducing goals against is top priority to keep the program moving in the right direction.
"Certainly, our goalies had big shoes to fill with Roxanne Douville's graduation from the prior year," Plumer said. "Maddie Litchfield in particular, who saw most of the minutes, had had a very good career prior to coming to college, and endured a broken collarbone the summer before she came to school, and I think that set her back her freshman year. Molly Depew did an admirable job in the opportunity that she had. We feel like both of them are on an upward curve, and certainly, it's a key position and we can't deny that we need better production out of that position. Going from year one of being a full-time starter to year two, we think there is a reason to believe we'll get a bump there to average statistical numbers that goalies in Division I are putting up."
Scoring dipped slightly, but after graduating 48.8 percent of the goal scoring, measures need to be taken to prevent an additional declire.
"We're moving Amanda Drobot, who was a defenseman, to forward this year," Plumer said. "It's something that we've had success with Dayna Colang who did the same thing two years ago. They have really elite offensive skills, and Dayna scored 18 goals for us last year."
Plumer expects production from additional sources.
"We have two very elite freshmen forwards who we think will have the opportunity," he said. "[Saana Valkama] is on the Finnish national team, and one is Alyssa Gorecki, who was on the U.S. Under-18 team last year. Those kids are going to have opportunities to step in and play key roles and have been kids that have elite skill sets. We're looking for in particular our sophomore class, kids like Mackenzie MacNeil and even Bella Webster, who played a very small role for us last year, to be able to step in. I think it will be more offense by committee, but I think we can replace the scoring that we lost."
Numbers aside, sometimes it comes down to a determination and a mindset to win games.
"One thing we've focused on a lot, I think we learned from last year, is I don't think we were mentally strong," Plumer said. "The ability to focus and then refocus when inevitably, you're going to need to refocus. That's sort of key to sports, and maybe key to life in general, that not everything goes the way you planned. I think other than the obvious targets at the top of the conference that have been pretty stable over the last couple years, teams in that four to seven range, all those teams are tough to play against. All those points are going to matter, and I do think we're going to have a much better mental outlook, having learned what we learned from last season. Having a better nonconference record but not being able to translate it in conference is something that we learned from."
The numbers
"It's another obvious thing that jumps off the page when you're thinking about our team and losing Amanda Pelkey and Brittany Zuback in particular, who were very productive players for us on the score sheet. It's not going to be where somebody comes in and puts in those two kind of numbers, player for player."
The two finished as the top two scorers in program history. Pelky graduated with 105 points, and Zuback wound up with 97.
The prognosis
"We feel like we've addressed some defensive issues that we've had, and I think if we can get our goaltending back to where we need it to be, I think we're in better shape than we might look on paper," Plumer said.
The problem is that the Catamounts look really shaky on paper, so, I'll bump them up to sixth, but I see both Maine and Connecticut being ahead of Vermont defensively.