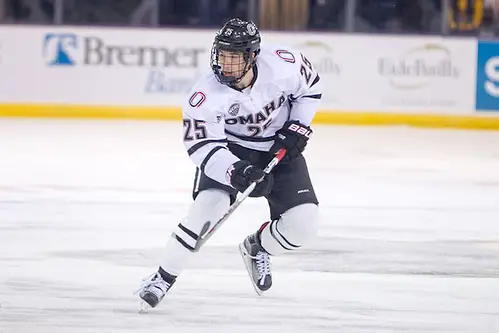 Each week during the season we look at the big events and big games around Division I men's college hockey in Tuesday Morning Quarterback.
Jim: Paula, we're one full weekend of play into the season and the top 10 of the preseason USCHO.com Division I Men's Poll is in turmoil.
The top 10 went a combined 4-6-3 and, as a result, this week's poll, released on Monday afternoon, has some serious shifting. Amazingly, seven teams held their position in the top 10, but teams like Minnesota State dropped from sixth to 14th, while Omaha moved from 10th to third.
Is this all a product of the crazy preseason poll in which a record 10 teams received first-place votes? In other words, do voters simply not have a clue which are the top teams and which certainly are not?
Paula: Jim, I think that's a completely accurate and fair statement: Voters simply do not have a clue which are the top teams and which certainly are not.
I had Providence as the top team in the country in my preseason poll ballot, largely because I give a nod to the defending NCAA champions until I have a reason to place them elsewhere in the poll. With a win and a tie against a Miami team that I assume — and the key word here is "assume" — will be strong this season, I have no problem giving Providence my top vote again.
I think that what we saw last weekend is further evidence of the ongoing and evolving parity in Division I men's ice hockey. While I'm not yet prepared to say that we've left behind the era of clear college hockey haves and have-nots, it is becoming more difficult for teams to maintain elite status perennially. Conversely, we're seeing teams — and leagues — that traditionally have been nonstarters becoming more competitive.
Four of the last five Frozen Four champions were first-time title winners. I'd be very surprised to see a return to a time when a single team or a few programs dominate completely year to year.
Jim: I agree with all that. First, I think there was no real reason to completely doubt Providence. Now, I admit I had a hard time not getting caught up in the hype of Hockey East and picking teams like Boston College and Boston University ahead of the Friars, but the reality is that both of those picks were because of the promise of the recruiting talent of both teams, something teams shouldn't have to depend on to be successful. Man, I'll never learn.
As for parity, I guess in terms of having new champions, yes, we have seen plenty. But the reality is that many teams — albeit not household names — have begun a reign of dominance. I look at teams like Union, Quinnipiac, UMass-Lowell and Omaha. None would've been at the tip of our tongues when we talk about dominant programs 10 years ago, but all are now.
For me, I see a reality in how those programs, and many others, have adjusted their team makeup. We aren't seeing a lot of rough and tumble teams with big defensemen who will find ways to be physical and successful. Most teams have mobile defensemen who complement the offense. To me, that's the change we have seen have the biggest impact while teams have found a way to move away from focusing on physical play.
Paula: I totally agree with that. I look at a rebuilding team like Michigan State and see a program shoring up its defense first and then attempting to create as much offense as possible from its transition game — sometimes from the net out — until it is able to attract top-level offensive talent. The smart thing about doing so, as you've pointed out, is that there are programs like Union and Quinnipiac who find great success doing just that, creating offense from defense.
Again — and I don't want to keep beating this drum — but part of that is driven by parity, by the necessity to find offense in a game that overall is becoming increasingly tighter and more competitive. Teams that are able to find innovative ways to score and that are able to take advantage of any opponent mistake likely will have far more success, and sustaining that every year comes from engineering a defense that can complement the offense.
Jim: And I think that the continued parity comes from different programs finding success. If you're an athletic director or university president and see a team like Union succeed, won't you ask the question, "What does it take for our school to have that success?"
It's a similar question that is being asked when it comes to expansion. Arizona State began its official NCAA play last weekend at the Kendall Hockey Classic in Anchorage, Alaska, and that program was based loosely on the blueprint Terry Pegula laid at Penn State. So it's certainly good for the game when schools begin to ask that simple question, "Why not us?"
Paula: Why not us, indeed? There are so many schools that would love to have a Terry Pegula, someone who can wave a magic money wand and endow a new hockey program. And there are so many college hockey fans with lists of schools they'd like to see receive some of that magic.
Thumbs up
It's appropriate to give a tip of the cap to aforementioned Arizona State, which earned its first NCAA win on Saturday, a 2-1 victory over Alaska. Here's to many more.
Thumbs down
For the first two in-season tournaments — the Ice Breaker and the Kendall Hockey Classic — for using a predetermined field as opposed to a typical semifinal/final format. (The Kendall is set up that way for the teams from outside Alaska so the games don't count toward the 34-game season maximum. Only games against Alaska teams in Alaska are exempt.) There's nothing more frustrating as a fan than trying to figure out tiebreakers and goal differentials to figure out if your team takes home the hardware. Give me the Beanpot or the GLI any day.
Coming up
Atlantic Hockey play started last weekend; the WCHA gets going this weekend when Ferris State hosts No. 16 Michigan Tech.
In games between ranked teams, No. 3 Omaha plays a series at No. 20 Vermont, No. 14 Minnesota State is at No. 12 St. Cloud State for a pair and No. 7 Minnesota-Duluth plays a home-and-home series against No. 15 Minnesota.