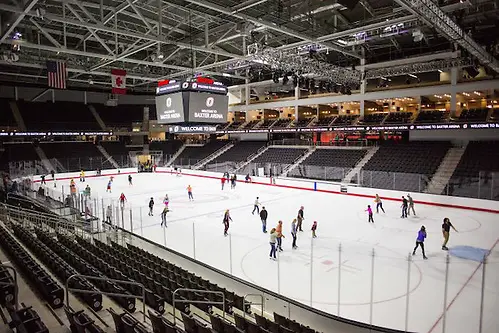 When it comes to a multi-million dollar investment like an arena, you don't get second chances.
Omaha coach Dean Blais, who has building an arena on his resume from his time at North Dakota, emphasized this when providing the insight he gave at Omaha.
"You have once chance to do it right," Blais said. "And I think they did it right."
On Friday, the Mavericks will make their home debut at Baxter Arena against Air Force in front of a sold-out crowd of 7,800 fans as the No. 2 team in the USCHO.com Division I Men's Poll.
The $81.6 million facility sits on the southern side of UNO's campus area. Featuring a second community rink as well as hardwood for UNO's basketball team, the arena is the first of its caliber for the school.
And it's an arena that Blais said will provide one of the best experiences in college hockey.
"One of the best views of any rink in the country," Blais said. "It's like having another player on the ice. The low ceiling is the difference in our building."
It's been a long road from the program's birth in 1997, when they packed the now-defunct Civic Auditorium, Omaha's first home and occasional practice facility up until last season.
It was from there that, in 2003, UNO jumped to the new CenturyLink Center, which was dually used for UNO hockey and Creighton men's basketball. The "Clink" is also the premier concert and event center in the city and seats more than 18,000, rarely opening the upper bowl at UNO games, where black tarps blacked out the higher rows.
It was inconvenient for the school in more ways than one, from financing the rent to splitting time with Creighton. Ultimately, UNO lacked a hockey-centric space to call its own.
"I think that's what our players are looking forward to," Blais said. "You can imagine driving all the way to the CenturyLink, getting dressed, driving all the way to Civic or Ralston [Arena] and back then to campus to lift weights, how frustrating that would be over the 19 years."
In addition to housing the gear and serving as the practice rink, Baxter Arena will have its own weight facility. To make it all even sweeter, the arena is within walking distance of UNO's Pacific Campus, where a large share of the dorms sit.
"It gives us something to brag about," Blais said. "And [a] showpiece versus, 'Why go to Omaha? They don't even have their own arena.'"
Facilities are a known recruiting tool for universities. And although Blais said not having one didn't hurt the Mavericks that much in the past, for junior Austin Ortega, a new arena was certainly a selling point.
"I took a lot of things into consideration and knew this was coming," Ortega said. "They said it would come at a different time, but I'm just glad to be able to play here for two more years."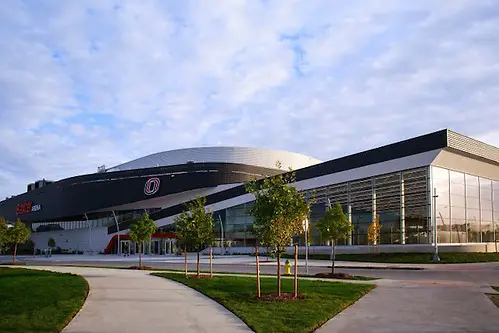 Traveling to some of college hockey's most prestigious places has left many of the Mavericks players in awe. Since arriving at Baxter Arena, they said they feel a sense of pride knowing there is now a place in Omaha that rivals as one of the best in the nation.
"Now that we have a place with our colors outside the arena, the UNO logo outside, teams are going to drive up to that and see the Aksarben area and think, 'Wow, this is some place,'" sophomore Jake Randolph said. "That's something that's going to be huge for UNO hockey."
After seeing the arena himself, junior goaltender Kirk Thompson said the Mavericks are lucky to have an opportunity that most in the sport don't get.
"Any team that comes in here, they're going to have a special feeling knowing they don't have the opportunity to play in a building like this all the time," Thompson said. "We get to play in it every single home game, so we're the luckiest team out there."
It sparks the opportunity for this cast, along with Blais, to start new traditions as the first tenants at Baxter Arena.
"Of all the hockey teams in the world, I don't think many get the opportunity, if any, that we're getting to open a barn of this magnitude," Thompson said. "It's extremely exciting not only for us, but the whole program, school and city in general."
Talks of a new arena were brewing around the city for a few years before and escalated when UNO athletics as a whole made the jump to Division I. Randolph was playing in the USHL in Omaha when he remembers noticing the buzz.
"I remember playing with the [Omaha] Lancers, there was talk around UNO about how a new arena could be a real thing," Randolph said. "So I heard that and just got so excited and made sure I prepared for this moment to help the team out."
To those most familiar with college hockey, Ralph Engelstad Arena at North Dakota is viewed as one of the premier palaces to play. Blais, who was instrumental in the planning and development of "The Ralph," said the process was different in Omaha.
"We had a little bit of input, maybe not as much as I had at North Dakota, but it's different circumstances," Blais said. "Ralph Engelstad threw us in an airplane and flew us all over the country every other weekend and picked out the best of everything."
He said the vision within Omaha's program was the difference maker.
"The people who built this were way ahead of the game," Blais said. "They had all the plans laid out and knew exactly what they wanted. There's obviously a few things in the workings that have to be altered and changed a little bit, but to the normal fan coming in the building, there will be that wow factor."
That wow factor may not be at a higher level than the home opener against Air Force. It's a night that the Mavericks have had on their mind for some time now, despite having to wait for it until the fifth game on the schedule.
"I love it here," Randolph said while on the ice at Baxter. "This arena is just something special that we've really been looking forward to, and for me personally, I couldn't stop thinking about it. Now that it's here, it's just kind of surreal until that first game where we can get comfortable."
It's a day that will be special for not only the players, but those before them, including Mike Kemp — Omaha's first head coach and current associate athletic director — and other loyal fans and staff that have been a part of getting UNO to this point.
"I really think it goes back to the first team and the guys who paved the way for us," Blais said.
Blais said at the team's media day before the season that he's always surprised by the lack of respect that the Mavericks get. But when the 2014 Frozen Four banner is lifted unto the rafters Friday night in the newest arena in college hockey as the second-ranked team in the country, it's safe to say Omaha will have the stage.
"It's absolutely amazing already," Thompson said. "The guys are really excited to make this place home and really make some memories here, put tradition in this building and can't wait to get that going Oct. 23."