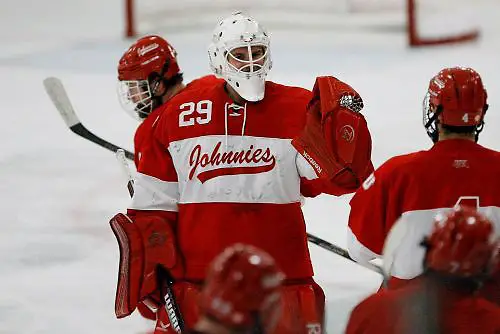 Last Year's Champion: St. Thomas won the regular-season crown but Hamline prevailed in the conference tournament and earned the league's automatic NCAA tournament bid.
Favorites: St. Thomas, Hamline and St. Mary's are the favorites in the conference this year.
Dark Horse: St. John's should be a much-improved team and has a great chance of returning to the top of the conference standings this season if it can win the close games it lost last year.
Players to Watch: Brandon Zurn will pave the way for defending tournament champion Hamline after scoring 16 goals and tallying 19 assists. He was the team's leading scorer while Charlie Adams led the team in goals with 19…Martin Gruse is the top returning player for St. Mary's. He scored 19 goals and dished out 19 assists last year en route to being named an All-American. Teammate Bob Kinne scored at least one point in 12 of the 17 games he played in last year…Willie Faust is the top returning scoring threat for St. Thomas, coming off a year where he scored nine goals and dished out eight assists. Steve Sorensen is one of the league's top playmakers, tallying 12 assists last season…Three-time All-MIAC selection Jordie Bancroft is back to lead Concordia (Minn.). He scored 15 goals a year ago and also came through with 11 assists. Jon Grebosky was on the all-rookie team in the league and scored 13 goals for the Cobbers…Kevin Becker is back for St. John's after punching in seven goals a year ago. He scored two game-winning goals. Goaltender Saxton Soley is one of the best at his position and won nine games last year. He posted three shutouts…Bethel will be led by Mitch Hughes, who racked up 10 goals and 14 assists and earned a spot on the all-rookie team…Augsburg welcomes back two of its top threats in Mack Ohnsted and Corbin Chapman. Ohnsted tallied 13 goals and 12 assists while Chapman came up with 10 goals and 15 assists last year.,,Steve Sherman returns for St. Olaf after scoring six goals and tallying a team-best 10 assists…Connor Deal is poised for a big year for Gustavus after racking up 10 goals and 10 assists last year.
Notes: Hamline returns 16 players from a team that played in the NCAA tournament for only the second time in program history. The Pipers welcome back several key players, including Kevin Novakovich (12 goals, 8 assists) and Mitch Hall (2 goals, 10 assists)…St. Thomas has 18 letterwinners back and is aiming for a fifth regular season title. The Tommies no longer have goaltender Drew Fielding and filling that void will be a key to their success…The Cardinals won 15 games last season, their highest victory total since the 1996-97 season, and played in the conference tournament title game for the first time since 1995…Concordia was the first team from the West to win the PrimeLink Shootout last season and is poised for another successful year with 17 letterwinners back. The Cobbers have been to the conference playoffs the last three years…Bethel has three of its top scorers back, including league honorable mention pick Tony Larson. Bethel started 0-for-29 on the power play last year and ended up fourth in the league in power play goals…St. John's will look to get back into the title mix after finishing sixth a year ago. The Johnnies missed the postseason by a point and winning the close games will be key. They lost four one-goal conference games last year…Augsburg went 9-7 in conference play and made the tournament last year. The Auggies should get a boost from the return Fredrik Melander in goal. He started 16 games last year and won seven games…St. Olaf will look to put together a winning season after winning only seven games last year. Peter Lindblad should help the Oles' cause as he is back after coming through with six goals and five assists…Gustavus nearly made the playoffs last year and could be one of the league's most improved teams with its top two scorers back in Deal and Blake Schammel, who scored eight goals and dished out six assists.