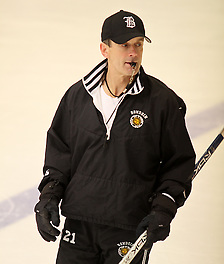 Bowdoin announced Tuesday that Terry Meagher will step down as head coach of the men's hockey team following the 2015-16 season.
The head coach of the team since 1983, Meagher will begin his 33rd season this winter. During his tenure in Brunswick, he has accumulated a record of 529-245-54 (.671), ranking sixth in Division III history in total victories.
"Terry Meagher has set a powerful example for members of our community with his unwavering support of the academic interests of our students and ability to prepare our teams to compete at the highest level within Division III athletics," said Bowdoin director of athletics Tim Ryan in a news release. "Terry's coaching record speaks for itself, but he is known primarily for his positive impact on the development of Bowdoin students in several athletic programs, especially our men's ice hockey program, and the relationships he nurtures across our campus community. The college will forever be grateful for Terry's dedication to our students and we look forward to continuing to see him at Watson Arena in the years ahead."
"I have been exceptionally privileged to coach at Bowdoin for the last three decades, where the success of the program was never measured by wins and losses, but by the development of students through lessons learned on the ice," added Meagher. "I was blessed and humbled to follow such a gracious and loyal friend as Sid Watson, who was an invaluable resource in my early seasons at Dayton Arena. The continued success of the program is in great part due to the unwavering support of my friends, colleagues, the staff and campus community."
Meagher and his predecessor, close friend and mentor Sidney Watson, combined to give the Polar Bears just two coaches in the last 56 years, accounting for 855 wins dating back to 1959.
Bowdoin is the only college in NCAA hockey history with two 300-win coaches exclusive to its program. The duo is also responsible for inspiring a coaching tree that launched dozens of former Polar Bears to careers on the bench and in the front offices of professional, collegiate and junior hockey.
"Coach Meagher has been an influential mentor both as player and in my coaching career," said Connecticut coach Mike Cavanaugh, a 1990 Bowdoin graduate, in a statement. "But most importantly, he has always been there for me in life. It is a testament to him that he replaced a legend in Sid Watson and cemented his own legacy with the Bowdoin hockey program. I know the college, as well as the entire Bowdoin community, will miss seeing him behind the bench."
Meagher has led the Polar Bears for the NESCAC championship in every year of its existence, winning back-to-back titles in 2013 and 2014. Prior to the institution of the conference, Meagher steered the Polar Bears to eight appearances in the championship game of the ECAC tournament, winning two titles (1986, 1993). Bowdoin has made six NCAA tournament appearances under Meagher, netting consecutive NCAA bids in 2010-11 and again in 2013-14, while collecting the program's first NCAA tournament win in 2011.
The 1986 and 1989 AHCA National Coach of the Year, Meagher has coached 21 All-Americans, dozens of players to All-NESCAC and All-ECAC honors and 53 students to Academic All-NESCAC recognition."Above all I am so grateful to my wife, Nancy, my children, Jennifer and Kelly, grandchildren and extended family who have made this wonderful journey possible," added Meagher. "At the end of the day, however, the credit goes to the many players whose character and dedication have lifted the program to tremendous heights, and who share an unbreakable bond as members of the Bowdoin hockey family."
A national search for Meagher's replacement will begin following the conclusion of the 2015-16 season.
An event to recognize his service to Bowdoin will be held on Saturday, May 7, 2016, with more information to follow.