When Michigan's Boo Nieves first sat down at a drum set as a teenager, he thought he was simply using the activity as an outlet to get away from the on-ice pressures that accompany playing in high-level developmental hockey.
Nieves, now a senior alternate captain for the Wolverines, has taken that early interest in music and developed it through his choice of a music performance major. That path has allowed him to use hockey and music alike as an outlet for the other and also as a complementary force.
A second-round draft choice of the New York Rangers in the 2012 NHL Draft, Nieves has specialized in playmaking on the ice in his first three years with the Wolverines, supplying 61 assists to the Michigan offense over those three years in addition to 18 goals.
Off the ice, Nieves has found a path to scratch his musical itch through his decision to make music his educational pursuit.
Fittingly, hockey was what first led Nieves to dabbling in music.
"I started playing drums when I was about 13 or 14 years old," said Nieves. "I actually started because my friends, two of them, were very good guitarists. I tried picking up the guitar then. I wasn't great. I was good, but couldn't match their God-given talent, so they said, 'Hey, we need a drummer!' So, I picked up the drums and kind of ran with it. I was completely self-taught.
"It was one of those things that just came very naturally to me. We really didn't have a formal band. We would jam on the weekends when I wasn't playing in a hockey tournament somewhere. Usually, Sundays were our day to escape from everything with the music. Now, my main instrument is still the drums. I play a little bit of guitar and I started learning to play piano last semester in the winter as part of the music performance major program."
His talent on the ice was obvious to college coaches and his pre-college years at Kent School, an academy in Connecticut, combined with his play in developmental tournaments often put him in pressurized hockey performance situations.
Music was an outlet to blow off some steam and get away from the pressures of hockey.
"I think it was just my getaway from hockey," Nieves said of his growing interest in music as a young teen. "At 14, 15 and 16, that's the age where you start to think of playing collegiate hockey and even hockey beyond that. It's a very critical age in the sport and it's very intense to be that young and so into a sport."
Nieves said his parents looked at him like he was crazy when he asked for a drum set.
"I actually had to push pretty hard for them to let me get one," he said. "At first, they were a little skeptical, but I picked it up very quickly. After they started to hear me play well, they encouraged it a lot. Since then, they've been very, very encouraging.
"I feel like playing the drums was my escape from the pressures of hockey. If you're playing in a tournament, that's two or three games a day. You're dragging and you have to go to class on Monday. Sometimes it was just nice to just get away with the music. I didn't have to listen to anyone. I could play for however long I wanted. I could play whatever I wanted. It was just my getaway."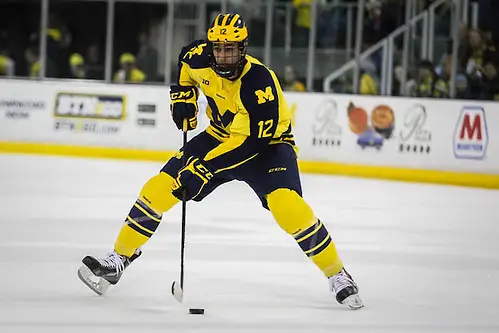 Like most freshmen, Nieves wasn't really sure about a curriculum path when he arrived in Ann Arbor. He initially elected to join the kinesiology and sports administration program, but really didn't find the inspiration that he sought with that path.
"When I arrived here at first, I was a kinesiology major," Nieves said. "I was going to do sports management, which is all about athletics and the business side, too, learning about all aspects of sports. A lot of guys on our team do it and it's a great program, but I just realized it wasn't for me. I just wasn't really happy going from a hockey practice or game to learning about more sports in the classroom.
At the time, Michigan's captain was defenseman Mac Bennett, himself a music performance major. Bennett gave Nieves the example to follow as well as a verbal push to consider making the switch from kinesiology to music performance as a major.
"Mac was a great example for me, and I realized if I did music, it's something that makes me happy," said Nieves. "I found the music program was something that made me happy and that I really enjoyed; something that I could use in the future after college."
Michigan coach Red Berenson knows that making an educational choice that makes one happy will usually lead to an enhanced athletic performance on the ice.
"Most players will tell you that when they're doing well in school, that translates to hockey," Berenson said of Nieves' choice of study. "When you feel good about yourself as a student, whether you've just written a calculus exam and gotten an A, it feels like getting a hat trick. So there's a lot of challenge here and you're competing against some of the best students in the country in the classroom and then you come down here to Yost and you're competing against some of the best players in the country. So education is a competition.
"Boo has always been a serious student. He came out of prep school. He was a serious student there at Kent and he was a serious player there, too. That's one reason we recruited him. He had the right motivations. He had the right priorities. He cared about school and he cared about hockey. He's one of those players who have been drafted in the NHL and was sought after as a college prospect. Now, he's combined his passion for music with the rest of his education. He didn't know he was going to be a music major when he was a freshman or sophomore, but he declared that after his sophomore year. So, he's really invested now in this music major idea."
On-ice and off-ice performances alike have similarities that both can challenge and assist an individual. Nieves has found that the number of observers doesn't necessarily translate to ease in performance.
"Athletically, I have no problem being out on the ice in front of 6,000 people at Yost," Nieves said. "It's just another day and another game. But I had to perform in an eight-person piano class. I was absolutely shaking and I had to actually start over twice because I was so nervous. It's funny how that works. People watch hockey and think, 'Wow, this atmosphere is really intense,' yet I walk into a small music performance class and I'm shaking in my boots, thinking I need to just get this over with."
Ultimately, the combination of music and hockey allows Nieves the chance to maximize his enjoyment of the present as he looks toward the future, whether that future is wearing a hockey uniform or participating in a studio recording.
Said Nieves of merging the two worlds: "I think they're more similar than they are different as long as you are in the zone, staying within yourself to not get distracted. Like in hockey, when you're playing an instrument, you've just got to play. Don't start thinking about it too much. That's how it is on the ice, too. Once you start thinking things through too much on the ice, you start psyching yourself out. In both, you have to stay calm and collected and just play.
"My passion for music comes from my parents. My dad was very into music when he was younger. My mom always has music on around the house. It was definitely passed down from my parents. It's something that I take pride in. It's something I'm good at and it's something that's completely different from hockey. It makes more than just a hockey player. It makes me a musician on the other side of things. It makes me whole."