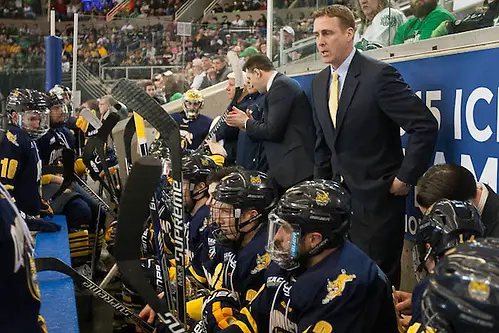 It's been a familiar storyline for Quinnipiac over the last several years. The Bobcats have lost some notable players in each of the last three summers, yet seem to shrug off those departures and still remain a national contender.
That seems to be shaping up again this season, as a home sweep of then-No. 9 St. Cloud State last weekend pushed Quinnipiac's record to 6-0, the program's best start since the 1998-99 season.
"We've had good recruiting classes the last eight, nine, even 1- years," Bobcats coach Rand Pecknold said of Quinnipiac's ability to overcome the program's notable departures over the last few offseasons.
Pecknold credited associate head coaches Bill Riga and Reid Cashman for the program's recruiting, saying that Quinnipiac looks for high-character, high-compete players who fit the team's identity.
He said the first part is getting harder to find, as many players are more interested in scoring highlight-reel goals and getting media attention. But screening the goalie, taking a hit to make a play and blocking shots can have rewards, too. Many of the Bobcats' top players the last few years were excellent shot blockers, something that had a trickle-down effect on the rest of the team.
"It's one thing to tell them how to do it; it's another thing to see them do it," Pecknold said. "Basically, we're looking for a lot of selfless players."
Still, the Bobcats have plenty of skill, as evidenced by junior defenseman Devon Toews' breakaway goal against Maine last week. Toews, who Pecknold said could have been an All-American last season if not for injury, has been one of the Bobcats' best players in the early going, along with senior forward Travis St. Denis, who is tied for second in the nation with six goals.
While the top-end talent is there, Pecknold said this is the first time since the 2012-13 Frozen Four season that he and his staff are able to play four lines consistently, adding that the Bobcats had been more of a three-line team since that season.
It also helps that senior Michael Garteig is off to a hot start in goal. In his third year as a starter, Garteig often has been overshadowed by other goalies in the league, including Yale's Alex Lyon, and a Quinnipiac system that is driven by puck possession and high shot totals.
Garteig has been solid in that span, but has posted a .947 save percentage thus far this season, including a career-high 41 saves Saturday.
"That was one of his best two or three starts [of his career]," Pecknold said of his goaltender, who helped bail out Quinnipiac on a night where the Bobcats were outshot 42-30. Pecknold and his staff had to go back to the 2010-11 season to find a game where Quinnipiac had given up that many shots.
Garteig said after Saturday's game that he stayed on campus over the summer and worked in the weight room to get stronger.
"I have confidence and knew that I was going to have a good year," he said. "I feel like I'm ready to burst out of that bubble that I've been in the last couple of years and it's just a matter of putting in the work and doing the small things in order to be successful."
The sweep of the Huskies likely will have PairWise implications at the end of the year for Quinnipiac (the Bobcats are currently first in the way-too-early rendition of the PairWise Rankings), but also put the team in some situations it can draw on later in the season.
Down 2-0 on Friday, the Bobcats came back to win 5-2. "That showed we can come back on any team," Pecknold said. And on Saturday, Quinnipiac led 2-1 despite getting outplayed for much of the first two periods.
"It was a mostly amateur moment on our part," Pecknold said. "It was our third game in five nights. You can't fake passion and we didn't have it for the first two periods, but we regrouped and played very well in the third."
Clarkson clicking early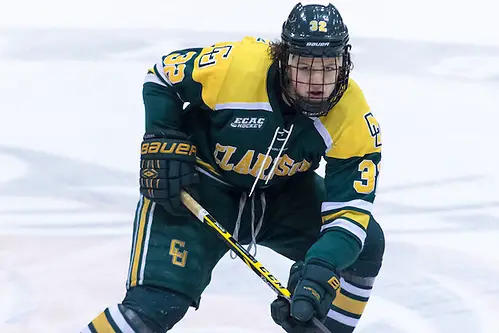 Quinnipiac isn't the only ECAC Hockey team off to a good start. Clarkson swept Western Michigan at home last weekend to improve to 5-1. It's the best start for the Golden Knights since the 1991-92 season.
"It's early in the season; we're still trying to find ourselves," coach Casey Jones said following Saturday's game. "I thought we transitioned pucks really well this weekend."
Entering the season, Jones said he was looking for Clarkson to push the pace and play with more speed. It's worked so far, as the Golden Knights are nearly a third of the way to their goal total from last season.
The Knights also have been clicking on the power play. Clarkson is 9-for-26 on the man advantage, fifth in the nation. This comes after scoring 17 power-play goals all of last season. Junior A.J. Fossen had two power-play goals on Saturday and leads the country with five power-play goals thus far.
Jones said he thought Clarkson's power play improved toward the end of last year, but his team wasn't drawing enough penalties.
"We're getting in areas where we're drawing some penalties now and we're getting put on the power play a little bit more, which is exciting," Jones said.
Clarkson is allowing an average of 23 shots a game, but goalies Steve Perry and Ville Runola have combined for a .892 save percentage. Take away a 7-1 loss to Merrimack, however, and it soars to .929.
If that second number holds steady throughout the season, then Clarkson should be in a good position to continue to push the pace offensively.
Around the league
• Colgate's Tyson Spink recorded his 100th collegiate point with an empty-net goal in Friday's win over Rochester Institute of Technology. His twin brother, Tylor, is sitting on 86 collegiate points, a number that could be higher if he hadn't missed time last season with an injury.
• St. Lawrence split a home series with Miami last weekend, rebounding from a 1-0 loss Friday with a 5-3 win on Saturday. The Saints travel to Penn State for games this Thursday and Friday.
• The six Ivy League teams are set to get underway this weekend, highlighted by Yale and Princeton taking part in the Capital City Classic in Trenton, N.J.
• Quinnipiac swept the league's weekly awards, with St. Denis (player of the week), Garteig (goalie) and Chase Priskie (rookie) each being recognized by the conference.
• Tickets for this season's NCAA regionals went on sale Tuesday morning. This year's sites includes the Midwest Regional at U.S. Bank Arena in Cincinnati, Ohio; the West Regional at the Xcel Energy Center in St. Paul, Minn.; the Northeast Regional at the DCU Center in Worcester, Mass.; and the East Regional at the Times Union Center in Albany, N.Y.
The East Regional will be hosted by ECAC Hockey, Rensselaer and Union. It's the ninth time the Times Union Center has hosted an NCAA regional, but the first time since 2010. The building also was the site of the 1992 and 2001 Frozen Fours. Tickets and game information can be found at www.ncaa.com/frozenfour, or through each venue's ticket office.